Relaxing in the hammock is a fun thing when camping for a couple of days to read books or taking a light nap outside. To use it in the wintery season, you have two popular choices which are underquilt and sleeping bag.
Understanding their unique characteristics will help you to know which one would be ideal in between the hammock underquilt vs sleeping bag.
In this guide, I'll break down all the differential points of them with some handy info about their ups and downs. Let's Move Forward!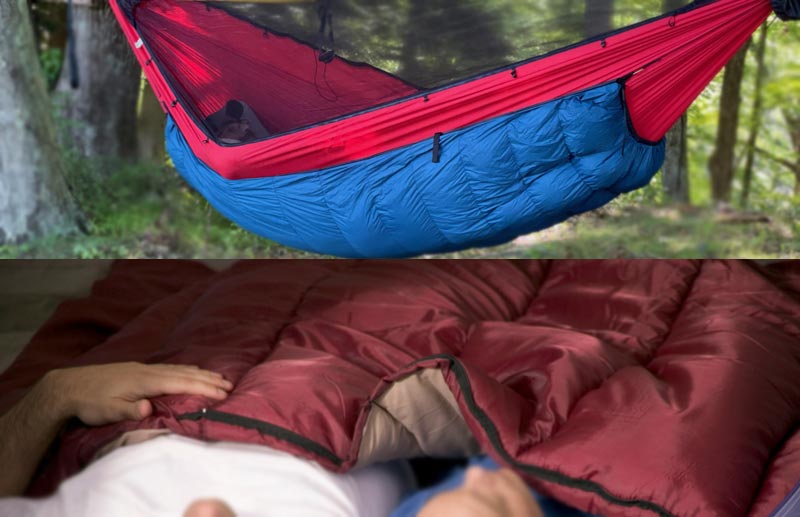 General Analysis of The Hammock Underquilt Vs Sleeping Bag.
Despite both underquilt and sleeping bag work for the same goal (almost similar to a blanket), using them will give a diverse experience if placed side by side. Now, it's better to know more about them before driving into the comparison section.
What Is Hammock Sleeping Bag?
The sleeping bag is a thicker insulated bag that's mostly made with nylon, polyester, and ripstop materials. It contains soft liners with a solid coating to give protection against water, snow, or dust attacks.
Most sleeping bags for hammocks include a zipper and hoodie for better warmth on all body parts. Among all, my favorite is the Hyke & Byke Hammock Sleeping Bag as it's warm, light, and comfortable for camping.
Pros:
Great heat retention ability.
Last longer than underquilt.
Safe to use in freezing weather.
Need less maintenance.
Easy to stuff.
Cons:
In a wet state, it takes time to dry.
What Is Hammock Underquilt?
Unlike others, the underquilt is a thin insulated comforter that's crafted using nylon and polyester materials. It is mostly finished with DWR (Durable Water Repellent) coating to use in harsh weather.
The underquilt for hammocks has solid stitching with liners to keep users warm and protected. It mostly doesn't contain zippers, unlike the sleeping bag. Out of all, I would suggest using the Wise Owl Outfitters Hammock Underquilt for its budget-price, compact, and weightless points.
Pros:
Comfortable to use.
Light in weight.
Versatile and reliable.
No rolling issues.
Good for the cold season.
Cons:
Expensive than sleeping bags.
Comparison On the Underquilt or Sleeping Bag Hammock.
Being 2 sleeping stuff for hammock use, I will start the sleeping bag vs underquilt debate based on user experience and overall traits to make this guide on point. Let's start!
Temperature Rating
Their temperature rating is dissimilar which works uniquely. As campers have to sleep outside in 4 seasons (winter, summer, autumn, and spring), they need warm stuff to rest in the hammock.
With the sleeping bag, you can take it when the weather is around 0°F to 15°F (-17.8°C to -9.44°C) on average. This means it would work great in freezing temperatures by keeping you warm and cozy. Plus, you can use it in any weather by leaving the zipper on.
In contrast, the underquilt is suggested to use in a 10°F to 20°F (-12.22°C to -6.67°C) atmosphere without fear of cold sensations. But it might be a bad choice in warmer weather, unlike a sleeping bag.
Winner: Sleeping Bag.
Usage
Both need hooks and hanging things in order to fit in the hammock. But it gets unique when you get in and start to secure which makes them different in real life.
To make the long story short, you'll enter inside the underquilt like a hammock (with no hassle of zipper), while the sleeping bag requires zipping and placing your head on the hoodie to secure ideally. This might feel annoying for some to do so much work to sleep in the winter.
Winner: Underquilt.
Longevity
Normally, durability means lasting ability while staying good looking on the outer as well (with no tear or wear issue). This trait also poles the underquilt and sleeping bag apart from each other.
The sleeping bag would last for around 5 to 20+ years without showing much of a difference in color, quality, and texture. Surely, it is long-standing and requires 1 day of cleaning in a whole year.
On the other hand, the underquilt might stand for 1 to 3 years with no change in the surface. You'll also need to take care of it once a year.
Winner: Sleeping Bag.
Storage Plan
One of the most plus points the underquilt contain is the storing benefit. It gets small when you fold or roll it due to its thin insulation.
However, if you use the top quilt with the underquilt, it might take a lot of space than a bag. In opposition, the sleeping bag contains thick insulation that needs some space even if you fold and stuff it.
Winner: Underquilt.
Insulation & Padding
In terms of insulation and padding system, no one can beat the sleeping bag. It mostly contains fill made with feather down and synthetic insulations to keep the camper warm in the winter.
Plus, the fill power of the sleeping bag (around 600FP to 800FP) helps a lot to trap air inside by making the interior environment hot.
Then again, the underquilt includes a high-density poly filling that ensures 700FP to 800FP which is great for cold weather. But it lacks if compared with the sleeping bag.
Winner: Sleeping Bag.
Weight
The underquilt and sleeping bag weight point is not the same. In the case of the underquilt, it weights around 2 to 2.25 lbs. on average.
Conversely, the sleeping bag weighs up to 2.7 to 5.5 lbs. in general. That is quite bulky, unlike the underquilt.
Winner: Underquilt.
Expense
Typically, the pricing of underquilt is between $40 to $300. This means it can be expensive if you look into the quality and rare characteristics as well as comfort.
The sleeping bag mostly cost around $30 to $300 based on colors, texture, and other traits that others don't offer. Although both have similar characteristics, the price difference is slightly visible.
Winner: Sleeping Bag.
Frequently Asked Questions
Can you use a sleeping bag as an underquilt?
It's possible to use the sleeping bag as an underquilt since they both feel the same. However, the bag might give a more cushiony feel than the underquilt.
Do you need a top quilt if you have an underquilt?
Unless you need more warmth, the top quilt isn't necessary gear if you own an underquilt. But this thing will help when the weather is below 10°F.
How to use a hammock underquilt?
Under the hammock, insert the expanded underquilt while connecting the tensioners on the loops (both sides). Adjust the length of tensioners so that you get the right depth. Then, pull the cord tightly on both ends. Done!
Ending Notes
All in all, you can guess the frontrunner of hammock underquilt vs sleeping bag discussion. Both do a great job to fulfills the basic needs, especially in the winter season. Since it's a comparison guide, I must give the winner tag to one and only 'sleeping bag'.
As it offers fine insulation, padding, temperature rating, durability, and so on at a lower price, the sleeping bag is suitable for hammocks.
But that doesn't mean the underquilt lack in any way. You can't ignore the comfort, user-friendliness, storage support, and lightweight feel to use in a hammock which underquilt includes.
Hope you enjoy this guide and find it helpful to discover their deep insight. Good Luck on Your Choice!
Philip Robert is an avid camper and hiker who loves nothing more than spending his weekends camping and hiking in the mountains. He has been camping and hiking since he was a young boy and has never lost his love for the outdoors.
Philip is a firm believer that there is no better way to connect with nature and get some exercise than by spending time in the great outdoors. He is always on the lookout for new trails to explore, and loves sharing his experience with others.
"MyOutdoors.net" is a place where you will find a comprehensive guide you need to know about camping and hiking. Philip has the knowledge and experience to help you enjoy the great outdoors.