It requires an in-depth insight when thinking of camping with a large family. Plus, you'll need a lot of time to decide. However, the overall procedure is fun if your family members are willing to help organize the entire thing.
To do that, you need to plan for camping. Then, put all the tools and gears in your packing bags or boxes and drive to the camp spot. Next, choose the right location for the campsite and divide the work among your large family members. Enjoy!
And that's just a sneak peak of how to go camping with a large family. I'll be sharing it step-by-step so make sure to stay till the end.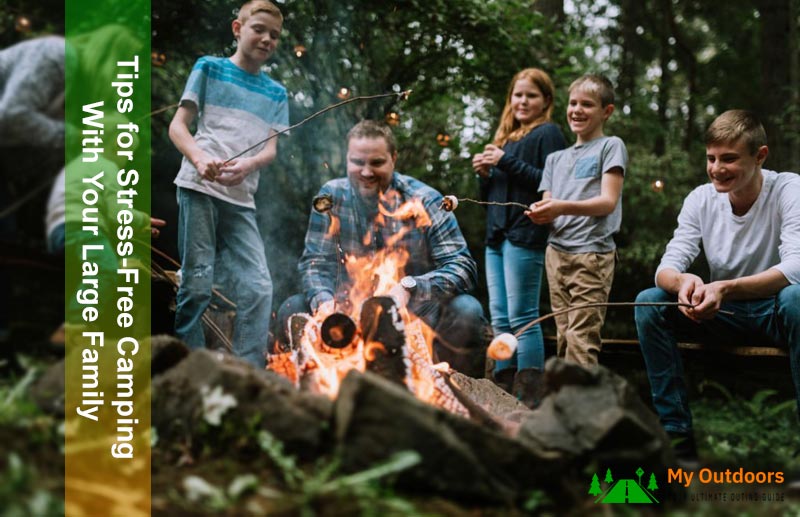 A Comprehensive Guide to Go Camping With A Large Family
A newbie or an experienced person who wants to go camp with a large family will require a direction for the right track. In case you are one of them, follow the given instruction:
1. Start By Planning
The first thing you need to do when thinking of fun camping with large family is to plan. Take a paper and aim for a location that seems decent to do your camp.
Think of the outer environment as well and based on that mark the date of camping days. An ideal camping decision that you can plan for is possible if you keep 3 things in mind:
The number of family members.
Days of camping sessions.
Budget.
Be sure to aim for a week or 10 days camping trip if it is your first time camping with a larger family. Plus, ensure you have set a proper amount of budget.
Pro Tip: Ask a few friends who has experience camping to understand how to plan for the camping.
| Read: How To Plan for Summer Tent Camping
2. Pack All The Tools
After making a solid plan, it's time to create the family camping checklist based on each member's priority. You'll need to think of kids and adults when packing the stuff for camping.
For adults, put the body/hair products, teeth products, medicines, food, and so on.
For kids, pack diapers, food, snacks, games, entertainment, and so on.
Here are some of the essentials camping tools list that you'll need to bring:
Camping chairs.
Water bottles and aluminum foil papers.
Tents.
First aid kit.
Clothes.
Sleeping bags with pillow and.
Lamps and lighter.
SPF sunscreens.
Bug sprays.
Air fresheners.
Paper towels or tissues.
Trash bags.
Dishes and cups.
Dry foods with milk, eggs, or other protein foods.
Fruits and snacks.
Camping strove.
Storage box.
Cool box.
Hammocks.
Skincare, haircare, and shower products.
Toothpaste and brushes.
Gloves and jackets.
Brooms.
Ropes, clips, and plastic bags.
Hand sanitizer.
Camping shovel, scissors, hammer, saw, axe, and other gears.
Football, Volleyball, books, or any other entertainment stuff.
Portable table.
Pro Tips: When you are packing the items, divide each kind of item by using labels. Like, use kitchen labels for foods and snacks while adding kid's labels for diapers.
3. Drive To The Destination
Once you've packed all the items that seem essential for camping, it's time to go to the location. It would be better if you take a trailer for rent to get all the things on the camping spot. Or else, you can organize them in the car and save bucks.
Pro Tip: If your car contains small storage, then use the rack on top to get some stuff above.
4. Pick A Decent Spot For The Camp
The next thing you need to do after reaching the spot is to find the right area where you and your large family will camp. Here are a few tricks that you should apply to find the right spot:
Walk all the way to the campsite to know which location is ideal for tents, a shower, a toilet, a cooking area, a firewood zone, and so on.
Ensure to place tents in a flat and even area to make the sleeping comfortable for all members.
Use a broom to remove any rocks, sticks, or any other particles on the flat surfaces.
Be sure the tent is at least 20 feet (6.1 meters) or more from the campfire.
You should choose a location at least 50 feet (15.24 meters) near a water source like a lake or pond. This will help you get a source of water.
A campfire needs to be in an open space with around 12 feet (3.7 meters) of airspace to avoid getting fire accidents.
5. Distribute Works Among All Members
You'll now need to divide the work of camping tasks between the kids to adults for each section. Be sure to give your kids less-burden work. Try the given directions and based on the difficulty level distribute the work:
Make family-size tents.
Build the private toilet place by wrapping a big cloth around the trees and securing it by hammering the pins.
Cut wood using the saw and axe. Make the small pieces to get the desired amount of firewood.
Place chairs and tables in an organized way.
Bring the storage boxes inside the tents and make everything near to reach later.
Set up the lamps in the right spots before dusk.
Like the DIY privacy toilet spot, make the shower zone using cloth.
Place all the waste bags around some trees, especially near the toilet, cooking zone, or other spots where one needs to dispose of the waste.
Dig a hole for the quick disposal of human waste in urgent situations. Be sure it is around 200 feet (60.96 meters) away from the campsite to avoid getting bad smells.
6. Enjoy The Camp With Your Family
To enjoy the camping days, be sure to disconnect your phone and other smart devices to enjoy the natural experience. Let me give some of the ideas below:
Make light foods in the morning as salad or fruit and milk mixed with cereal. For dinner or launce, make grilled meat or mix meat with veggies using the portable strove.
Mark a special area where you and your family members will play volleyball or other games that don't involve smart devices.
Prepare the campfire by using rocks surrounding the firewood.
Safety Preparation During Camping Life!
Spray the right solution to avoid getting bitten by insects or bugs.
Always carry the FAB (First Aid Box) in case one gets an injury.
Be sure to inform your close relatives or friends about your location before going camping.
Do not harm wildlife even if you meet creatures like bears or snakes.
Avoid letting your family members or kids play with the fire.
Think before you act and rely on your instincts even if others are saying it's okay.
Read: RV Camping Tips for Beginners
Ending Note
Camping with a large family is a fresh and joyful experience that is also a great idea on bonding and showing the love for each other. Apart from that, camping has many benefits for mental and physical health.
I would suggest you pick a decent camping type between car camp, dispersed camp, or backcountry camp before going to the site. Those are usually the right camping style enjoyed by larger families.
Happy Camping!
Philip Robert is an avid camper and hiker who loves nothing more than spending his weekends camping and hiking in the mountains. He has been camping and hiking since he was a young boy and has never lost his love for the outdoors.
Philip is a firm believer that there is no better way to connect with nature and get some exercise than by spending time in the great outdoors. He is always on the lookout for new trails to explore, and loves sharing his experience with others.
"MyOutdoors.net" is a place where you will find a comprehensive guide you need to know about camping and hiking. Philip has the knowledge and experience to help you enjoy the great outdoors.