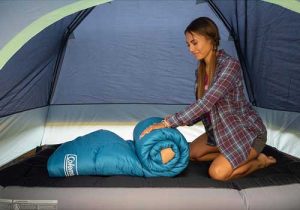 If you have been traveling for years, you would know pro travelers try to use gear and accessories of the same brand if possible. To them, Coleman is one of the trusted names. They probably have the most number of sleeping bags of different temperature ratings, sizes, and designs when it comes to sleeping bags.
While searching for the best Coleman sleeping bag, I made this list of top 8 products, from which you can pick the right one regardless of your camping needs and personal preference. These got some of the most comfortable and convenient materials to make sure you sleep tight at the campsite.
I have mentioned the drawbacks of each sleeping bag in the review section to make sure you don't blindly judge only based on the features.
About Coleman Brand & Who Owns Coleman
Historically, Coleman started its journey around 100 years ago by manufacturing lanterns. Within a few decades, they introduced new products in the market.
You just name a product that has to do with outdoor activities, and Coleman will be one of the very few manufacturers that have it. From lighting to tents and stoves to sleeping bags, they have a wide product line to make your outdoor exploring experience comfortable, less tiring, and convenient.
Top 8 Best Coleman Sleeping Bags Reviews 
For camping in extremely harsh and freezing-cold temperatures, the Coleman 0℉ Mummy Sleeping Bag stands out to be the best in terms of comfort, coziness, durability, and other aspects.
If you need all-season camping, pro campers and backpackers highly recommend the Coleman All-Weather Multi-Layer Sleeping Bag for the conveniences it comes with.
Coleman Palmetto Sleeping Bag for Cool Weather, 30℉ Temperature Rating
Feature Highlights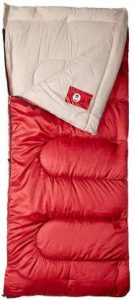 Durable polyester cover tackles rough surfaces
Comfortable, soft, and warm liner
Ideal for 25-30 degrees Fahrenheit temperature
Easy to zip and roll the bag
Soft and comfortable cuff
The first one on the list is for moderately cold weather. If you are below 5 ft 11 inches, the sleeping bag will still have a lot of space for you to waggle while sleeping.
As you can expect from a quality sleeping bag at this price point, it got a polyester cover, which seems durable enough to withstand surface roughness as well as little abuse. The liner is made of tricot fiber blend, and it's pretty warm and soft as well. It doesn't feel like those cheaply made sleeping bags.
Although it's made for 30 degrees Fahrenheit, you can even use it when the temperature drops down to 25 degrees and still feel pretty warm.
It got an inner pocket to keep your important stuff near to you.
When it comes to rolling the bag, you won't need any helping hand at all.
Downside
Synthetic liner material might not be suitable for all
Bulky when it's compressed
Verdict
If you need a comfortable and cozy sleeping bag at 30s, and can accept bulkiness and synthetic liner for the price, you should definitely check this Coleman 30 sleeping bag.
---
Coleman 0℉ Cold-Weather Mummy Sleeping Bag for Big and Tall Adults
Feature Highlights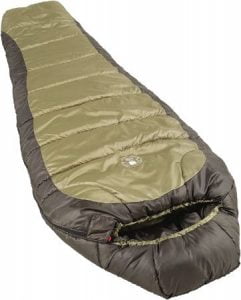 True sleeping bag that withstands 0℉
Enough room for a tall and large individual
Includes a semi-sculpted hood
Zippers prevent snagging while zipping it
Made with durable polyester fabric
Not all the sleeping bags that claim to provide comfortable warmth even at 0℉ are real. But, when it comes to Coleman, you can rely on their claim.
A number of customers actually tested this sleeping bag at 0℉-5℉ temp, and the results were pretty good. It truly delivers the warmth you need when the temperature gets freezing cold at night.
This mummy-shaped bag is large enough to fit more than a 6 ft. tall individual. Unless you have really broad shoulders, fitting into this bag won't be an issue for you. Along with the body, the feet stay warm enough to make you feel comfortable.
However, at 5℉, you might notice a bit of cold feet because of relatively low insulation at the bottom part of the bag.
Downside
Verdict
For those who go camping, no matter how harsh or extreme the weather gets, this Coleman sleeping bag 0 degree is a must for such tours.
---
Coleman Big and Tall Sleeping Bag for Cold-Weather Camping, 0 Degree
Feature Highlights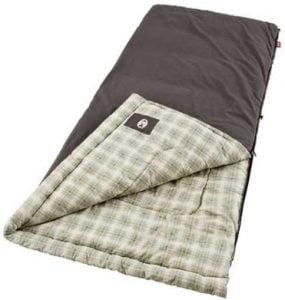 Cozy and comfortable flannel lining
Durable cloth-like fabric made anti-slip outer shell
Great heat insulation at 10 degrees
Spacious for a large individual
Quality anti-snag zippers
Machine washable
Another sleeping big and tall sleeping bag on the list. If you are a big guy, your height is not more than 6 ft. 7 inches, this is the one that would keep you cozy and warm during extremely cold nights.
One of the best-selling points of this sleeping bag is its flannel-made inner part. The lining is quite soft on the skin. If your skin is sensitive, you will like this.
Unlike conventional sleeping bags, the outer shell is made of cloth instead of polyester. This makes sure the bag won't slip when you move while sleeping.
Talking about its heat insulation, it does an excellent job when it comes to providing warmth. Even at 10℉, you will feel quite cozy and warm inside this sleeping bag.
The zippers are pretty durable and don't make the fabric snag while unzipping whatsoever.
Downside
Not waterproof
Lining isn't of 100% cotton flannel
Verdict
If you want a large sleeping bag to stay warm at 10 degrees Fahrenheit, you won't regret buying this Coleman Flannel-lined sleeping bag. Plus, it's machine washable, so washing it won't bother you much. Read more flannel-lined sleeping bags reviews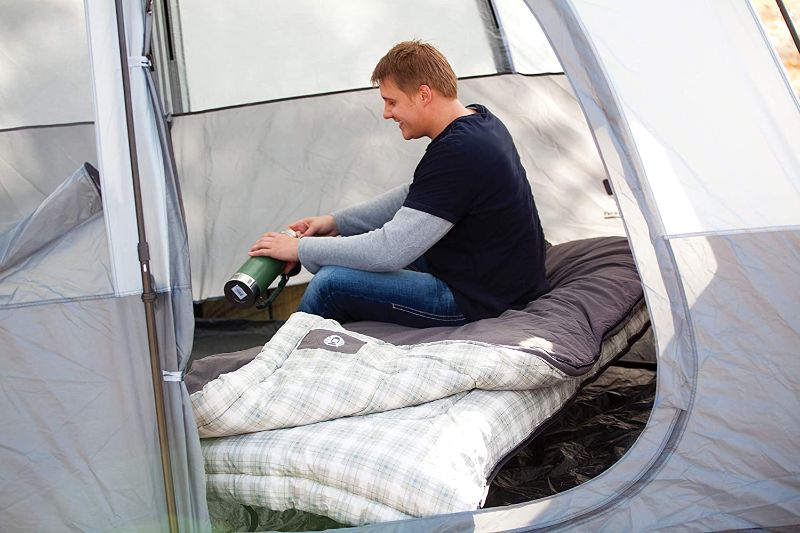 Coleman 3-in-1 Big and Tall Double Sleeping Bag, 45 °F Temperature Rating
Feature Highlights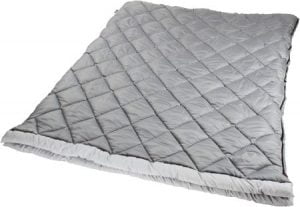 Polyester insulation lining
Large enough to fit 3 persons at a time
Versatile purpose sleeping bag
Ideal for mid-winter or summer use
Quick compression for portability
For family summer vacation trips, Coleman has a sleeping bag to offer. This 3-in-1 sleeping bag can fit two adults and one kid without any issue. However, as it's a summer sleeping bag, don't expect it to provide warmth during winter. If the weather is 45 degrees Fahrenheit or above, this one would be worthwhile using.
It got polyester material when it comes to insulation and stuff, which isn't that good for cold nights. Again, you cannot expect to use it for such a purpose.
As far as the comfort goes, the lining feels pretty cozy and comfortable on the skin. Thus, you don't have to compromise anything regarding this. You can zip multiple Coleman sleeping bags together to maximize the bed size.
Like the rest of the other Coleman bags, it comes with snag-free zippers to make sliding pretty smooth and convenient.
Downside
Not that warm for winter use
Verdict
This Coleman double sleeping bag suits best for family trips of 3 people. Make sure you don't end up buying it for the winter season. Or you will regret buying it.
---
Coleman Sun Ridge Warm Weather Sleeping Bag for Camping in 40°F
Feature Highlights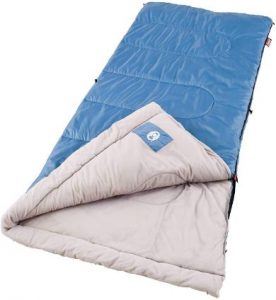 Durable polyester made outer shell
Soft liner feels comfortable on regular skins
Easy to glide smooth zippers
Machine washable fabric
Ideal for summer camping and tracking
Another summer sleeping bag on the list! This one is for an average-sized person. It will be pretty easy to pack and lightweight to carry.
Coleman made this sleeping bag using a durable polyester fabric to ensure it can endure toughness at campsites. You don't notice many scratches and tears even after using it for a couple of weeks continuously.
The lining is a synthetic material made. If your skin is sensitive, you won't find it much comfortable to sleep on. Otherwise, it feels more comfortable than cheap sleeping bags.
Unlike zippers on conventional sleeping bags, these don't bind up on the fabric whatsoever. But, you might have to struggle a bit when you got no one around to help you with rolling it.
Downside
Takes a bit of effort to roll it up
Verdict
If you need a lightweight and budget-friendly sleeping bag for summer camping, this suits just right for the wallet.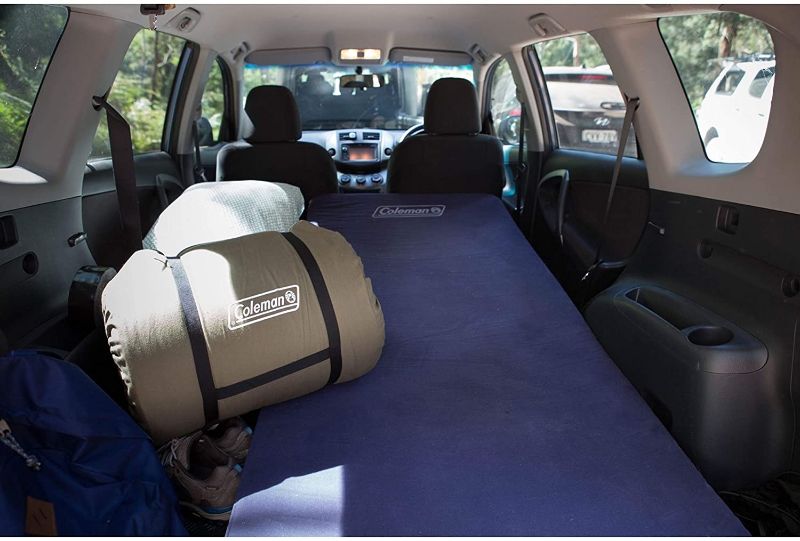 Coleman Big Game Sleeping Bag – 100% Cotton Adult Sleeping Bag, 0 Degree
Feature Highlights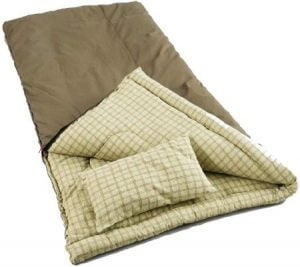 Durable thick cotton canvas
Comfortable and soft cotton lining
Can withstand 0 degree temperature
Snagging free zipper system
Can be zipped with another sleeping bag
This one on the list is for those who care about comfort more than the budget. When it comes to comfort, cotton-lining sleeping bags can be the only choice. This sleeping bag comes with a comfortable and soft cotton lining that provides the much-needed warmth as well as doesn't cause any skin issue whatsoever.
Apart from the lining, the canvas is also made of thick and durable cotton fabric. The overall heat insulation capability is exceedingly well. You can stay cozy and warm even in extremely cold weather. Camping at 0 degrees, won't be that difficult when you got this in your tent.
Any tall person up to 6 ft 7 inches can easily fit in it. However, this sleeping bag is quite bulky and heavy due to its thick cotton construction and large form factor. It's machine washable. But, you will need a large washing machine to wash it. Or you will have to send it to the local laundry shop.
Downside
Bulky and heavy requires a large washing machine
Verdict
Although the price is higher than others on the list, considering its durability, thickness, comfortable lining, and ability to provide warmth at 0 degree, it's hard to find a near similar alternative to this sleeping bag.
---
Coleman All Weather Multi Layer Sleeping Bag – Best for all Season Camping
Feature Highlights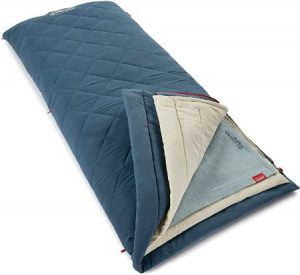 Multiple layer sleeping bag for all-season
Comfortable and soft lining
Durable outer shell
Easy gliding zipper
This is the most versatile sleeping bag on the list. You can use it for camping throughout the year, regardless of how cold or hot the weather is.
It got 4 layers for different weather requirements. You can set it to an all-weather layer to get enough air during summer. Warm layer can provide comfort at 45 degrees temp.
When the temperature is down to 30, be sure to use it as a cold sleeping bag. Attaching all 3-layers, you can stay warm even at 0 degree freezing cold weather.
The lining is super soft for sensitive skin. You can expect it to last for years without any issue because of its durable canvas.
Downside
Bulky
Doesn't have much space for a tall person
Verdict
If you are an average-sized person and need a sleeping bag for drive-in camping, be it in summer or winter, the Coleman all weather multi-layer sleeping bag would be worth spending every penny on.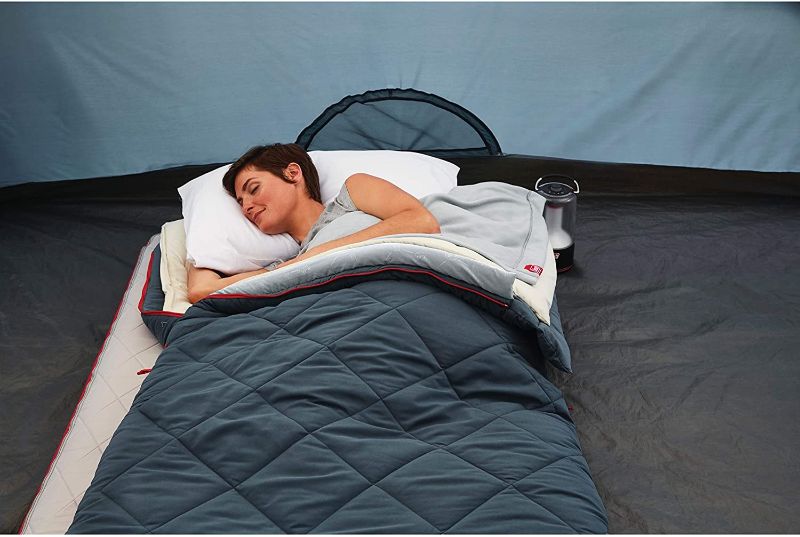 Coleman Kids Sleeping Bag, 50 Degree Temperature Rating
Feature Highlights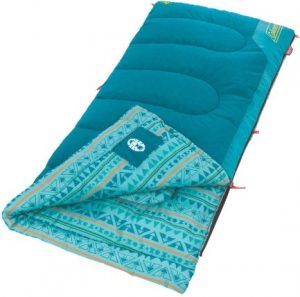 Ideal sleeping bag for kids
Feels cozy in moderately cold weather
Large enough for kids
Easy to roll and carry
Logo glows in dark
If you are to get a sleeping bag for the little camper, you can rely on The Coleman kids sleeping bag when the temperature isn't less than 50 degrees Fahrenheit.
For kids, it offers enough room inside it. The logo on the canvas glows in the dark, which is something you would need at campsites. But, the entire sleeping bag doesn't glow; this is the thing most customers were confused with.
The material is quite slippery, so you will have to place a fabric below it. Also, the quality of the zipper isn't good at all. As the sleeping bag is quite cheap, the manufacturer seems to cut corners on these.
Downside
Slippery material
Low quality zipper
Verdict
This is a pretty conventional sleeping bag that comes with a few compromises. If you are to buy an okayish kid's sleeping bag for not less than 50 degrees Fahrenheit, the deal is a good option to consider at this price.
FAQ's about Coleman Sleeping Bags
Are Coleman sleeping bags good?
The quality of Coleman sleeping bags are pretty good. You can get sleeping bags of different sizes for various temperature ratings, which are pretty accurate as they claim.
Can I wash a Coleman sleeping bag?
You can hand wash all Coleman sleeping bags. But, if you are to use a washing machine for it, make sure the sleeping bag is ideal for this washing option. Not all the models are suitable for machine wash.
Are Coleman sleeping bags warm?
Coleman has sleeping bags with temperature ratings from 0 degrees to 50 degrees Fahrenheit. So, yeah, their winter sleeping bags are pretty warm for comfortably sleeping during camping nights.
Final Words
Hope you can now decide which one would be the best Coleman sleeping bag to meet all your camping requirements, weather condition, comfort, and your sleeping preferences.
Philip Robert is an avid camper and hiker who loves nothing more than spending his weekends camping and hiking in the mountains. He has been camping and hiking since he was a young boy and has never lost his love for the outdoors.
Philip is a firm believer that there is no better way to connect with nature and get some exercise than by spending time in the great outdoors. He is always on the lookout for new trails to explore, and loves sharing his experience with others.
"MyOutdoors.net" is a place where you will find a comprehensive guide you need to know about camping and hiking. Philip has the knowledge and experience to help you enjoy the great outdoors.