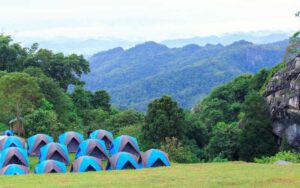 Camping is considered as one of the most adventurous and exciting outdoor activities. National parks usually cater to excited backpackers.
If you can't find the perfect camping spot for you, take a closer view of the most popular and frequented camping destinations in the United States.
Top List of National Parks You Can Go for Camping
Acadia National Park
Situated in Maine, this park is a concoction of both the beauty of an evergreen forest with rugged Maine coast. It is fully equipped with carriage roads for hiking and biking. Acadia offers free camp setups from December to March.
Yosemite National Park
This national park in California is considered as United State's first wilderness park. It has vast green meadows that boast of almost 13 campgrounds. If you are considering camping on Yosemite in the months of April until December, you would be needing reservations.
Badlands National Park
This National Park, which can be found in South Dakota, houses several species as the black-footed ferrets, fox, and the rare bison. It is a haven for wildlife enthusiasts. Visitors can even search for fossils, and be amazed over the formations of these fragile badlands.
Glacier National Park
If you are looking for a serene camping adventure, the Glacier National Park at Montana is the best place to camp. It has more than 700 miles of hiking trails surrounded by pristine lakes and lush forest.
Grand Canyon National Park
Not only is it one of the best camping sites, it is also considered as one of the most popular vacation destinations in the United States. Camping in this national park at Arizona will let you take a glimpse of the Grand Canyon and the Colorado River.
Lassen Volcanic National Park
Campers get to experience an overnight stay in along the active hydrothermal areas. The Lassen Volcanic National Park at California has 8 campgrounds. It truly is camping in the wilderness at this majestic landscape.
Death Valley National Park
A desert with snow caped mountains at California and Nevada, campers can enjoy mountain biking and hiking, which are popular recreational activities in the region.
Crater Lake National Park
The Crater Lake National park is synonymous to Oregon. It is a popular tourist and camping destination in the state. Awe in wonder at the bluer than blue lakes and majestic cliffs at a height of 2000 feet.
Assateague Island National Seashore
Campers can opt to camp along the bay or in the seaside itself in Maryland and Virginia. This national park boasts of sandy beaches, lush evergreen and slat marshes.
Philip Robert is an avid camper and hiker who loves nothing more than spending his weekends camping and hiking in the mountains. He has been camping and hiking since he was a young boy and has never lost his love for the outdoors.
Philip is a firm believer that there is no better way to connect with nature and get some exercise than by spending time in the great outdoors. He is always on the lookout for new trails to explore, and loves sharing his experience with others.
"MyOutdoors.net" is a place where you will find a comprehensive guide you need to know about camping and hiking. Philip has the knowledge and experience to help you enjoy the great outdoors.