Are you thinking of buying or renting an RV and hitting the open road on your next vacation? Well, using RVs for any journey can be a great way to travel and enjoy viewing beautiful landscapes, but they're not for everyone.
Like any other form of traveling, there are both advantages and disadvantages of rving and you need to know them before making any decision regarding your ride. So, without further ado, let's take a look at the pros and cons of Irving.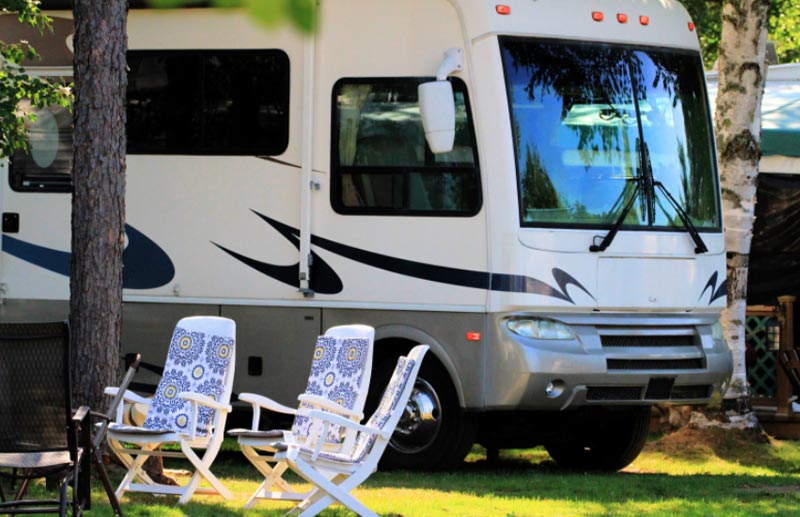 Most Common Pros And Cons Of Rving
There's nothing quite like the freedom that comes with RVing. Being able to go wherever you want, when you want is a feeling that can't be beaten.
But before you went for your RV camping, it's important to be aware of the benefits and drawbacks of taking the motorhome for a tour. So, read on for a breakdown of some of the most common pros and cons of this type of travel. 
8 Pros of RV Traveling
Here I've listed 8 exciting advantages of the Rv tour that can inspire you to arrange your next trip.
1. Great way to travel and see the country
For individuals who want to travel to beautiful places but don't want to look for a house and settle down, RVs are an excellent option. Plus, you can take your time stopping at different attractions and campgrounds while traveling by a recreational vehicle.
2. Comfortable and Convenient
RVs come in many shapes and sizes, but they usually have enough space for a family or a group of friends. And, most importantly, they have all the amenities that you need for a comfortable trip and that's why many people love Rv living.
Moreover, You don't have to deal with the hassle of traditional methods of transportation which can be quite uncomfortable and time-consuming. The best part is that you can pack up all your belongings and start living on the road without having to worry about finding a secure hotel or home.
3. Safe Journey
RVs are much safer than traveling by car or public transportation. When you're on the road, many things can go wrong. But when you're in an RV, you have a much higher level of control.
4. Less chance of illness
When you travel by a motorhome, you have less chance of getting sick because you're not exposed to as many germs. And, if you do get sick, you can always park your RV at a nearby hospital or clinic and take necessary treatments.
5. Saves money on accommodations and food
One of the best things about Rv living is that you can save plenty of money on accommodations and food. As you don't have to book a room in a hotel, living in your own camper will help you cut your traveling cost significantly. You can cook your own meals and save money too.
6. Perfect for family Gatherings
RVs are great for families because they provide a comfortable and convenient way to travel and all members of your family will enjoy riding an RV. Moreover, you will get a lot of time to spend with your family, and it will surely put a positive impact on your relationship.
7. RVs are pet-friendly
Pet-friendly nature of the RV is an exciting feature for pet lovers. So, as a pet owner, you don't have to worry about leaving your little friend behind. You can bring them with you without any hesitation and enjoy your journey with them.
8. Minimum packing unpacking hassle
When you travel by RV, you don't have to deal with the hassle of packing and unpacking your belongings. Also, you don't have to leave any important things behind as you can carry a lot of stuff with you.
Cons of RV Traveling
As there are several advantages of RV travel, there are some disadvantages as well. Let's have a look at them:
1. Lot of cleaning
When you're traveling by RV, you have to do a lot of cleaning. As you're living in a confined space, it's important to keep everything clean. Otherwise, it will become a breeding ground for bacteria and other harmful organisms.
2. Special license may be required
You need a special license to drive a large RV. I mean, if your Rv is over 26,000 pounds, your normal driving license may not work. In some states, the weight limit is even lower. In such cases, you may need a CDL (commercial driver's license) to operate such a big motorhome. So, you need to check the laws of the state where you're planning to travel.
3. Not easy to find a parking space
It's not easy to find a parking space for your trailer. As campers are large and bulky, you need to plan your journey carefully. Otherwise, you may have to park your recreational vehicle in an inconvenient location which can lead to a lot of problems.
4. Can't run on small roads
RVs are not designed to run on small urban roads. So, if you're planning to visit a remote area, a trailer or motorhome isn't the best option. You may have to take a different route which can add extra time and cost to your journey. Another solution is towing a car behind your RV but that can reduce your fuel efficiency and mileage.
5. Difficult to make sudden changes in plans
When you're traveling by RV, it's difficult to make sudden changes in plans. As you have to find a suitable place to park your RV, it's not easy to change your route on a whim. So, you need to plan your journey carefully and stick to your itinerary.
6. Slow in speed
RVs are not designed for speed. So, if you're looking for a fast and exciting expedition, an RV is not the right option. You may have to endure long hours of driving at a slow speed.
7. Weather can be a problem
The weather can be a big problem when you're traveling by a motorhome. If it's too hot or too cold, it can make your trip very uncomfortable. Also, if there's a storm or heavy rain, it can be difficult to drive an RV. So, you need to be careful about the weather conditions before setting out on your journey.
8. Less scope for self-exploration
When you're touring by a camper, you're confined to a small space with friends or family members. So, there's less scope for self-exploration. Moreover, you may have to stick to a strict schedule which can limit your freedom.
Conclusion
RVing has its pros and cons, just like any other form of travel. It's important to be aware of these before you decide if RVing or RV living is right for you.
To sum up, if you're looking for a relaxed and comfortable journey, RVing may be the perfect option for you. However, if you're looking for an adventure, you may want to consider other options. Whatever you decide, make sure to do your research and plan your trip carefully.
I hope you spent a fun time reading this article. Do you find it helpful? How much we deserve out of 5 stars! Hit the ratings below.
Philip Robert is an avid camper and hiker who loves nothing more than spending his weekends camping and hiking in the mountains. He has been camping and hiking since he was a young boy and has never lost his love for the outdoors.
Philip is a firm believer that there is no better way to connect with nature and get some exercise than by spending time in the great outdoors. He is always on the lookout for new trails to explore, and loves sharing his experience with others.
"MyOutdoors.net" is a place where you will find a comprehensive guide you need to know about camping and hiking. Philip has the knowledge and experience to help you enjoy the great outdoors.