No matter if you have a big or small family, the weekend spent through RV is a maiden trip as a whole. But some RV noobs have to learn all the tricks before actually undergoing the full-time travel procedure.
By learning the RV camping tips for beginners, you can pile in and head out without facing regret later on. The tricks may save your expense, make moments fun, and give you initial ideas. So, how do you comfort some best RV trips for beginners?
In this guide, I'll offer 5 hacks to keep a camper organize and know all the essential points. Keep on reading…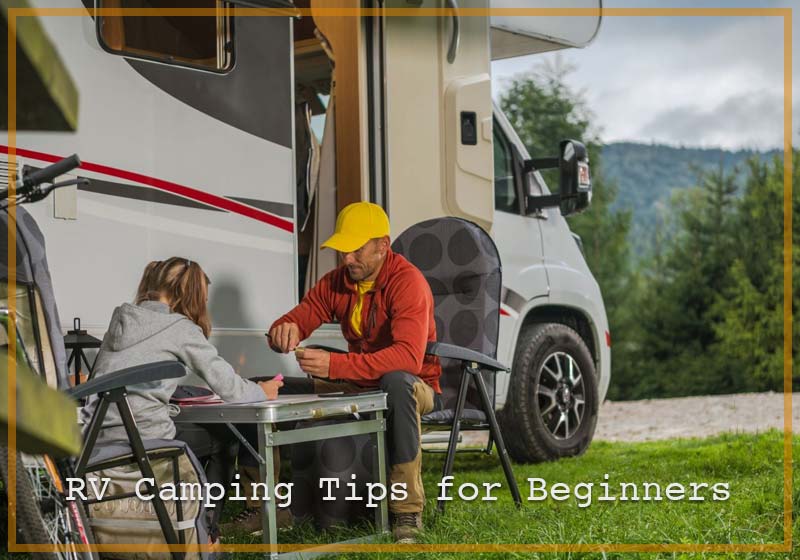 5 Tips to Make the Best RV Camping Trips for beginners
RV (also known as Recreational Vehicle) camping is nothing but a fun trip where you and your homies hop for a long journey by watching the beautiful scenario. A noob who is planning for this type of trip would normally ask 'How do I prepare for my first RV trip'.
To find the answer, you might need to know all the tips to get full insight into this topic. Before jumping into that, you should get familiar with the RV camping essentials for beginners. What's that?
Basically, one has to carry some RV basics stuff which can't be neglected (even if you don't find them compulsory). These are:
First aid kit (tweezers, bandages, wipes, antiseptic pads, insect repellant, white tape, and so on).
Radio (battery-powered) or phone.
Flashlights.
Tissue paper.
Pocket knife.
Firelight and extinguisher.
Ropes.
Multi-angle wrench.
After packing these items in your backpack, look into the given tips which will help you determine what to prioritize as a first-timer.
Tip #1 – Figure Out Whether to Buy or Rent RV.
To understand the RV tutorial for beginners, you have to pick one out through rent and buy options. As we all know, RV can be owned officially by buying or renting for a day. Both of them have good and bad sides. And the ultimate decision depends on how often you need an RV.
Buy: For full-time camping, it's best to get an RV to cut the cost of rent over months. However, you need to think of good storage and maintenance of it too.
Rent: If you are an occasional camper, then renting RV would be ideal for a single fun trip. Yet, it is better to do good research to pick one in rent.
Tip #2 – Get Familiar with Your RV.
As a newbie, another RV camping tip would be to know more about it. You might need to ask yourself some questions and find the answers before having them. Such as:
How does the RV work?
How to determine a problem of RV if something happens?
Will it require a repair?
These are some of them which will help you learn about RV even better. Plus, it might save your energy, time, and bucks before calling a mechanic during camping. Besides, you'll make fewer mistakes through knowing the issues.
For instance, if you have no clue about the amp limitation of electrical parts, they'll most probably get burned when driving recklessly.
And, the cost of repair is high. By learning the basics of RV, it'll help you avoid this kind of scenario.
Tip #3 – Prepare for Smaller Trip to Get a Sneak Peak.
Noobs should think of smaller trips before actually going for the long-term RV camping with family members. Why? It will give you some ideas about what to think of or where to go for trip ideas.
Plus, the smaller trip of RV will build your confidence to understand the living area and how tough it gets when shifting location to hills from parks.
Once you get the inner confidence to jump into big camping, then you can work on those adjustments and go for it.
Tip #4 – Gather Tools & Other Gears.
Tips on RV for dummies can't be the only thing to focus on when there are important tools that seem essential during camping purposes. Here are a few gears mentioned down below that you'll need during the journey.
Well-stocked tool kit.
Fuses.
Light bulbs.
Cables.
Bolts, nuts, washer, and other connectors.
Velcro and hooks.
Fix-a-flat kit.
Tire pressure gauge.
Screwdrivers and other tools.
Jacks and breaker bar.
Drill bit set.
Sleeping pads and tents.
Foldable chairs.
Foods and beverages.
Camera.
Ladder.
Caulk gun.
Air compression box.
Tape, knife, and bungee cords.
Hammer.
Work gloves.
Drop cloths.
Think of the place where you will camp and then decide which items are essential for the purpose. That way you can easily organize the tools.
Tip #5: Make A List of Campground Setup.
RV camping requires a novice to determine some checklist of campground routine. It's something which will let you know what to do when you reach the place. Follow the given checklist if it's new to you.
Pick a site to use branches and other obstacles on the ground.
Think of the electrical stuff, water, and fitting of hooks.
Adjust your RV and hookups while leveling the surface using the jacks or blocks.
Choke the wheels to ensure a secured rig.
Link the hookup and switch your appliances. Be sure the power source is electrical rather than battery operated.
Insert the sewer hose into the drain hook. Don't forget to attire gloves in the procedure.
Douse the awning and adjust the campsite.
Wrapping Up
Camping with the RV is one of the fun things to do, and as RV enthusiast I would tell anyone to try it at least once in their lifetime.
To make the journey smooth with no issues, the given RV camping tips for beginners will help you. I have tried to make this guide short yet informative by presenting useful tricks.
These points will definitely let you enjoy RV camping without making mistakes. And, be sure to make a checklist to remember all the points well. Happy Travelling!
Philip Robert is an avid camper and hiker who loves nothing more than spending his weekends camping and hiking in the mountains. He has been camping and hiking since he was a young boy and has never lost his love for the outdoors.
Philip is a firm believer that there is no better way to connect with nature and get some exercise than by spending time in the great outdoors. He is always on the lookout for new trails to explore, and loves sharing his experience with others.
"MyOutdoors.net" is a place where you will find a comprehensive guide you need to know about camping and hiking. Philip has the knowledge and experience to help you enjoy the great outdoors.