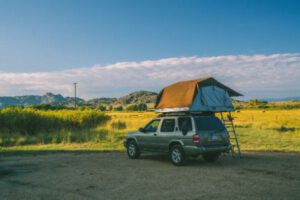 Whether it is to some national park or a private campground, deciding for a camping trip is one of the best things to do on holidays. My mom loves car camping.
She, me and my dad had so many car camping trips that it became one whole ritual for us. And so, you can say I'm a devotee when it comes to discussion related to car camping.
Once my mom asked me if I had fun with the night spend outside. But it was not really, because of the mattress we were sleeping on. I told her with a pouty face how uncomfortable the mattress felt and my mom quickly decided to cut down that piece from our next camp list.
I can still remember her saying how important it is to have a well-organized and planned essential car camping gear list that cares about needs of everyone joining the trip.
What Gear Do I Need for Car Camping: Talking About Must-Have Car Camping Necessities?
You know from the heading already that we are about to discuss some essential gears that absolutely enhance this experience.
You see, car camping is a bit different than the regular ones. Here you may sleep inside your car that you've driven to the camping spot. Some tools are going to sort out problems that you may face while having this experience.
And so, even if you don't want to spend the money on buying stuffs, it is a pretty important to do if necessary.
A Light & Comfy Sleeping Bag to Keep You Warm Throughout the Night
Napping inside the car definitely demands a proper sleeping bag. It needs to be comfortable enough to really rest after a day full of activities at the campsite. Many complain about not having proper sleep due to a lack of space and proper sleeping support.
A comfy sleeping bag is the most important thing in your list if you can never compromise sleep. Also, take note of this point if you are bringing kids along. You don't want to see their ruined faces and cries because they didn't get enough sleep.
Listen to Your Comfort with The Right Mattress
Sometimes, a mattress is an important thing to consider when you're traveling in a big car with your family. The need for extra space and comfort can be met by using right type of inflatable mattress.
Please do ensure the mattress is not just a thin piece that feels horrible to lay on. You already know about my little unhappy childhood story of car camping. You, your child or partner should not bear a horrible experience once the trip ends.
Also, since it's one of the family car camping essentials, you need to consider a pretty huge size for it. Make sure to get something that could be packed in a smaller size. That way managing and carrying it along would be a lot easier. Also don't forget the power adapter and extension cable to fill up inflatable mattress, if you are using one.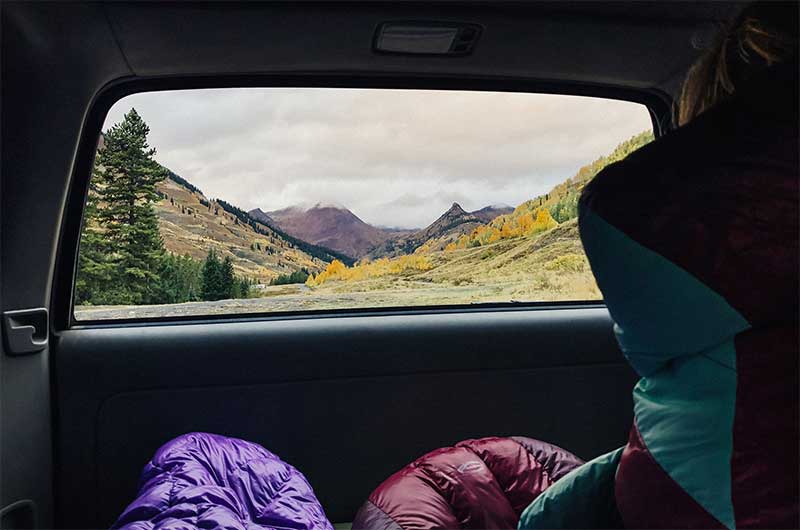 A Tent That Fits for Car Camping
When someone asks, "what do I need for car camping" they probably expect me to count a tent on that list. And there's no way I'm not adding one. I mean, it's one of those things that actually centers the entire event.
A camp without a tent sounds imaginary honestly. So, when you are car camping, make sure to get a suitable tent that fits inside the vehicle properly. Also, you want to ensure the mattress or sleeping bag fits nicely inside.
One cool hack is going for a tent that is one to two sizes bigger than what you actually need. The extra space will create a comfort zone for each and every member. And perhaps, it can also cover all those extra gears that you carried along to the trip.
A Strong & Sturdy Day Pack
Bag packs are not really necessary to bring on a car camping trip. But for the sake of proper organization and not missing a tool out of sudden, it's good to bring a small one. Also, this is must-have gear for those who plan to go on hiking next morning or anytime during the camping trip.
One of my camp partners told me a secret regarding choosing a backpack for a car camping trip. He told me to pick a backpack that matches with my body frame. This way, I won't be carrying something uncomfortable for my shoulders. Also, it gives a cool vibe.
Hydration on Check with Safe to Drink Water
To keep your hydration level on a check, drinking enough water is important. This is not limited to camping but every single day. My point is that during camping trips, the whole matter gets often neglected. Also, I've been through some situations where I had to save water since there was not enough stored.
So, you should always arrange proper water bottles to carry along. A person needs about three liters of water to drink only. Make sure to calculate the amount to bring enough water.
Also, having a lightweight personal water purifying filter can be an amazing gear to add in the list. It does add to bill a bit heavily, but you'll have one for multiple trips. Also, you can bring some Powerade drops to add with your water. This really enhances the taste of water which could seem a bit off due to longtime storing.
Foods in Woods
Local restaurants are one option to try when car camping in a particular area. But to be honest, that's very boring. You can make your own breakfast or bring some pre-cooked meals at the site. Eggs, bacon, lasagna, and ramen are some of the most delicious campsite foods to go for.
Some people also prefer eating ramen or hamburger for dinner. You can't miss the sky full of stars with a cup of warm, spicy noodles during cold nights.
Snacks are a blockbuster when it comes to road trips. This could be a game-changer for your kid's mood while on the way to campsite. And most importantly, bring chopsticks, spoons, forks, and plates. You don't want to look for sticks from nature and use it as a smore stick, right?
Another trick that works for me every time is using Jetboil. This is super-fast to boiling water while cooking instant ramen. Apart from that, you need other cookware as well. A cookstove stays right above this list of important cooking gears. Especially if you are camping with a huge group of friends or family.
An AeroPress is also another hidden gem in this list for those who love starting their morning or ending their night with a strong cup of coffee.
Portable Lights for Midnight Nature's Call
Headlamps or flashlights are pretty important gears to carry. These are necessary in dark nights when you need to go for peeing. Solar charged lanterns or the ones that use USB devices can also work well as a fantastic illuminating source.
Some of you might be planning on a date car camping. In such cases, lights are the best stuff that creates a romantic mood. You can also take some candles along unless the area is too windy to keep them on.
Multiple Knives for Various Camp Tasks
You need knives for car camping! Not just kitchen knives but the sturdy ones as well. These are probably the most helpful things around a campsite. Some people like to carry different types of knives depending on their sharpness. One might help with cutting fruits while the sharper ones deal with ropes and thicker materials.
A multi-tool that offers a knife part can also be a smart way to carry one. You'll be able to enjoy the other necessary tiny parts inside that multi-tool for a few camping needs.
Skin Care & Toiletries to Bring
Get a Ziploc bag to hold your skincare lotions and moisturizers inside it. You can also use travel kits that are small-sized to carry all your skincare goods. A mini tube of toothpaste should always stay along with your toothbrush.
Don't forget body wash, shampoo, and deodorant. The later one might just save your day if there's no way to take a shower. Also don't miss out enough toilet paper.
Sunblock and bug spray are quite essential to take during hot days. You can simply take out the cardboard part from toilet paper and flatten it down. This is a space-saving trick I apply every time.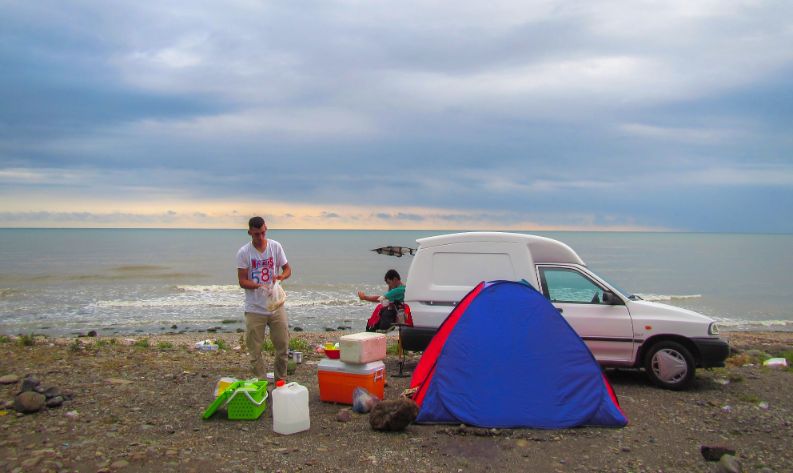 Frequently Questions:
What is a Road Emergency Kit?
Your car might break down on its way to the campsite and ruin entire plan. In such circumstances, using a road emergency kit full of tools will feel like a blessing.
Some people believe it's just taking unnecessary space. But they soon come to regrets when a mishap breaks down their car.
You can carry a DIY road emergency kit by including tools such as flares or triangular reflector, batteries with flashlight, engine coolant, jumper cables, tire pressure gauge, pliers, screwdrivers, wrench, extra water, pen, and paper.
How Should I Pack My Camping Gear in a Car?
You need to consider your car's layout first. Then follow some tips to pack everything inside. Sort by placing the most important gears in an accessible spot. For example, rain gears, wallet or emergency kits could be needed at any moment. Keep them closer.
You can also use a rooftop carrier to get some extra space above your car.  Compression and stuff sacks are mind-blowing at organizing. These also help with space-saving.
What Clothes Should I Avoid on Car Camping?
You should wear clothes that are comfortable. But at the same time, be prepared for sudden weather trouble or situation. And so, being ready with lots of layers will help you to quickly take a step. You can cope up with changing conditions by adding or subtracting clothing layers throughout the day.
Conclusion
And you are all set to go for the trip with every essential car camping gear that you'll need. Don't shy away from adding or subtracting any item according to your case and requirements.
It's going to be a remarkable trip that should follow events you'll be planning. So, considering additional gears will surely improve the trip and in some cases, save it.
Hopefully, You'll Have Fun Creating Amazing Car Camping Memories!
Philip Robert is an avid camper and hiker who loves nothing more than spending his weekends camping and hiking in the mountains. He has been camping and hiking since he was a young boy and has never lost his love for the outdoors.
Philip is a firm believer that there is no better way to connect with nature and get some exercise than by spending time in the great outdoors. He is always on the lookout for new trails to explore, and loves sharing his experience with others.
"MyOutdoors.net" is a place where you will find a comprehensive guide you need to know about camping and hiking. Philip has the knowledge and experience to help you enjoy the great outdoors.