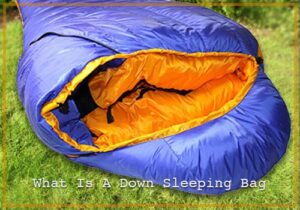 Anyone who has searched for the best sleeping bag would be familiar with down. It is a natural fill or insulator to keep a person warm and cozy for camping or hiking use.
Making a purchase before knowing what is a down sleeping bag might be wrong as it might have some traits that you don't like. So, it's better to have a good idea of it and then make a decision rather than choosing randomly.
Keep on reading to become fully familiar with its characteristics, the lovely and ugly sides…
Know What Is A Down Sleeping Bag With Its Pros & Cons!
The down sleeping bag is one of the best natural insulators. It got excellent fill power, compression, and its weight is lighter. 
From ancient times, down has been used as an insulator. In case you don't know 'down bag meaning', it is a big insulator which most use to sleep in. This basically feels like a padded bed that is super light, fluffy, and warm.
If you want the best down sleeping bag which holds 600 fills with a 20° F temperature rating, then go for the Kelty Cosmic 20 Down. It won't disappoint as it got an 80% positive rating for its quality and comfort.
Back to the point, down got unique traits that make it different, which is its identification. So, let's move to the next section by presenting all traits with down sleeping bag advantages and disadvantages.
Fill Power
To say the down sleeping bag is good in quality, it needs to have more fill power. As a thumb of rule, higher fill power leads the down to expand in better space so that it lofts.
*1 ounce of down (high-quality) = More loft (survive a lot of heat)
Squeezing Ability
Another good trait of the down sleeping bag is the compress ability. In general, it can compress properly for up to 25% or less. Thanks to this talent, this can be fit into a small place with no hassle. Meaning great for backpacking.
Lightness
Down is immensely light in weight due to the small height. It only has padding which can be compressed so the weight can reduce by up to 20% on average.
Temperature Rating
To ensure good warmth inside the sleeping bag, down present a higher temperature rating. Which is around 20° F or more to create a warm atmosphere in cold seasons.
Good Sides:
Light in weight.
Lasts for up to 10 years or more.
Gives comfortable to side sleepers.
Squeezable insulator.
The warmth-to-weight ratio is excellent.
Weaknesses:
More costly.
In a wet state, it won't insulate.
What Is A Down Filled Sleeping Bag?
It is the same as a down sleeping bag but contains a lot of cushion or insulation fillings to make this fluffier and softer. While it is a good sids, a few users don't like to sleep in a high-filled down sleeping bag. And, this might be bad for side sleepers.
To make the long story short, the down-filled sleeping bag is ideal for anyone who wants higher-like fill space to have better warmness just like summer.
Is Down Better Than Polyester – Who Wins The Race?
Both might do well in certain fields but there's definitely a winner. These 2 sleeping bags for camping might work differently as a whole. Let's find out who's better:
Overall Value 
The price of down and synthetic sleeping bags do poles them apart. To begin with, down is pretty expensive at cost, not more than $300 on average. And, it has many varieties, weight points, and color options (which cause the item to be pricier).
Then again, polyester is quite inexpensive costing around $30 to $100 in general. That's one of the many reasons why all polyester bags are famous.
Winner: Down Sleeping Bag.
Warmth-to-weight Ratio
The ratio of warmth-to-weight is being measured by the insulated product based on its capability of staying in all weathers and conditions.
In this factor, the polyester would do excellent to keep you warm compared to down. To give an example, the 10 ounces of polyester sleeping bag would be heavier and warmer than the 6 ounces of down insulation. Yet, this would be bad for summer use.
Winner: Tie.
Wet State Performance
While the down lack in this field, in contrast, the polyester works great in wet conditions. To put it clearly, the down sleeping bag might lose the insulation in the wet state.
In fact, most modern dealers modify products made with a down insulator to ensure moisture-wrecking and fast-dry traits.
In opposition, polyester is a soft and thick material that can naturally let you sleep even if the surface gets wet.
Winner: Polyester Sleeping Bag.
How Long Do Down Sleeping Bags Last?
Being a mix of rigid and cushiony, down is a durable sleeping bag. On average, this will stand in good shape for around 10 years or more.
Most down sleeping bags made of nylon, polyester, and taffeta. Thanks to the nice material choice, it can resist most negative impacts that cause issues. Yet, you need to care for them regularly to ensure longevity. Or else, it won't stand long-term.
B-grade quality down would last at least 5 years.
High quality down will stand for 10 years or more.
With maintenance, the sleeping bag will stand 15 years.
Without proper care, it will be in good shape for 3 years.
Frequently Asked Questions
Can you compress a down sleeping bag?
Yup, you can. It won't cause internal or external damages to the down sleeping bag. But, do not compress it for a pretty long time as this will cause harm.
How does a down sleep bag work?
The down sleeping bag work contains thick materials that increase warmth by trapping air and circulating it. Thanks to the high padding system, this helps make the environment inside the sleeping bag hot.
Does down lose its loft over time?
Technically, it can lose its loft if contacted with rain or gets wet. Due to the insulation system, it can lose loft under heavy rainfall.
Ending Notes
Now you have a pretty good sense of what is a down sleeping bag. It does contain a lot of goodness to use in the trip with some bad traits. Which are forgivable and avoidable if looking into the benefits.
Hope you find this guide sufficient to figure out if it's good for your purpose or not. We'll be back with new stuff in the next guide. Take Care!
Philip Robert is an avid camper and hiker who loves nothing more than spending his weekends camping and hiking in the mountains. He has been camping and hiking since he was a young boy and has never lost his love for the outdoors.
Philip is a firm believer that there is no better way to connect with nature and get some exercise than by spending time in the great outdoors. He is always on the lookout for new trails to explore, and loves sharing his experience with others.
"MyOutdoors.net" is a place where you will find a comprehensive guide you need to know about camping and hiking. Philip has the knowledge and experience to help you enjoy the great outdoors.