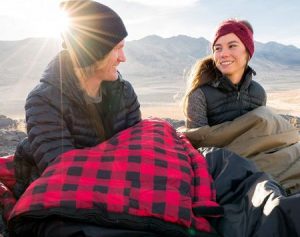 From experience, it's a bit difficult to get the most needed coziness and warmth during cold nights outdoor camping, especially if you have a tight-budget.
Within the $30-$80 range, you will find decently made canvas shell flannel sleeping bags in the market. To make sure you get the best flannel lined sleep bag out of your investment, the material, insulation type, detachable liners, waterproofing, windproof, and using conveniences are the things you need to check for.
After days of intensive research, and going through opinions and experience of pro travelers, I found these 10 products are far better than the rest of the other sleeping bags.
Depending on your budget, these sleeping bags can increase the temperature by 8 to 15 degrees Fahrenheit.
Top 10 Best Flannel Lined Sleeping Bags Reviews
Considering extreme cold weather, APLS OutdoorZ Redwood stands out to be the best due to its durable canvas shell, comfortable and warm cotton flannel liner.
If you want an all-season or 3-season sleeping bag, the RedCamp Cotton Flannel would be the best pick in this case.
1. RedCamp Cotton Flannel Lined Sleeping Bag for Adults 23/32F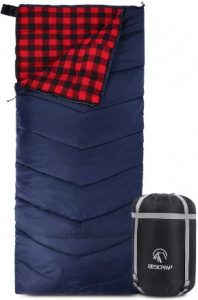 The first sleeping bag on the list is from Redcamp. For drive-in camping at 30-40 degrees Fahrenheit at night, this flannel sleeping bag will be more than enough for you to get the much needed warmth while sleeping. If you plan to camp below 30 degrees, be sure to get the 4 lbs fill variant of this unit.
Made of high-quality 210T ripstop polyester shell, it got the durability you need for outdoor adventures. The inner is filled with high-density hollow cotton to add more to the comfort when you sleep.
It's roomy enough to fit a full size grown man. Most people can even cover their heads while having enough space below the feet.
Feature Highlights
350 GSM cotton filling
Durable polyester shell material
2-way zippers allows adding multiple sleeping bags
Built-in cords to compress and tighten the bag
3 lbs weight
Downsides
Not machine washable
Filling doesn't seem enough for recommended temperature
Verdict
If you compare it to others in terms of price, inner cotton material, and the comfort this one offers, it easily knocks off the competitors. This will be the best cotton flannel lined sleeping bags for moderate cold temperature.
However be sure to put a blanket on it if you are camping below 35 degrees Fahrenheit. As the fill doesn't seem to be enough as advertised.
---
2. ALPS OutdoorZ Redwood -10° Cotton Canvas Flannel Lined Sleeping Bag for Winter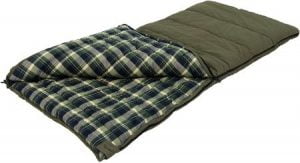 Camping in extremely cold weather requires a warmer and heavy sleeping bag to spend nights comfortably. For freezing cold temperatures, this sleeping bag will get you the needed warmth during night. Being a heavy one, it's only for car camping.
Its cotton canvas cover got some weight onto it, but it's not the heaviest. It feels pretty solid, doesn't feel cheap at all.
You will get quite a comfortable and cozy feeling while sleeping on this bag because of its super soft cotton flannel lining. For the price, it's the best cotton flannel-lined sleeping bag for winter for as low as -10 degrees F weather.
If you are concerned with the size, it will easily fit a large individual without any issue at all.
Feature Highlights
Durable cotton canvas outer shell
Comfortable and soft 100% cotton flannel
Provides enough warmth in above -10 degrees.
Spacious for a large individual
Smooth and high-quality zipper
Downside
Verdict
I would really recommend using this sleeping bag if you are camping somewhere with -10 degrees temp or above. However, if it increases to 30 degrees, you will feel hot for sure. So, plan according to it.
---
3. Cotton Flannel Lined Double Sleeping Bag for Camping in 5-15℃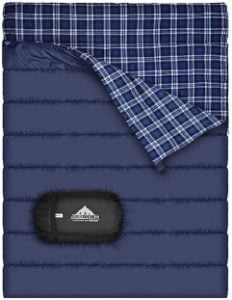 If you are looking for a couple sleeping bag for the upcoming camping tour, you shouldn't miss the deal. It got large space for two people to get inside, also you can also use it as a single sleeping bag, which makes it a perfect flannel lined double sleeping bag.
This lightweight flannel sleeping bag is only for using 40 degrees Fahrenheit or above. If you still plan to carry the bed in a place where the temperature will be less than that, be sure to take some blankets as well.
The outer shell got pretty durable water-resistant polyester fabric. You will find its soft brushed flannel cotton surface pretty comfortable to sleep on.
Because of its thin and lightweight structure, carrying it won't be much of an issue for you.
Feature Highlights
Durable and waterproof outer shell
2-in-1 multipurpose sleeping bed
Powerful compression for easy carrying
Machines washable
Separate zipper for each person to get out of the bag
Downside
Not suitable for less than 40 degrees Fahrenheit
Only fits a small couple
Verdict
Let me get things straight. For a couple trips where the temperature isn't less than 40 degrees Fahrenheit, it will deliver great value for the investment. But, again, if both you and your husband or wife are above average in size, the size might not be enough for you guys to fit it comfortably.
---
4. Teton Sports Celsius XXL Flannel Soft Lined Sleeping Bag for Family Camping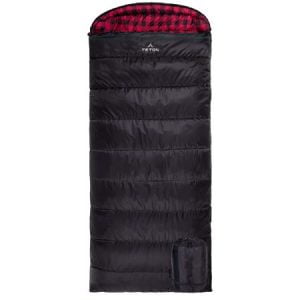 Opposite to the previously reviewed sleeping bag, this one is a well spacious couple sleeping bag that can withstand extreme cold temperature down to 10 degrees Fahrenheit. So, whether it's your spouse or it's you with a large body shape, you will find this bag roomy enough while sleeping at a campsite.
The manufacturer used a durable taffeta shell to make sure you can use it for years. To get you guys a comfortable sleep, its inner part is made of brushed poly-flannel material.
With its half-circle mummy style hood, you can cover your head during extreme cold nights and sleep tightly.
As it's quite spacious, it seems relatively larger than other sleeping bags. So, it suits only car camping. But, when it comes to the weight factor, it's quite the same like other couple sleeping bags.
Feature Highlights
Extreme cold temperature rating sleeping bag
Durable outer and inner construction for years of use
Enough roomy for large individuals
Interior pocket for storage
Smooth rolling zipper
Mummy hood for covering the head
Downside
Heavy to carry
Very slippery
Verdict
If you are to go camping somewhere with extreme temperature, and you need a large and easy to toss interior, this would be the best extra large flannel sleeping bag for you.
---
5. Teton Sports Mammoth Queen Size Double Sleeping Bag – Best Canvas Flannel Sleeping Bag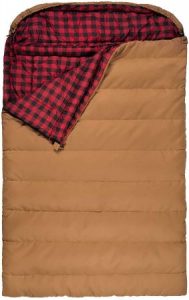 Another canvas flannel sleeping bag from Teton Sports. This one is a queen size flannel bag, which you can share with your kids and spouse without struggling to get comfortable inside it.
When the temperature is freezing cold, around 20 degrees Fahrenheit, you can still count on this bag. The fiberfill is exceptionally warm for temperatures like this. You may not want to layer it up when the temp is above 35 degrees.
Like the previously reviewed one, it also got durable taffeta shell to make sure it lasts for years. The inner part is made of brushed poly flannel, which isn't an exception to their other sleeping bag.
This sleeping bag has a lot of weight on it. So, it's only suitable for drive-in camping, where you don't have to carry the stuff for miles.
Feature Highlights
Hollow fiber fills for maximum warmth
Durable outer shell fabric
Exceptionally soft and comfortable flannel
High quality zippers for each side
A lot of straps on the sack
Downside
Quite heavy
Difficult to sack it up for one person
Verdict
If you are going camping with the family including your kids in extreme low temperatures, this flannel lined double sleeping bag will ensure enough warmth for nights.
---
6. Coleman Flannel Lined Sleeping Bag for Big & Tall Person 0°F Cold Weather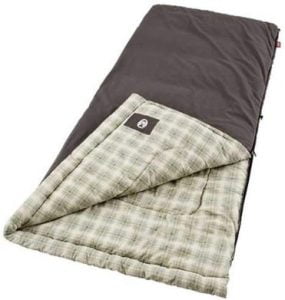 If you are a tall individual of more or less 6 ft. 7 in. this sleeping bag will be a perfect companion for you to get comfortable sleeping during extreme cold winter nights.
The bag got heat-locking flannel liner to make sure you don't feel cold inside it even at 10 degrees Fahrenheit. However, the inner part isn't entirely made of cotton. So, it won't be as soft as cotton flannels out there. But, still it's good enough for most cases.
There's a draft tube along the zipper that traps heat, and prevents it from escaping, which is the reason why this bag stays much warm in low temperature weather. The zipper is snag-free unlike what you see in cheaper sleeping bags.
Feature Highlights
Heat-locking flannel liner keeps it hot at low temp
Draft tube doesn't let body heat to escape
Long enough for a tall person
Machine washable
Downside
Not entirely cotton
A bit slippery
Verdict
For the price, Coleman flannel liner sleeping bag for big and tall person is one of the value for money options. If you are okay with its 80/20 poly blend flannel inner part, it would be worth it for camping purposes. Read more Coleman sleeping bag reviews.
---
7. Forceatt 3-4 Seasons Lightweight Envelope Sleeping Bag for Adults and Teens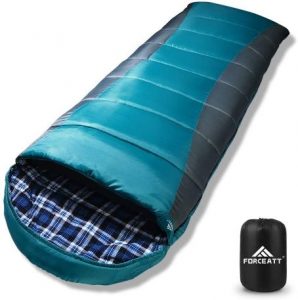 For 32 degrees Fahrenheit, you will need a warm and reliable sleeping bag like this one to spend nights with great comfort. The envelope sleeping bag is roomy enough for an adult person of 6.6 ft. tall, and won't be much of an issue for most average healthy people.
The manufacturer used durable and water-resistant hydrophobic polyester fabric to make sure it withstands difficult conditions of camping and other backpacking tours. You will feel much comfortable sleeping inside its soft and breathable flannel liner.
There's an interior storage pocket to keep your small gadgets and tools.
Weighs only 4.6 lbs. this is one of those lightweight adult flannel liner sleeping bags that doesn't make any hassle while carrying. When compressed, it's only 15×11 inches in size.
Feature Highlights
Brushed poly flannel lining to wick away moisture
Comfortable cotton inner part
Water-resistant and durable hydrophobic polyester made outer shell
Weighs 4.6 lbs.
15×11 inches when compressed
Downside
Zipper slides with a slight movement
Fabric feels sticky like some plastic bags
Verdict
The zipper is an issue for this sleeping bag. If you consider its price, lightweight form factor, and space inside it, it's still a decent deal.
---
8. Bessport Lightweight Flannel Lined Sleeping Bag for Camping in 3-4 Season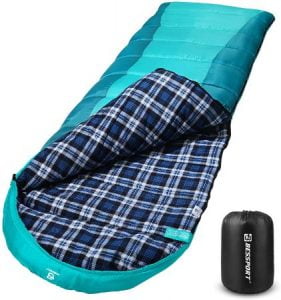 This envelope-style flannel sleeping bag from Bessport is something you want to skip for single use at moderate temperature weather. The manufacturer used durable ripstop polyester fabric to make its outer part. You can expect great water-resistant properties from it.
To give you the much needed comfort, this bag got insulated cotton flannel liner, which is soft even on sensitive skin.
It fully expands to a 29.5 x 82.5 inches sleeping bag. For an adult, the size would be more than enough. You can easily carry this lightweight flannel sleeping bag and, walk for miles without much issues.
The double sided zipper doesn't snag unlike cheaper ones that are available in the market.
Feature Highlights
Water-resistant ripstop exterior fabric
Soft and comfortable flannel cotton liner
Double sided anti-snag zippers
Lightweight and highly portable
Ideal for 23-59 degrees Fahrenheit
Downside
Cannot provide warmth at 23 degrees Fahrenheit as advertised
Verdict
For moderate cold areas, the sleeping bag is still a good consideration. But, if you are to camp in any colder location, you will need a couple of blankets to keep you warm during the nights.
---
9. Desert & Fox Flannel Sleeping Bag with Pillow for 4 Season Warm & Cold Weather Camping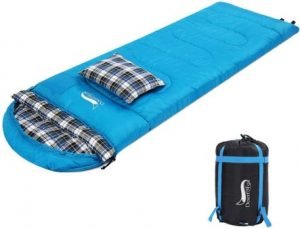 Unlike the other ones on the list, this flannel canvas sleeping bag comes with a pillow made of the same flannel material similar to the sleeping surface. The flannel cotton is pretty soft and smooth on skin. This might be a bit thin compared to fake flannel, but there won't be any issue if you are camping not less than 30s.
To make sure you can use it for years, the manufacturer used quality tear-proof polyester fabric, which is pretty durable. Branches and stones won't scratch or break its outer shell whatsoever.
Compared to other sleeping bags of similar size, it doesn't weigh much. Also, there are strapping tapes to help you with compressing the bag.
Feature Highlights
Tear-proof durable square polyester made outer shell
Cotton flannel made inner and pillow
Ideal for camping at above 30 degrees Fahrenheit
Lightweight sleeping bag easy to carry
Compression straps eases packaging it
Downside
Not warm enough when the temperature is below 30℉
A bit noisy and slippery fabric
Verdict
For the price, you cannot ask for more. The Flannel lined mummy sleeping bag got durable outer fabric, a comfortable cotton inner, and you get a pillow of the same flannel material.
If you are not camping in extreme cold weather, this one would be more than enough.
---
10. Iscream Shark Buddy Faux Sherpa-Lined Sleeping Bag for Kids, Plush Fleece Zippered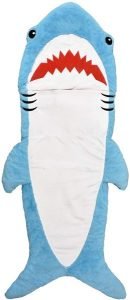 If you are looking for a perfect and comfortable sleeping bag for the little camper, this one puts an end to your searching. Its shark shaped and colorful design will surely attract the kid.
Although it's made for kids, the overall construction is pretty durable. The bag got soft and colorful plush fur on the outer side, and a comfortable and soft sherpa fleece lining to make sure your little one gets comfortable sleep during cold nights at the campsite.
The size is super convenient as well. It's 74.5 x 31 inches in diameter, which is more than enough for an above average sized kid.
You can machine wash this Sherpa lined sleeping bag. It rolls easily into the top pocket of any average sized backpack.
Feature Highlights
Durable polyester made outer fabric
Soft, comfortable, and warm faux sherpa fleece lining
Kids-friendly design and shape
Machine washable
Highly portable
Downside
Verdict
For its durable material, specious lining, and warmth, this fleece lined sleeping bag is really worth the price. Your kid will love to sleep inside it while camping.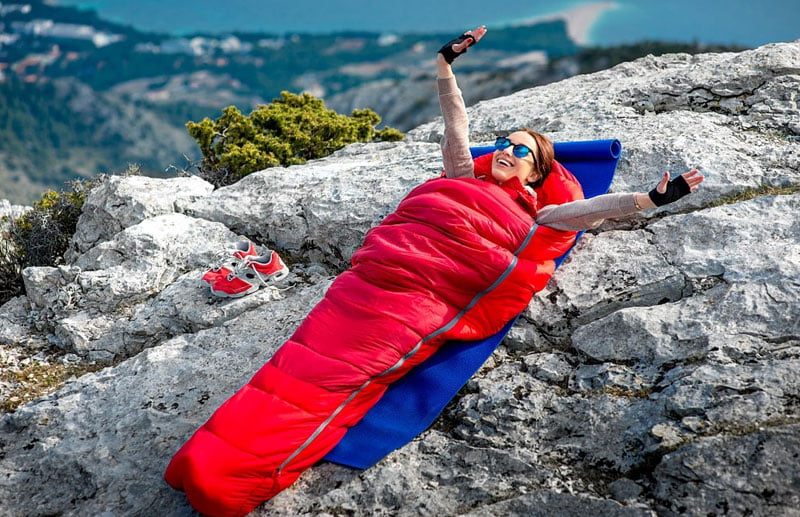 What Temperature Rating Sleeping Bag Should I Get for Camping?
The thickness and warmth of the material aren't the same in every sleeping bag. You won't feel comfortable sleeping in a winter sleeping bag during the summer season. That's why you will also need to consider the temperature rating of these sleeping bags.
Summer Sleeping Bags
If you are camping in summer, be sure to get a sleeping bag with 30 degrees Fahrenheit or above temperature rating. These won't get too hot, yet stays comfortable during the initial days of the winter.
3-Season Sleeping Bags
For all season capability, look for one with 15-30 degrees Fahrenheit temperature rating. You can pretty much use any of these in all seasons.
Winter Sleeping Bags
Anything 15 degrees Fahrenheit or lower should be warm enough during extreme cold nights.
FAQ's about Flannel Lined Canvas Sleeping Bags
1. Are flannel sleeping bags good?
Flannel sleeping bags are considered more comfortable to sleep on due to cotton textured lining. These are much better than conventional sleeping pads.
2. Are flannel sleeping bags warm?
More or less all flannel sleeping bags with durable polyester fabric are suitable for winter. These keep the body warm enough during nights.
3. What is the best sleeping bag for cold weather?
A bag with a 15 degrees Fahrenheit rating would be the most comfortable sleeping bag for cold weather.
4. Are cotton sleeping bags good for winter camping?
Some cotton sleeping bags come with a thick polyester layer and multiple parts to provide warmth for the sleeper. Make sure you get a 15 degrees or less temperature rating sleeping bag for winter camping.
5. What is the best 4 season sleeping bag?
A sleeping bag with 30 degrees temperature rating, with polyester outer shell, and flannel cotton lining would be the best for 4 seasons.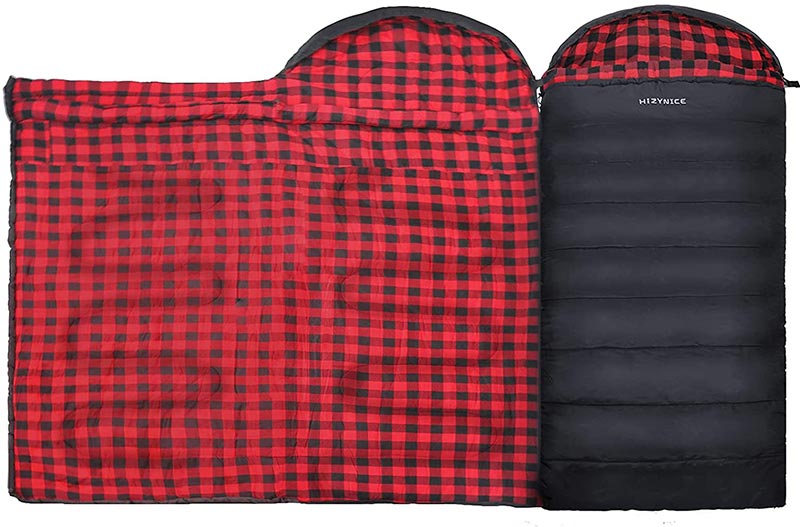 Final Words
Your best flannel lined sleeping bag doesn't have to be an expensive one. Just consider your ideal size for comfortable sleeping, thickness of the sleeping bag, insulation material, water or weather resistant outer shell, and comfortable and soft flannel lining to get the bang for bucks.
Pick any of the above mentioned sleeping bags considering your needs, and put an end to sleepless nights at the campsite.
Philip Robert is an avid camper and hiker who loves nothing more than spending his weekends camping and hiking in the mountains. He has been camping and hiking since he was a young boy and has never lost his love for the outdoors.
Philip is a firm believer that there is no better way to connect with nature and get some exercise than by spending time in the great outdoors. He is always on the lookout for new trails to explore, and loves sharing his experience with others.
"MyOutdoors.net" is a place where you will find a comprehensive guide you need to know about camping and hiking. Philip has the knowledge and experience to help you enjoy the great outdoors.