A good plan will make the journey better. At least this way things will be less uncomfortable when camping in hot weather. You as a camper will require getting familiar with good prep, tips, and other facts. For a noob, summer tent camping is a hard thing to make a plan.
FYI, 20% to 30% of North Americans would prefer to go on tent camping in the summer.
In this guide, you'll discover all the untold stories of tent camping in the summer, tips, foods, and other handy facts. Let's Move On!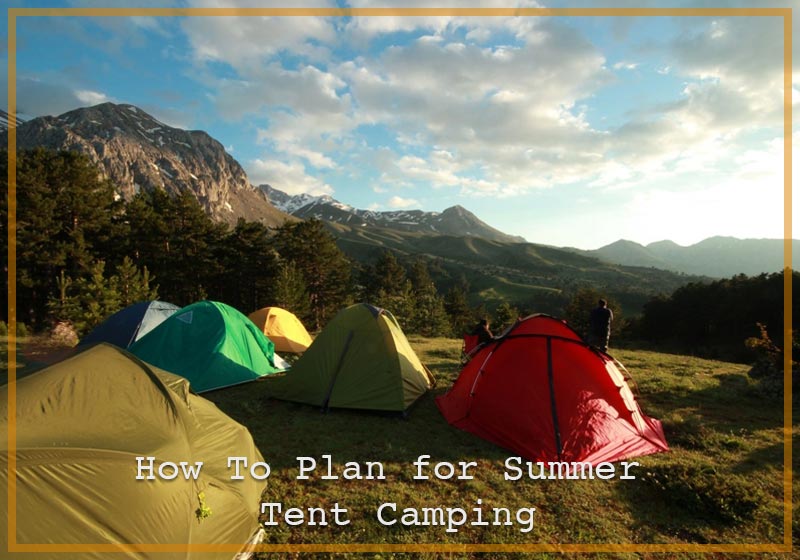 Summer Tent Camping – Steps To Follow!
The weather that feels a bit hotter than other months appears in July, August, and September. And when camping in summer, it might need a great preparation to begin the work.
The following steps are given so that you do the task and enjoy tent camp in the summer.
Step 1 – Find an Airy Campsite.
The location needs to be fixed before you start the tent camping. And, picking a random place won't be a help unless you do some research. You need to think of ventilation, roominess, and nature in the first place. Here is what you can do to find the right spot:
Get help from an experienced camper among your friend zones.
Have ideas from the campsite websites.
Make a phone call to the campground to know the address or other details.
After doing the upper procedures, you might need to book the campground. To do that, follow the orders:
Booking a campground in the summer is a hard task. Be sure to call them before a few months to book easily.
Use an online campsite to book your spot with no hassle.
Step 2 – Gather Your Gears.
Make a tent campground checklist on a notepad to confirm which gears you require the most. Or, you can get ideas from our given essentials. And, these include:
Housing: The tent for camping is a must thing to have. Apart from this, grab tarps, ropes, bungee cords, hammocks, and other handy tools like scissors.
Sleeping: Bring sleeping bags, pads, pillows, camping mats, and air mattresses.
Necessary Tools: Take cellphones, trash bags, toothbrushes, toothpaste, thin clothes, bottles, towels, tissue papers, maps, strove, fire matches, first aid kit, dish soap, and so on.
Skincare: Ensure to bring sunscreen unless you want your face to get tan and red. Apart from that, bring moisturizer, face wash, and other essentials.
Step 3 – Set the Campground.
After reaching the place, you have to set up a lot of things like the tent, sunshade, and other things on the campsite. Just pick a site and place the cooking supplies in an organized position and settle in.
Also, be sure to make the site clean and bring less stuff to enjoy in more space. After that, set the trash bin and toilets to complete the campground.
What Temperature Is Too Hot For Camping?
Camping in 70 degree weather Fahrenheit would be excellent since the temperature is okay to camp. Yet, when it raises and moves to 90° to 100° with 80% humidity, the climate gets too hot.
Some signs that let you detect whether the temperature is getting hot or not. And these are:
The weather makes you faint or giddy.
It causes your throat and lip become dehydrated.
Gives a headache-like feel.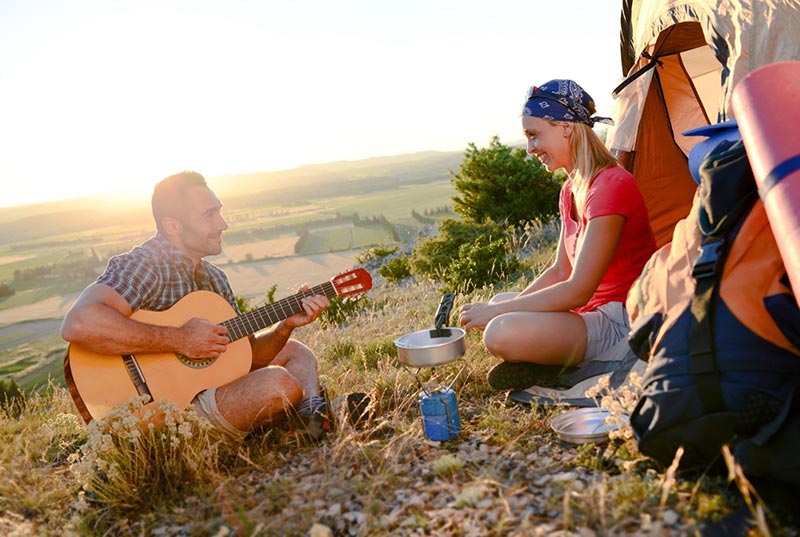 5 Camping Hacks To Stay Cool In Summer Tent Camping
You probably want to learn how to keep camping tent cool in summer with tips that are useful. The heat stress is a nightmare for a camper as it'll ruin all plans. And to prevent this kind of situation, it's best to learn the tricks that help keep you cool:
Never Hang Your Tent In the Daytime.
In the campground, try to avoid hanging tents in the daytime. Why? It'll basically lead your tent to become hot since this can absorb the sun's heat.
Instead, try this hack, place your tent in the evening or under the tree (if necessary). And, when placing the tent, make it at 39° opposite to the sunrise.
Grab UV Reflective Sunshade.
Another way to stay cool under tent camping can be done using the UV reflective sunshade. It causes reflection under sunlight to make a strong shadow underneath.
And, the Otentik beach sunshade is light, black, and UV reflective, which would be sufficient.
Pick A Right Tent That Has Meshes.
This single trick will impact greatly to ensure coolness under summer. Yet, you need to have the best tents for camping such as the Coleman Sundome tent which seems rainproof, ventilated, and roomy.
Use a Fan Which Is Portable.
A compact fan that is ideal for camping would be ideal to use in tent camping in the summer. This will do a great job to keep the environment inside less heat.
Keep Yourself Hydrated
Water is excellent to stay cool under the summer heat. So, never miss that before going to camp. Try drinking at least 7–8 glasses of water per day.
Pro Tips: Wear thin summer camping outfits to make yourself cool.
Discover 9 Best Food For Camping In Hot Weather To Stay Cool
Foods play a big role to keep your body cool and less heaty. Eating spicy or hot foods would be a bad choice for Camping in 100 degree weather as this raises the heat in the body. You got to find food collections that lessen body heat. Here are a few mentions:
Coconut water.
Dried mix fruits.
Cured meat.
Toasted cinnamon rolls.
Avocado sandwiches.
Grilled chocolate and banana foil.
Boiled eggs.
Bacon and cheese.
Instant cup noodles.
Avoid The Following Foods:
Coffee or tea.
Caffeine included beverages.
Antibiotics or opioids.
Oily or fried snacks.
Nuts and steak-like meats.
Pro Tips: Foods that make body heat or raise the temperature need to be avoided.
Overall Thoughts
Hot weather is a not a bad time for camping when you got the right vision of tools, places, and setup. At this point, you might have a little idea of summer tent camping. Hope So!
This guide includes some of the handy bucket lists of tips and steps to camp. Be sure to give extra priority to hot weather camping clothes as it is one of the best keys for staying cool.
And do select an area that is open, airy, and contains a lot of trees to have a shadow. Stay hydrated & enjoy camping. Good Luck!
Philip Robert is an avid camper and hiker who loves nothing more than spending his weekends camping and hiking in the mountains. He has been camping and hiking since he was a young boy and has never lost his love for the outdoors.
Philip is a firm believer that there is no better way to connect with nature and get some exercise than by spending time in the great outdoors. He is always on the lookout for new trails to explore, and loves sharing his experience with others.
"MyOutdoors.net" is a place where you will find a comprehensive guide you need to know about camping and hiking. Philip has the knowledge and experience to help you enjoy the great outdoors.