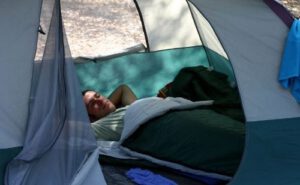 When you and your family are having a camping trip very soon, besides having fun and making lots of memories, you also want to have a good night's sleep.
Now you might think, where will I get a nice comfortable bed? We are here with the solution to your problem.
This article about the best car camping sleeping bags from where you can choose your best model according to your comfort zones.
Neither I nor you would want to freeze your toe or end up with a high fever on cold winter nights. You will want to choose a sleeping bag that will keep your body temperature at an optimum level.
So buckle up for all the knowledge you are going to get while going through the rest of the paragraphs.
Best Sleeping Bags for Car Camping Reviews
Maybe you are a little compact in your sleeping position or you like to keep your hands or legs loose. The bags depend on the sizes and weights.
You don't want to waste all of your energy while carrying a giant mattress on the trip. So next time you think about taking a trip, the following product reviews will help you buy the best car camping sleeping bags.
1. Coleman Brazos Cold Weather Sleeping Bag
Feature Highlights
Lightweight, Easy to carry
Hollow polyester insulation
Draft tube reduces heat loss.
Temperature ratings are 20 degrees F
Zippers surrounded by soft cushions.
Comes with a reasonable amount of price range
Gives you protection in very cold temperatures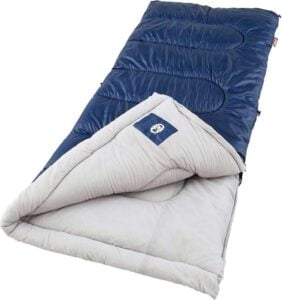 This 10 x 17.8 x 10.4 inches sleeping bag comes with a navy-colored outlook. It helps you keep warm even in nerve-cracking temperatures of 20 degrees F.
When it comes to the price, I'd say this model is the best budget car camping sleeping bag costing less than 40 dollars to wind up in your backseat.
One noticeable thing about this sleeping bag is that it has been tested thermally in cold temperatures. So, all that thing about 20 degrees F, is not a bluff!
The inner and outer material is 100% polyester and the bag's zipper-controlled closure adds up a nice feature to it. The construction of this model is meant to last for a very long time.
If we look for some more, here goes the details.
---
2. Sleepingo Double Sleeping Bag
Feature Highlights
Increased size of 87×59 inches
Lightweight model
Adjustable to double sleeping bags
Waterproof
Easy to carry in any places
Enough place for two persons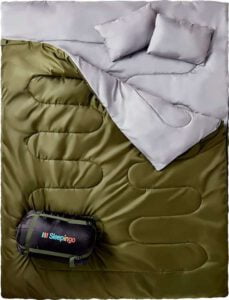 Human beings always had the topmost priority in the comfort zones. We bring you Sleepingo Double Sleeping Bag a.k.a the most comfortable sleeping bag ever made. It also comes with two pillows for lying on your head.
So, while on a trip, you can have some quality time with your family on the same bed. This model is pretty huge and you will feel the softness when you rest your body on it. Sleepingo offers lifetime guarantees on its products.
Name another best double sleeping bag for car camping! I dare you! Its protection has no end at all.
You will feel no shivering due to cold weather, you won't get claustrophobic due to less and compact space. You will thank Sleepingo for this model and also regret the reasons why you didn't get this sleeping before.
---
3. ASOUT Wide Sleeping Bag for Adults
Feature Highlights
It can be cleaned using washing machines.
It is waterproof for protection in the rainy season
Resistant to sunlight exposure
Comes in both single and double sleeping bags option
Tip to cover your head, ears, and hair.
100% guarantee on products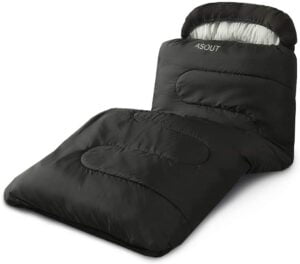 This black camouflaging model can keep you warm even at 32-77 F, weighing only about 4 pounds, I'd say it is easy to carry.
It comes in multiple sizes, 28×69 inches for kids, also 40×87 inches. Not to mention, this package does come in the double sleeping bag option. You can roll it off and stick it in your backpack.
The material consists of 400 GSM and 100% polyester which increases its durability far more times than ever.
The ASOUT company also provides after-sales service which means if there is any kind of fault in the product, they will undo it right away. But they do guarantee 100% satisfaction and trust me, they do!
Among all the cold weather car camping sleeping bags, this one is my personal favorite. But you do your intensive research and find out your own. There is more to come!
---
4. Western Mountaineering Ultralite Mummy Sleeping Bag
Feature Highlights
Inside zipper lock system
Temperature rating is 20 degrees F.
The material type is nylon
The item dimension is 17 x 11 x 12 inches.
Lightweight and no hard times while carrying
Water-resistant to protect against damp situations
It is also compressible to fit in small areas

The name speaks for itself. If you want to ride your way through the mountains with your bike and have nice nighttime at the peak. I'd say Mountaineering Ultralite Mummy Sleeping Bag is the perfect model for you.
This royal shining blue color can protect you from at least 20 degrees F of cold. This smooth cozy sleeping bag will be by your side, comforting you, giving you a nice night's sleep.
It has a hoodie attached at the top. When the temperature drops down very low, you just tuck your head inside the hood to feel the warmth again.
I have a friend who uses this mountaineering bag and she says that it is suitable for hiking and mountain riding stuff, also one of the best weather sleeping bags for car camping. These are her words, not mine!
---
5. Coleman Tandem Sleeping Bag
Feature Highlights
Tuck and roll system, so easy to carry around
Temperature rating of 45 degrees F
Enough spaces for two persons to sleep
No sagging zip flow system
Polyester insulation helps to maintain the inside temperature of the bag
It can be machine washed very easily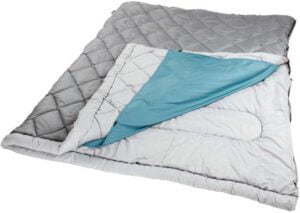 We are here to you with another Coleman product. This time they have room for two people. That's right! This Coleman Tandem has a 3-in-1 design which is perfect for couples.
It can also be separated into two individual sleeping bags in case of any needs. It contains polyester insulation. It also has a hoodie at the tip for extra warmth.
It additionally consists of a roll control design. This means that this model can be rolled over and fit into any place for the simplicity of carriage.
For the first time, they have considered the height. Yes! You have guessed it right. The Coleman Tandem is designed for people of height up to 6 feet and 4 inches.
All these descriptions about this model will make your trip memorable one with your family or if you are enjoying some alone time whatsoever.
---
6. Venture 4th Backpacking Sleeping Bag
Feature Highlights
Flexible range of temperature ratings(40 – 70 degree F)
The bags are a length of 5 feet 11 inches, so there is a solution for the tall persons
Lightweight as it weighs only about 3 pounds.
The material of the cover is high grading polyester
100% refund if not completely satisfied with the product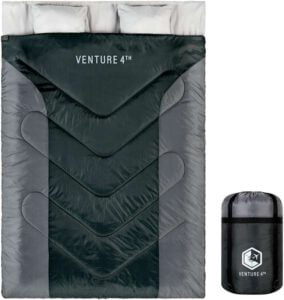 As they always say, the good things make their entrance at the last moment. This time, it is no different. Introducing Venture 4th Backpacking Sleeping Bag.
This model comes in multiple choices of color, they are – Black, Blue, Green, Orange, Silver, and Gray. The item has a dimension of 86.6 x 31.5 x 3 inches and weighs only about 3 pounds.
The Venture company offers you 100% assurance with their products. They have a gamble named 24 hours of connection with the bag.
If you are not completely satisfied with the sleeping bag, you get a full refund. Whatever is the type of trip, you name it, the Venture 4th is ready to take the challenge.
---
7. TETON Sports Mammoth Queen-Size Double Sleeping Bag
Feature Highlights
Double sized sleeping bag
Has two temperature ratings- 0 and 20 degrees F.
Compression sack makes it easy to carry around
It has a compressive sack
The shape of this sleeping bag is double wide
Fluff your sleeping bag and use a camp pad.
Weighs about 17 pounds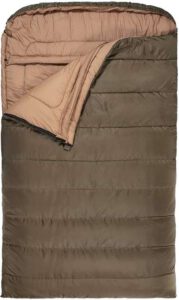 Again, I have to say! The name speaks for itself. The Mammoth Queen-Size Double sleeping bag is huge. It comes in six different styles of color – Blue, Brown, Green, Grey, Orange, and Teal.
The closure type is the zipper, the dimension is given by 94 x 62 x 3.93 inches and weighs about 17 pounds. You can say that this model is a bit heavyweight, but it is still worth considering the level of comfort you are going to get.
The inner material is made of Superloft Elite and the outer shell consists of Poly Taffeta which is responsible for the durability and longevity it provides.
They provide a promise to their customers about their products being 100% original. If you have any kind of inquiry, visit their page with your questions.
This model consists of a double sleeping bag which is wider and bigger. Comfort comes first among all the other things. I become quirky when I do not have enough space for my arms and legs.
---
8. ALPS OutdoorZ Redwood
Feature Highlights
Zipper type closure
Two-layer construction to maintain the warm temperature
100% cotton which produces no allergic reactions with the skin
Techloft insulation to protect against the severe cold nights
-25 degree Celsius temperature rating
The dimension of this bag is given by 38 x 80 x 5 inches.
The item weighs about 13 pounds.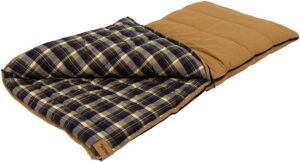 And last but not least, we bring you the best flannel sleeping bag for adults, ALPS OutdoorZ Redwood. The shape of this bag is rectangular and it has been known as "heavy-duty".
It uses the tech loft insulation process which will keep you warm on nerve-cracking winter nights.
The full material is cotton and a zipper closure type makes it a perfect sleeping bag. The features of this model are explained below.
This flannel sleeping bag comes in one color and that is tan. During traveling, they provided three straps to keep the bag secure. You will be ready to choose the right bag of your need according to the quantity of fill.
---
Buying Guide for Car Camping Sleeping Bags
Now that you know about some of the best car camping sleeping bags. You are most probably thinking about rushing down to the store and get your favorite model and be prepared to go on a trip already.
Now let me tell you, knowing some of the best models doesn't make you worthy of buying a suitable sleeping bag. You have to know what parameters are there which you need to keep in an account for.
So buckle up for a detour. This section is about the buying guide of how you are going to choose the best car camping sleeping bag for you.
Temperature Ratings
Firstly, you have to know about the temperature ratings of different models of sleeping bags. There are mostly three categories. They are:
Summer season – 30 degree F or higher
3-season – 15 to 30 degree F
Winter – 15 degree F and lower
Your choice of bag will depend upon the season and their temperature ratings. My personal opinion will be to go for the 3 season category. In that way, you get to keep track of all the seasons.
So, go for the best 3 season sleeping bag for car camping available in the store nearby or look online.
Shapes
As I said earlier, everyone likes to stay comfortable. Many customers in my research look for a sleeping bag that allows freedom of maximum stretching of muscles while sleeping.
I am no different. So, in my opinion, it will be a very good practice to go to a local store and try different shapes of bags to see which one fits you perfectly.
To make your life easier, here are some names of different shapes of sleeping bags.
Rectangular
These bags are large enough that allow both of your legs and hands to stretch without any stress. They give you the liberty to completely unzip one sleeping according to your comfort level
Semi Rectangular
These types of sleeping bags are also called modified mummy or barrel-shaped bags. They also offer a ton of options about the shapes and will give you additional options of cozy and comfiness to choose from.
Mummy
You want to have an even warmer environment inside your sleeping bag, this shape provides you all. Not to mention less weight also. Altogether, increasing the hospitality even more. As the phrase says, "you roll over with your bag rather than inside of it".
Double Bags
Not to sound too dirty, double bags are the ones for couples who tend to sleep together on the trip. Another option can be the rectangular bags which are made to zip combinedly.
For that to happen, the bags have to be of the same model and brand. There are some bags with this kind of property, one person has to zip from the right side, the other one from the left.
Kids Size Sleeping Bags
This portion covers all the above-mentioned properties, it's just shorter in size for the kids between a specific age range to fit in perfectly.
Insulation Type
The sleeping bag companies provide you with the most precise insulation possible. Your choice is to select how you want your body to feel warm.
Insulation processes in the sleeping bags are very important features and this is a key point a customer should take a look at while buying one model.
Below are some of the factors why insulation is important. They are:
This type is much cheaper, it does not stop its insulating process even if the bag is damp. It also retains its original temperature within a few minutes and the user will not have any kind of allergic reactions to this process.
Being lightweight makes it easier to carry around. The performance of the insulation does not degrade even in cold or dry conditions. It always maintains an optimum level.
One difference to notice, it offers water-resistant gear to defend the wet conditions if there is any. The durability property also increases the lifespan of these kinds of bags to about a couple more years.
FAQs About Camping Sleeping Bags
1. How many types of sleeping bags are there?
Ans: The sleeping bags differ in their shapes and sizes. The lists are as follows:
Rectangular Sleeping Bag
Barrel-shaped Sleeping Bag
Mummy Sleeping Bag
Double Sleeping Bag
Quilt
Elephant's foot Sleeping Bag
2. Will I be able to afford a nice sleeping bag?
Ans: The cost of the sleeping bags depends upon the material they are made of because that is what helps in the insulation process.
Still, there are many cheap sleeping bags you can afford within your price range, you just have to look for them.
3. What is the lifespan of a sleeping bag?
Ans: The durability of a sleeping bag depends upon the use. The greater the care, the longer the lifespan.
The fabric degrades over time, unless it does not regain its original shape, you can conclude its time is soon to be over.
4. Can we wash the sleeping bags?
Ans: Yes! You can machine wash them but it has to be done with proper fabric softener or detergent. It is better to use a technical cleaner to be on the safe side.
5. How will I choose a sleeping bag?
Ans: Now, this is the answer which buying guide should provide. In simple terms, you have to look for some features of your choice.
Some of them might include the type, size, temperature ratings, weight, and many more. Go through this article's buying guide section for more details. 
Final Words
After all the information provided about the best car camping sleeping bags, the sack of knowledge has come to an end.
If we take a review tour, we will see we know about the top 8 models that are available online. Most importantly, we know what factors we need to examine carefully while buying a sleeping bag.
The intensive research also showed some of the frequently asked questions from many of the customers. Go through all of this and you will for sure have no doubt while you go for your favorite sleeping bag to buy.
So what is your waiting for? Don't just buy one for yourself, but your whole family member. Trust me!
Next time while you and your family are on a trip, you open a bottle of beer in your nice comfy sleeping bag and look at the stars and say, "I did make the right choice buying this portable bed".
Philip Robert is an avid camper and hiker who loves nothing more than spending his weekends camping and hiking in the mountains. He has been camping and hiking since he was a young boy and has never lost his love for the outdoors.
Philip is a firm believer that there is no better way to connect with nature and get some exercise than by spending time in the great outdoors. He is always on the lookout for new trails to explore, and loves sharing his experience with others.
"MyOutdoors.net" is a place where you will find a comprehensive guide you need to know about camping and hiking. Philip has the knowledge and experience to help you enjoy the great outdoors.