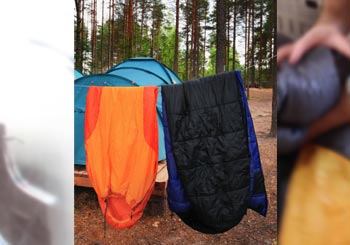 On occasions like camping or trip, a synthetic sleeping bag is a must. And, all of us hope for it to stand longer when buying for the first time. But, taking care of this item is an essential matter that most ignore and that causes damage.
Never in your life try to use bleach or iron the sleeping bag unless you desire destroying it.
As a first cleaning routine, most search for how to wash synthetic sleeping bag to keep the item tidy and good-looking. Reading this guide might help you get tips along with all the possible ways of cleaning the synthetic bag. Let's Get It!
Wash Synthetic Sleeping Bag & Dry It Following 2 Reliable Ways
You can either wash the synthetic sleeping bag using your hand or just do laundry in the washing machine.
Having a sleeping bag that looks dull and dirty is super embarrassing in front of other campers. Apart from that, it might get badly damaged if not washed on when it needs.
To take care of your synthetic sleeping bag properly, a washing machine or handwash techniques are the only reliable options that you can try.
After you have done the prep, it's time to get into the synthetic sleeping bag washing instructions of each technique.
How To Wash Sleeping Bag In Washing Machine
One of the easiest ways to wash anything is by using a washing machine. It would take less time and energy to get the job done than handwashing. But before you get started, grab all the gears. Here are all items that you'll need:
Appropriate Cleaner.
2 Or 3 Tennis Balls.
Mesh stuff bag.
Note: Check the label and instruction manual before washing the synthetic sleeping bag.
Follow the directions to wash sleeping bag in washing machine:
Open the round door of the washing machine.
Unzip the sleeping bag. If you see any visible dirt like grasses, then remove them.
Then, shake it out to remove the mud. Throw the sleeping bag and liner inside the mesh stuff bag. I would recommend using the Equinox Nylon Mesh as it got excellent room and strength to stop the bag from getting jammed inside the washing machine.
Apply cleaner like the Nikwax's Hardshell Duo-pack as it includes 2 bottles for wash-in and waterproofing.
Now, set the soul level, temperature, cold wash, and rinse options based on the label of the sleeping bag. After that, turn it on.
Wait for 30 to 45 minutes to complete the washing course.
Squeeze out the water and then move to the drying procedure.
Insert the sleeping bag and liner to the dryer. Next, drop 2 or 3 tennis or wool balls based on your bag size.
Adjust the fluff air to 'cool down' and temperature to 'low'. And then, turn the cycle signal on to dry it out.
Pro Tips: Avoid washing the synthetic sleeping bag inside a top-loading washing machine that contains an agitator.
 How To Hand Wash A Sleeping Bag
If you don't have a washing machine, then the hand wash technique would work to wash a polyester sleeping bag. It doesn't need electricity and cost you further but might need more time. Now, collect all items which will require during the procedure:
Sponge
Mild soap or detergent.
2 buckets of water.
Note: If you spot a stubborn stain in the sleeping bag, take a toothbrush and sprinkle some detergent to wipe it off.
Read the given instructions to wash the synthetic sleeping bag:
Lay down the bag on the bathroom floor.
Use 1 spoon of synthetic sleeping bag detergent or soap bubbles inside a bucket of water. I would suggest using the Rockin' Green B075MPKB9X as it is a non-harmful detergent which got safe ingredients and cleans well.
Soak the sponge into the mixture. Then, gently rub the sleeping bag to clean the dirt. Be sure to rub all over it to ensure no grime or oil is left.
Next, damp the sleeping bag inside the bucket of clean water.
Wait for some while and then take it out
After that, fill a bucket with clean water and insert the sleeping bag with 1 spoon of detergent. Leave it for 30 to 50 minutes.
Then, rinse with clean and cold water. And, dry naturally under sunlight or place on the balcony.
Be sure to clean the liner and other parts separately on water and detergent mixture in a bucket. It will save your synthetic sleeping bag filler from internal injury.
Pro Tips: Avoid using fabric cleaner as it'll ruin the texture of synthetic material.
If You Are Washing Cotton Sleeping Bag!
The above methods would be useful if looking for how to wash a cotton sleeping bag as the washing techniques are identical. But you might need to know two things to avoid damages. Ruining the cotton sleeping bag's quality will cost a lot to fix.
So, follow the expert advice to do it rightly:
Do not wash the bag using cold water below 30° C and high-temperature water above 60° C. If you do so, it'll cause shrinkages, wrinkles, and creases in the texture.
Be sure to damp the bag in a salt and water mixture for 5 to 7 minutes when washing it in your first trial. Then, rinse it naturally to stop the color from disappearing.
Frequently Asked Questions
 – How often to wash sleeping bag?
It is suggested by experts to wash the sleeping bag (made of any materials) every 20 days at least. But, try to clean weekly if you regularly go camping or hike and use it.
 – Can you dry clean a sleeping bag?
Based on the sleeping bag material, it is advised to never dry clean. The reason is due to the chemical or solvents used which not only take out natural oil but also cause the fabric to retain loft.
 – What happens if you wash a sleeping bag?
Once you rinse the sleeping bag, it will ensure no dirt, oil, or sweat by leaving a good smell. But, do not try to over washing as it'll ruin the insulation and filling inside.
Wrap Up
Just like bedsheets or other comforters in your house, it's vital to wash the synthetic sleeping bag which you use in every journey. This guide is close to the ending point after presenting tips, washing techniques, and answering some queries which most look for.
Hope you now have a clear idea of how to wash synthetic sleeping bag all by yourself. Just keep on doing your best and the outcome should be great. Good Luck!
Philip Robert is an avid camper and hiker who loves nothing more than spending his weekends camping and hiking in the mountains. He has been camping and hiking since he was a young boy and has never lost his love for the outdoors.
Philip is a firm believer that there is no better way to connect with nature and get some exercise than by spending time in the great outdoors. He is always on the lookout for new trails to explore, and loves sharing his experience with others.
"MyOutdoors.net" is a place where you will find a comprehensive guide you need to know about camping and hiking. Philip has the knowledge and experience to help you enjoy the great outdoors.