The sleeping bag is handy stuff that you'll need for a good night's sleep when camping or tripping around. Sometimes you get into a situation where the bag needs to be compressed for long hours.
Well, you can keep the sleeping bag compressed for around 10 to 11 hours in an emergency situation.
It is suggested to never keep the sleeping bag compressed for more than 12 hours.
All sleeping bags are made with 2 major fill types (which get damaged if compressing for a long period badly), which are:
Down fill.
Synthetic fill.
So, how long can you keep a sleeping bag compressed? Continue reading to find the answer!
Based on these two fills (down and synthetic), keeping the bag compressed in a place might show different duration. Let me clarify the topic in detail.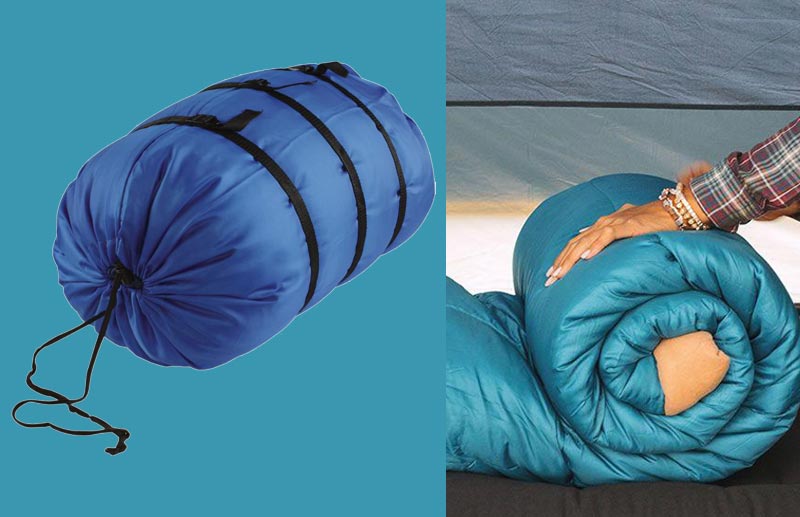 How Long Can You Keep a Synthetic Sleeping Bag Compressed?
You can keep the synthetic sleeping bag compressed for around 16 hours (inside the large storage sack). It won't cause any harm to the texture, insulation, or padding system.
However, you need to compress it a little as this action will surely cause damage to the surface in the long run.
To start from the ground, it's irrelevant to keep the synthetic sleeping bag compressed if planning for storage. Rather hang it on your hooks or store it inside the shelf (which is closeable) to ensure its loftiness isn't fading over time.
How Long Can I Leave My Down Sleeping Bag Compressed?
Sometimes due to flight or traveling reasons, it happened to keep the down sleeping bag compressed inside the large storage sack.
As you can't pull out the bag, it stays like that for some while. You only need to play safe by ensuring the time doesn't cross more than 14 hours to 2 days (24 hours).
But, if you reach the limit, it is suggested to bring out the bag and try hanging it on the wall or over a chair so that airflow. This will help keep the fill and insulation get the loftiness back.
What Is the Best Way to Store a Sleeping Bag?
Under this section, I'll share some of the sleeping bag storage hacks that you can try to keep your one safe and well protected without facing any kind of damage by ensuring longevity. Here's what you need to do.
Stuffing The Sleeping Bag
Extract air from the sack. Do the same on the sleeping bag by pressing it from top to bottom position using slight pressure.
Stuff the bag to make it smaller so that it fits into the sack. Just use your hand and push the bag inside the sack to stuff rightly. 
Then, take a larger and solid storage bag (made with cotton or mesh) like the Equinox Storage Sack. Insert the packed sleeping bag inside the cotton sack and tie it loosely. 
Now, keep it in a dry and cool place where no dust reach. 
Rolling The Sleeping Bag
Fold the sleeping bag in half.
Roll the bag from the tip to the toe by pressing the insulation lightly. If needed, you can use your knee on the bag to balance and roll easily.
Place the rolled bag into the sack (given by the manufacturer).
Again, insert the packed bag into the larger storage bag. It will keep the bag secure inside the sack.
Use a belt or rope to tightly tie the bag.
Frequently Asked Questions
Can you store synthetic sleeping bags compressed?
The answer is both yes and no. If you store the synthetic sleeping bag for some while this might not be an issue. And it is suggested not to compress this kind of bag for the good.
Is it better to roll or stuff a sleeping bag?
Most brands who made the sleeping bags suggest stuffing them to avoid facing hassle. This habit also helps increase lifespan and survival strength. But try not to roll the sleeping bag as it can cause minor damage.
Is it ok to compress down sleeping bag?
Just like the synthetic type, all experts forbid excessive compressing of the down sleeping bag. It can cause interior and exterior damage if stored for a long period.
Overall Thoughts
As you have a complete answer about how long can you keep a sleeping bag compressed and other random topics, it'll be easier for you to store the bag now without doubts hopefully.
The maintenance of a sleeping bag is something that can't be overlooked even if you happen to be busy. Just be sure it stays soft, thick, and padded with no issue after storage.
Hope this guide is able to solve the mystery and help you a little bit. See You later on New Topic!
Philip Robert is an avid camper and hiker who loves nothing more than spending his weekends camping and hiking in the mountains. He has been camping and hiking since he was a young boy and has never lost his love for the outdoors.
Philip is a firm believer that there is no better way to connect with nature and get some exercise than by spending time in the great outdoors. He is always on the lookout for new trails to explore, and loves sharing his experience with others.
"MyOutdoors.net" is a place where you will find a comprehensive guide you need to know about camping and hiking. Philip has the knowledge and experience to help you enjoy the great outdoors.