Staying in a single spot to rest and sleep peacefully is what people do at night when camping. Before planning the outing, a lot might get stuck to with finding ideal camping bedding ideas.
For that, I would like to suggest some of the good types of camping beds or mattresses that are both comfy and well-padded for the purpose.
So, setting a good budget is essential, and then think of traits that you'll mostly need during camping to sleep in delight. I will explain each type along with some buying tips so you get the best in both world mattresses.
Let's start finding the most comfortable bedding for camping that you need!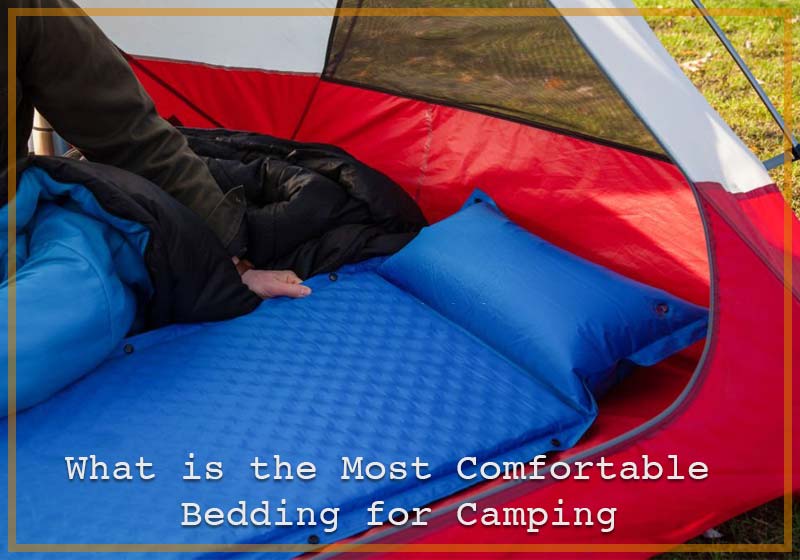 The Most Comfortable Bedding for Camping!
To sleep in a tent comfortably, the right type of bed is a compulsory thing. And depending on your sleeping needs, camping beds such as mattress pad, fold-out bed, air mattress, & hammock could be great.
Catching the best camping mattress is not hard once you know in depth about all the types. Think of your comfort and warmth requirement to determine the right type.
Concerning the basic needs of a camper, manufacturers mostly make 4 kinds of bedding for different reasons. These are:
Mattress Pad.
Fold-out Bed.
Air Mattress.
Hammock.
You may ask 'what is the best thing to sleep on when camping?' So let's start from a quick sneak peek about each type suitability based on age:
For adults, the mattress pad would be ideal.
The fold-out bed is good for toddlers and children.
Most people use air mattresses or beds on their camping trips for a comfortable good-night sleep.
From adults to kids, anyone can use the hammock for napping purposes.
Even if all seems to be perfect, you need to think of the climate first to decide the right thickness and warmth in the comfortable tent bedding.
So, let's find the real insight of all types with their characteristics for certain camping. Ready!
Mattress Pad
The mattress pad is one of the best camping beds for adults or tall people. Due to its nicely padded construction, it never fails to ensure good warmth and a comfy vibe. This type of bedding is known for its proper cushion and insulation.
And, a great number of people find the Sleepingo Camping Sleeping Pad finest to ensure good padding and heat for cold weather application. But the mattress pad might not work great for hot weather.
Highlighted Traits of Mattress Pad
Lighter in weight to easily transport or carry.
The compact allows simple adjustment when setting up.
Ideal for hiking, camping, or backpacking.
Slightly 2.5" thickness in most cases.
Stay flat on the ground or 4WD trucks.
Highly cushioned and dense to ensure comfort.
Keeps people warm thanks to the high R-value rate. A person who is feeling cold or camping in winter would need a 4 R-value.
Takes no time to roll out to store in a small zone.
The mattress pad contains good fabric coating on the exterior and foam or pad inside.
Inflate and deflate are pretty simple. However, if one mattress pad is self-inflating, then it might have a valve.
Some mattress pads include a waterproof bag to carry them.
Fold-out Bed
Just like the name, the fold-out bed contains both a mattress and body frame which is bendable. Nearly all toddlers or kids find it ideal for short-term application. However, you have to think of thickness to avoid making the wrong choice.
Highlighted Traits of Fold-out Bed
Keeps a person (who is using it) in a straight position with no fall issues.
Work great in different terrains like sharp rocks, uneven ground, cold or wet fields.
One of the finest picks for emergency usage.
The fold-out bed does great in both cool and hot weather.
Allow you to secure some gears under the capstone bed.
It ensures good movement thanks to the folding feature. However, you might find it a bit shaky.
Suitable to use in the back of a truck.
In most cases, the fold-out bed includes a mattress to ensure good ease of sleeping.
You'll discover the depth which ensures any weather applications.
The quality of this bedding seems okay.
The durability of bed legs is top-notch. And so, it is a bit heavy in weight.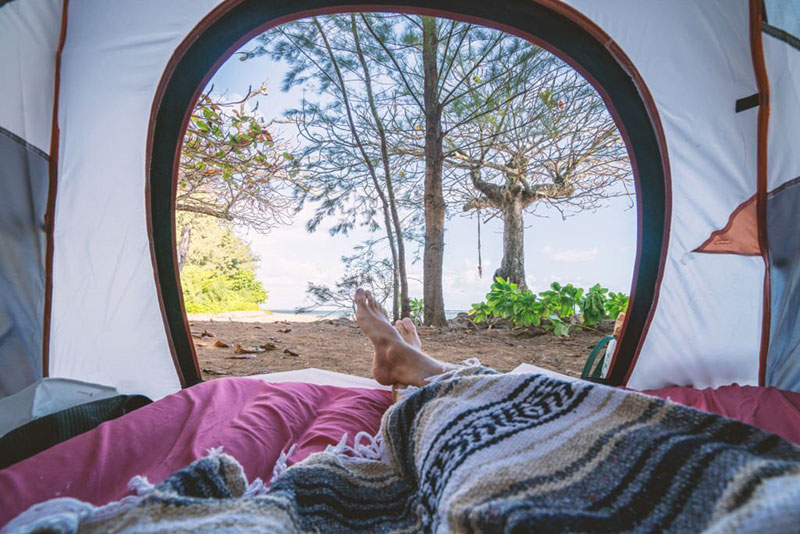 Air Mattress
Being one of the most luxury camping beds, the air mattress stands on the peak. While it not only grants good comfort during application but also ensures a cushiony feel that supports the body to rest ideally.
One research of 2019 shows that 17% of campers use the air mattress in cold weather.
Out of all, most people liked the King Koil Queen Air Mattress for camping or hiking use thanks to its 2-minute inflation, large room, and layering of PVC and soft flocking top.
Highlighted Traits of Air Mattress
It takes 1 to 2 minutes to inflate or deflate.
Small and foldable to store at ease.
Effortless to set up when filling up air mattress.
Mostly contain battery-powered pump for manual working.
Comparatively less bulky and simple to use.
The price of an air mattress is logical.
Made out of strong materials to stand a long period.
Contain less insulation but a good cushion to keep you padded.
Tall in height and pretty simple to use.
Easy to get in or out.
Prevents from falling or disturbance during sleep.
Hammock
The hammock is one of the best camping mattress for camping that gives good rest and helps the body to get max back support. Although the location does matter before you use the hammock, as the bugs might cause trouble.
During camping, 50% of people including youth and adults always use a hammock.
Highlighted Traits for Hammock
Great at recovering mind and body.
Improve sleep and reduce insomnia.
Let you nap during sunny weather rather than cold climates.
Even if it is not thick, the hammock does give support at the back.
It is easy to set up.
Less bulky but can lift a kid or adult at ease.
Ensure better airflow in all directions.
Ideal for long camping trips, picnic tours, or holiday spending.
Can be used for both indoor and outdoor purposes.
Needs less maintenance or care.
Blend of tough, soft, cozy, and flexible.
Wrap Up
Finally, the guide is over, I tried to present some of the most comfortable bedding for camping. An easy trick to pick the right one successfully is, give priority to durability, padding, lightness, body frame, and comfort factors more than anything
And, do not neglect the quality and price point. It might take a long and tiring procedure to reach the ideal one. But, don't give up! Hopefully, the added details and camping bedding types helped you make a choice. See You Soon!
Philip Robert is an avid camper and hiker who loves nothing more than spending his weekends camping and hiking in the mountains. He has been camping and hiking since he was a young boy and has never lost his love for the outdoors.
Philip is a firm believer that there is no better way to connect with nature and get some exercise than by spending time in the great outdoors. He is always on the lookout for new trails to explore, and loves sharing his experience with others.
"MyOutdoors.net" is a place where you will find a comprehensive guide you need to know about camping and hiking. Philip has the knowledge and experience to help you enjoy the great outdoors.