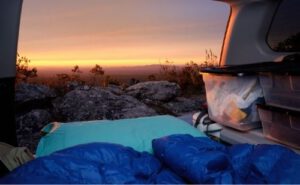 Travelling and camping are some of the most joyous things in life. I sometimes envy the people who get to do this more frequently. Being an enthusiastic camper, one spends hundreds of nights on the outside.
Sleeping in the evergreen forest, observing nature. One vital difficulty you might have faced is finding a suitable mattress or sleeping pad.
Are all your camping on hold for a perfect portable bed? We are here to save you from the waiting. This article is about the review of the best mattress for car camping where you get to see choosing a perfectly comfortable bed requires a lot of intensive research.
Let's not make the intro any more boring and jump into the review section of this article.
Top 10 Best Car Camping Mattress Reviews
Camping will benefit you in many ways. Not only will you create some memory, but you also get some time off from the work and allows you to relax.
Most importantly, you don't have to think about all the gears and kits you need to carry. If you are thinking about a nice sleeping mattress, we provide you the option to get your desired level of comfort.
Here goes the list of the best mattress pads for car camping which you need to go through. Trust me! These are the best at what they offer.
1. WEY&FLY SUV Air Mattress Double-Sided Flocking Car Camping Mattress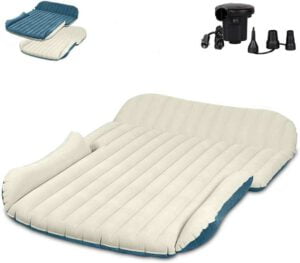 Specification:
Thick combination of blue and white color
High standard PVC material
Weighing about only 8 pounds
It's like good things just keep coming. This WEY&FLY double-sided mattress is our 1st pick. If you want your sleeping place to be less congested. Then you are looking at the right mattress.
An interesting fact about this model is that it allows flexibility in inflation. There are a total of 4 segments in which you can fill this mattress up.
Feature Highlights
Lightweight & easy to carry around
Sturdy and durable design
Adaptable to every occasion of camping.
Consists of 4 stages of the inflation technique
Temperature ratings range from -25℃ to 50℃
If you are sleeping alone, you can inflate about 40 or 60% directed by the hidden line objected right in the middle. In my opinion, this option makes it the best sleeping mattress for car camping.
It is also constructed to adapt to different temperatures, the range is from -25℃ to 50℃. So, you can take it with you to roam the Sahara Desert or also if you have the guts to take on Everest. Your choice!
The bearing capacity of this mattress is quite awesome. It can hold up to 260 kilograms of weight which is equivalent to 2-3 people. Not to sound so rude but if you are overweight, I'd suggest not to worry because the WEY&FLY will take care of it without any kind of deflation.
---
2. QOMOTOP Ultra Thick Self-Inflating Camping Mattress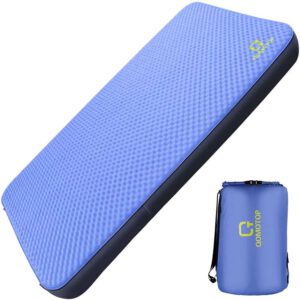 Specification:
Thermoplastic Polyurethane construction.
The dimension is given by 30 x 8 x 11 inches.
The weight is about 14 pounds.
If you are looking for a perfect family camping in the deep down forest or staying in the car, then this model will be perfect for you despite the space in which it comes in.
The top and bottom construction of this sleeping mattress are constructed with different materials. This makes the top shelf softer than the bottom. The inside is filled with Polyurethane foam which is the most comfortable I've ever heard.
Feature Highlights
Easy to carry
Marvelous temperature holding capability.
This sleeping mattress is waterproof and the maintenance is very easy
Double-sided valves which control the amount of inflation and deflation
Rated ideal for car camping or motorbike ride camping
It will keep you warm in nerve-cracking weather conditions, for which it has been awarded the R-value of 9.5. Not to mention, its maintenance is very simple.
The cushion contains the valves which can be further controlled to set into two modes of operation – inflation and deflation. You can just set it up in any mode according to your needs.
When fully inflated, it can rise to 4 inches of thickness. The information has been collected that one customer claimed that it just feels like roaming around the clouds in this bed. You can also adjust the softness by controlling the valves which control the amount of inflation.
---
3. Hikenture Double Sleeping Pad Inflatable Air Mat for Backpacking, Car Camping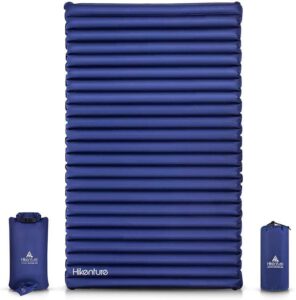 Specification:
Materials graded are very much eco-friendly.
Weighs only about 4 pounds.
Easy to carry and use.
If you are looking for the best car camping mattress for couples, then Hikenture is there for your satisfaction. This double sleeping bag's dimension is given by 79×47.5×3.75 inches which is very much comfortable for two persons to sleep in.
This model comes with two options – Foot Pump model and the Pumpsack model. You don't have to carry an additional pump, the two cushion valves allow you to fill the model with air using your hand or foot within a matter of minutes.
Feature Highlights
Comes with multiple design options – Foot Pump model and Pumpsack model
Lightweight and very much easy to carry
Proved to be waterproof
Durable and tear damage resistant.
Offers free servicing and also cash back guarantee if no satisfaction
This sleeping pad rises to 3.75 thick and with the advantage of being a double bed sleeping mattress, this model can be used to sleep very comfortably.
It is graded with polyester pongee coated with Thermoplastic Polyurethane which accounts for durability and longevity.
Hikenture also offers a cash-back warranty of their products if you are not fully satisfied with them. They also offer completely free servicing if the models are detected with some kind of difficulty.
---
4. Better Habitat CertiPUR-US SleepReady Memory Foam Floor & Camping Mattress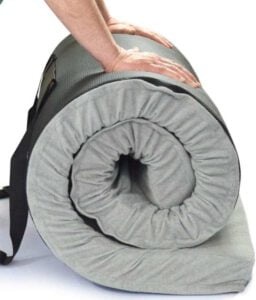 Specification:
3 inches thickness of the foam
Easy unclip off the hook.
A better habitat sleeping bag
Weighs about 17 pounds
Now we have come to a different category, the foam mattress. The material consists of Certi-PUR-US Memory foam which contains no mercury, no formaldehyde, and many more.
It emits no volatile organic compounds. While using it, you will feel the softness and dryness of the cotton.
Feature Highlights
Consists of chemicals that are very eco-friendly
Comes in 3 optional sizes- kids, single, doubles
Provides a thickness of 3 inch which also shows the sturdiness and the durability
Helps with the back pain and also improves health.
12 month of warranty on any parts that are found to be faulty
In one line, this sleeping mattress is one of the eco-friendly I've ever seen. The National Sleep Foundation rated this model as the number 1 important factor to a good night's sleep.
Some important points you should know that this model comes in 3 sizes – twin, single, and kids. It can be washed using a machine and most significantly, it offers a 12-month warranty on the product if any kind of fault has been found.
---
5. YSXHW Self Inflating Camping Pads Lightweight Camping Sleeping Pad
Specification:
The material is made of polyester
Dimension is given by 14.9 x 7 x 5.1 inches
Wider cross-sectional area
Quick inflation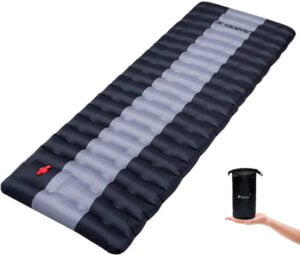 One of the things I learned about human beings is that they will do anything to skip the hard work path. Inflating a sleeping mattress requires a lot of time and to be honest, it is kind of boring.
Well luckily, YSXHW brings you a sleeping mattress that consists of an internal pump that does the inflating for you. It also has a pillow rise on the pump side and the length rises to 4.5 inches thick.
Feature Highlights
Fabric is waterproof
Self-inflation so no extra elbow work to fill the sleeping mattress
Waterproof to last in the wet places
Comes with a carry bag
So, next time someone questions you about the best self-inflating mattress for car camping, you without a second thought, will utter the name of YSXHW'S model.
It takes only about two minutes to fill the bed. Inflating capacity decreases exponentially. At the end of 4 days, you will see there is a 15% decrease in the volume which makes it pretty efficient.
The price of this model is very much reasonable and because of the portable bag and the cord to wrap the bed, it is also lightweight to carry anywhere you want.
After the full inflation, it weighs about 400 pounds. So think twice before you fill up your bed because it will be very difficult to remove once you are done with the filling.
---
6. WELLAX UltraThick FlexFoam Sleeping Pad Self-Inflating 3 Inches Camping Mat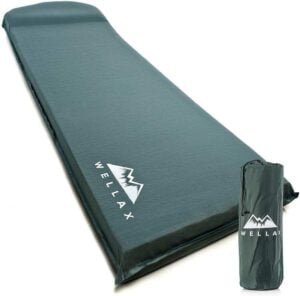 Specification:
The thickness of the sleeping bag is 3 inches.
Firm construction
Lightweight and easy to carry.
An R-value of 9.6.
Another kind of self-inflating sleeping mattress is the Wellax Ultra Thick Flex-Foam Sleeping Pad. It also provides the right amount of warmth your body desires. Your weight is surrounded by the mattress so uniformly that any kind of back pain or muscle pain is eliminated.
Feature Highlights
An insulation factor of 9.6 helps to maintain your body temperature in the nerve cracking colds
Lightweight and easy to carry around
The 3 inches thickness and the graded material altogether gives a longer lifespan
The price range is quite affordable for any types of customers
Full cashback guarantee.
The material is coated with a Nylon and TPU layer which increases the durability and strength it will withstand. This model is also water-resistant, the dimension is given by 77 x 28 x 3 inches and weighs about 6 pounds.
The advanced self-inflating technology in this model will make up for the time you spent filling your previous sleeping bed with bare hands.
Just like some previous models, Wellax also provides you with the full cashback of the product if you are not fully satisfied with it.
---
7. HIRALIY Inflatable Car Mattress Portable Travel Camping Mattress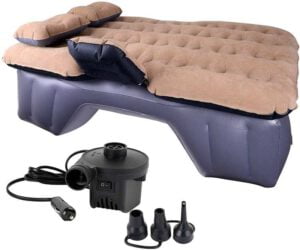 Specification:
Universal Car Mattress
3 layer composition of graded material
A 4 in 1 complete package
One different model of sleeping bag designed especially to sleep inside the car is the HIRALIY car air mattress. After the inflation, its dimension becomes 53.94 x 34.25 x 17.72 inches, so before buying this model, do not forget to check your car's backspaces.
This air mattress is perfect for both indoor and outdoor activities. Its material consists of three layers of strong wear-proof non-toxic PVC, this ensures that no leakage can occur very soon.
Feature Highlights
Lightweight and very easy to carry around
It is termed as an anti-leakage sleeping bed
The area of the bed is quite large, so a tall person can sleep very comfortably
The whole system weighs about 2 pounds, so the model is lightweight which will be easy to carry. The maximum amount of weight it can withstand is about 450 pounds. So, in my conclusion, it can fit more than 3 persons at a time which results in the factor of good efficiency.
The HIRALIY sleeping mattress contains a series of tasks for avoiding deflation. The air pump should be inserted into the valves one at a time also making sure that both of them are attached strongly.
After passing 24 hours, it should be checked for the decrease in volume as it will be very natural. When the checking is complete, inflate it again for the final time.
---
8. TETON Sports Outfitter XXL Camp Pad Sleeping Pad for Car Camping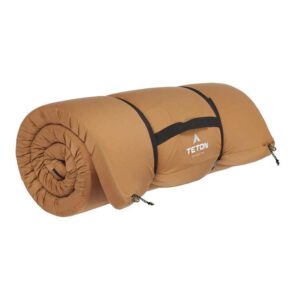 Specification:
Thick comfortable bed
Extra layer of insulation
Comes in 3 different styles – Outfitter, Universal and Adventurer.
Weighs about 9 pounds
The TETON Sports are also designed to make your body rest like it is lying in the clouds and hovering around. Each of the pads is made from open-cell foam which regains its original shape after you roll them out.
From the manufacturer's point of view, the insulation level is quite firm as it helps to maintain the temperature all over the mattress. Easy to carry around to the camp spot and also the maintenance scheme because a simple roll with the help of buckles will do the trick.
Feature Highlights
Lightweight and very easy to carry around
The constructive material is fully based on foam, which makes it cheap
Able to adapt to any kind of weather situation or the force that is exerted on it
It also features a pocket that helps you to store your valuable items near your sleeping position so that you can find them immediately after you search for them. The item dimension is given by 38.75 x 14.7 x 14 inches and weighs about 9 pounds.
The company stands with a promise that any kind of fault in the model will result in immediate repair. They are at your service 24/7.
---
9. In Your Prime Inflatable Double Sleeping Pad for Camping Backpacking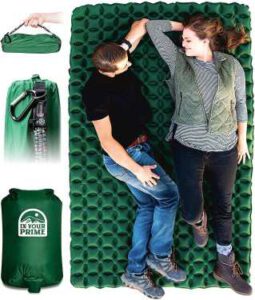 Specification:
A 4 in 1 starter pack
Quick inflation technology
The eye catching dark green color fabric
Amount of padding maintains the temperature
Why take all the trouble of buying two individual sleeping bags while you can fit yourself and your beloved ones in a single sleeping mattress. Introducing In Your Prime double pad for camping.
The problem of overlapping over one another is solved in this model. Two people can sleep without even laying hands over each other. Not just a sleeping bag, this model also provides a cushion of a thickness of about 2.25 inches.
Feature Highlights
Most comfortable doubled size sleeping mattress ever made
Additional water storage compartment, food, and pillow
Quick inflation technique helps to rest your case very quickly
The dimension is given by 12 x 5 x 5 inches and weighs about 2 pounds which brings us to the obvious property of being lightweight.
The title In Your Prime certainly lives up to its reputation. They also offer a lifetime warranty, if you are satisfied with the product, you can exchange them for a new one or get a full refund.
---
10. SAYGOGO SUV Air Mattress Camping Bed with Cushion Pillow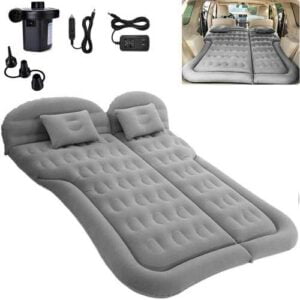 Specification:
Its dimension is given by 68.8 x 51.1 x 5.9 inches
Weighing only about 8.5 pounds
3 modes of color – Beige, black, and grey
Consists of 6 different chambers
The best outlook design is saved for the last. We give you a SAYGOGO air mattress camping bed. The whole package contains 1 air mattress, 1 pump sack, 1 bag for carrying, 2 pillows, an instruction book, and some repair kits you may or may not be needed in the future.
This model comes in 3 modes of color – Beige, black, and grey. SAYGOGO takes about 5-6 minutes of inflation time and about 6-8 minutes of deflation time.
Feature Highlights
Dual purpose inflation process.
Greater durability and resistivity
Quick inflation and deflation time.
Easy techniques of inflation and deflation
Some precautions should be held while you use this model. Some of them include ensuring that covers are well-tight enough so that there is no leakage. After immediate buying, inflating the bed will result in frequent stretching as it tends to deform.
Some of the important notes while using this sleeping mattress also include using the funnel when deflating the pillows. Then after completion, press the valve down. This model consists of 6 different chambers. So you can inflate according to your desired space in your car or the place where you set your fire.
Things to Consider Before Buying Mattress For Car Camping
Even after providing reviews about the best mattress for car camping, people often face difficulties about which model to buy. Sometimes, they end up with nothing but regrets.
So, as a source of solutions to all that, this section will cover the buying guide of the sleeping mattresses. Go through the key points explained below thoroughly before you rush down to the store.
Types of Mattresses
Comfort and Thickness
Width and Length of the Mattresses
Types of Valves
Insulation
Types of Mattresses
There are a total of three types. They are:
Self Inflating Mattresses
Air Mattresses
Foam Mattresses
Self Inflating Mattresses
In this category of mattresses, the interior design is full of open-cell foam that contracts and relaxes according to the control of the valves.
Though the self-inflating mattresses are more heavyweight, it is much more comfortable than any other.
The first rule about camping is comfort, so I guess self-inflating mattresses will be the best choice. If you ask for my opinion, then go for the model introduced by YSXHW.
Air Mattresses
Well, the name speaks for itself, they are filled with air. They require a valve or air pump to fill the whole volume.
A filled air mattress weighs about half than the self-inflating one. It also contains the compressible property which makes it easy to carry around.
But as we discussed earlier, comfort should come first and this is a drawback of this type. Then again, your decision should take the most priority.
We also provided you with the best air mattress for car camping, so take your pick!
Foam Mattresses
Their infrastructure is completely based on closed-cell foam. The best foam mattress for car camping does not require any kind of additional inflation. All you just have to do is roll up the mattress and have your way with it.
One disadvantage is that their thickness is not up to the satisfaction level. but, if you are having a kin budget and perfectly comfortable with a thin mattress. Then this type will be perfect for you.
Comfort and Thickness
If we are starting a discussion about the level of comforts of the best mattress for car camping, there will be a riot. Through my intensive research, I came to learn that every sleeping mattress provides a satisfying level of comfort.
My personal opinion will be that self-inflating provides a somewhat better cushion than any other. Any kind of sleepers will be happy using the above-mentioned sleeping bags model.
Now, coming to the thickness part. It falls to the type of sleeper. Side sleepers can go for the mattress with a thickness of about inches.
Back sleepers do not require that much thickness as the force exerted will be less. If you are a picky sleeper, then go for the maximum thickness of 4.25 inches.
Width and Length of the Mattresses
The width and length depending upon the user's height. Normally, 72 inches in length is preferred, but many go for the range of 80 to 90 inches. The longer the length, the greater the level of comfort, especially for the taller person.
The range of the widths is not that very much. To be honest, you will not be needing a bigger one. A 25 to 30 inches range gets everyone satisfied.
Types of Valves
The function of the valve is to fill up the pad with air. Most of the campers prefer self-inflating mattresses. One thing to note is that the quality of the valve does not depend on the price.
So, you can relax about raising the budget. If you have to manually inflate a mattress that will require a lot of jaw work. Different manufacturing companies install valves to make the task easier.
No matter what model you prefer, self-inflating or normal pump inflate, they will do their respective job within a matter of seconds.
Insulation
The level of insulation that a sleeping mattress provides is measured in R-value. The greater the value of R, the warmer it gets.
It also depends on the season. When you are going camping in a hot area, let's just say in the summer, go for an R-value of 1.5.
We recommend R=3 for a 3 season sleeping mattress. But, the most terrifying of them all, the winter season, you definitely should get a mattress with an R-value of 5.
Many manufacturing companies do not provide this value. When you go to buy one, ask for it.
Frequently Asked Questions about Camping Mattress
1. How good are the self-inflating mattresses?
Ans: They are the best ones yet. Not only are they easy to carry, but also comfortable.
2. How much reliability does a sleeping pad hold?
Ans: During camping, sleeping helps you to provide a good night's sleep. They also play an important role in keeping your body temperature constant.
3. What is the lifespan of an air mattress?
Ans: Normally an air mattress develops a leak after constant use of 6 months. In case of occasional use, they will last for many years.
4. Why are air mattresses the least comfortable of them all?
Ans: The level of comfort provided by the air mattresses is directly proportional to the temperature. During nights, it gets colder and they fail to keep you warm and cozy.
5. What are the functions of the loops that are in my sleeping bag?
Ans: The loops are used to hang the sleeping bags to dry. My advice will be to always hang the bags to dry, this maintains the insulation throughout the bed.
Final Words
The sleeping mattresses are designed to make your camping trips memorable and adventurous. They are intended to take you to a different form the corporate life.
Choosing the right mattress can be very tough. If you end up with the wrong one, then you will result in severe colds, even heat strokes.
Luckily for you, we just finished giving you the reviews of the best mattress for car camping. If you have the article carefully, then you should have no difficulty buying the perfect model for you or your family.
Good luck and have fun on your upcoming trips! Living life is worth it!
Philip Robert is an avid camper and hiker who loves nothing more than spending his weekends camping and hiking in the mountains. He has been camping and hiking since he was a young boy and has never lost his love for the outdoors.
Philip is a firm believer that there is no better way to connect with nature and get some exercise than by spending time in the great outdoors. He is always on the lookout for new trails to explore, and loves sharing his experience with others.
"MyOutdoors.net" is a place where you will find a comprehensive guide you need to know about camping and hiking. Philip has the knowledge and experience to help you enjoy the great outdoors.