Getting constantly filthy from the camp setup and staying like that in summer or winter weather is the worst plan when on the campsite for 2 or more days. Then, what would be ideal for this kind of situation? A refreshing bath!
As most sites contain an unhygienic bathroom with no hot water supply line, a lot of people look for ideas to shower outside during camping.
Don't panic! Today I'll introduce you to seven ready-made and do-it-yourself outdoor shower ideas for camping. Stay with me till the very end!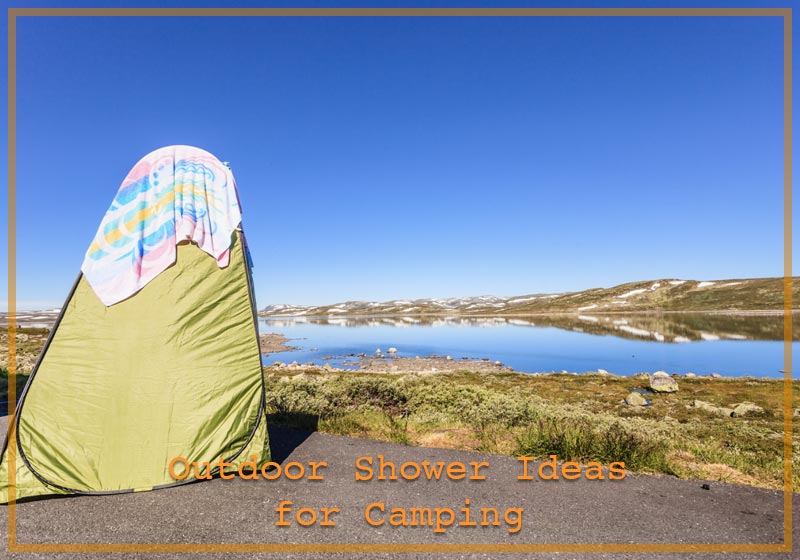 The Most Useful Outdoor Shower Ideas For Camping
Below you'll find the 4 best outdoor shower camping ideas which are pre-made, portable, and handy to use for showering. Let's get into the list.
12V Heated Camping Shower
To bath in an open area outside using hot water is rare for camping unless you meet the portable 12V heated shower.
It comes with all gears including hook, sucker, hanging sleeve, sprinkler, switch, water pump, bucket, and switch. In most 12V heated showers, you can take 5 gallons of water to use.
Outdoor Shower Enclosure
It's a great way to shower in a freestanding position while covered in wood fence boards using the outdoor shower enclosure.
This lets you stand while having full control over privacy to rinse off. You only need to add the showerhead and long hose then set up the water line to use it easily.
Portable Camping Shower Bag
For an easy and quick shower solution on a camping site under the tree, the camping shower bag would work well. It let you have the sprinkle, hose, and a bag filled with water to shower in any place anytime.
But, be sure to use a camping shower tent to get the privacy. If you need one, then try the solid ROPODA Pop Up Tent that is portable and foldable.
Vinyl Outdoor Shower
If your campsite contains a plumbing set up, then using the industrial vinyl outdoor shower would be great. You might need to install a showerhead and set up the water line into it for a restful showering experience.
Next Read: Best Portable Hot Water Heater for Camping
Quick & Easy DIY Camping Shower Ideas To Try
Apart from the ready-made solutions, there are 3 do-it-yourself ideas to make a portable shower during the camping days. Let's take a look.
Instant Shower
To make these, you'll require the garden hose and water supply line (from the campsite bathroom) to hang around a tree downward. You can add a showerhead fixture on the hose to feel the rain-like spray.
Plus, be sure to bring the rustic ladder to do the procedure easily. This idea is super handy especially when you need to shower but don't have a bathroom outside.
No struggle over showering in the camp!
Hula Hoop Shower
Some might find it awkward to shower under the tree with no privacy around. And if that's you, then try the large hula hoop which is around 36" or 38" to hang around your showering zone. And of course, you will get enough space to hang the shower using the hose and water line.
It will fulfill both the enclosure environment and comfort which is perfect for personal shower without fear of other people's glances.
Shortcut Camp Shower
What if there's no water line connection and need privacy to take a warm shower? In that case, try the shortcut technique with the camp shower.
You'll require some gears like thick ropes, a watering bucket, wood sticks, and a large piece of cloth. Now, dig holes in a perfect square position near a tree and insert the wood sticks deeply so they don't fall off.
Place the large cloth around the wood sticks to make an artificially enclosed area. Then, insert the rope into the handle of the bucket and tie it with the tree branch so that the watering bucket hangs on the tree.
After that, attach another rope to the sprinkler so that when you pull this rope the watering garden flows the water. Instead of a watering bucket, you can use an ordinary container too.
This also lets you control the water flow as you can stop and start the waterline through the rope. Which is a brilliant trick to save water.
Also Read: Best Portable Toilet for Camping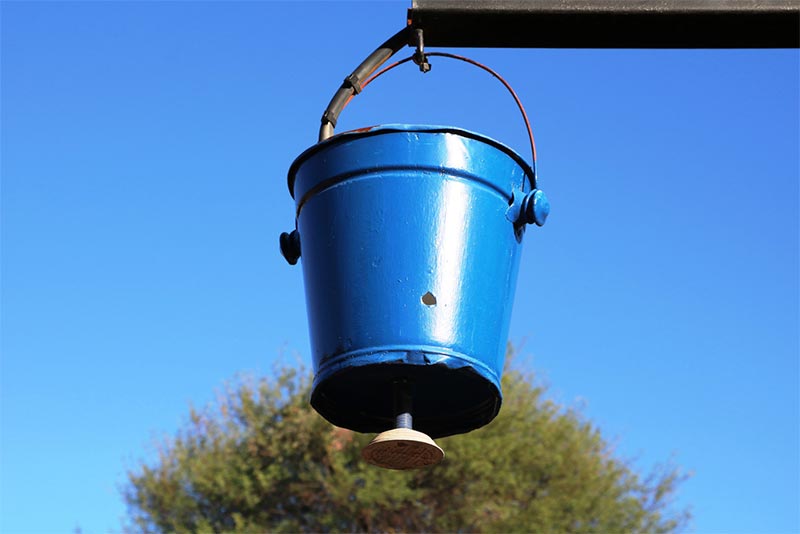 Wrapping Up
The outdoor shower ideas for camping given above might need some investments in shower fixtures to make the outside bathroom on the site.
One thing you should know to prep ideally is almost all Americans use around 4 gallons of water per minute in the modern household shower. So, if you tend to shower for 10 to 15 minutes, prepare a water line that can deliver at least 40 to 60 GPM.
Hope you find everything in this guide and be sure to apply the DIY techniques in urgent situations or try the ready-made solutions. Good Luck!
Philip Robert is an avid camper and hiker who loves nothing more than spending his weekends camping and hiking in the mountains. He has been camping and hiking since he was a young boy and has never lost his love for the outdoors.
Philip is a firm believer that there is no better way to connect with nature and get some exercise than by spending time in the great outdoors. He is always on the lookout for new trails to explore, and loves sharing his experience with others.
"MyOutdoors.net" is a place where you will find a comprehensive guide you need to know about camping and hiking. Philip has the knowledge and experience to help you enjoy the great outdoors.