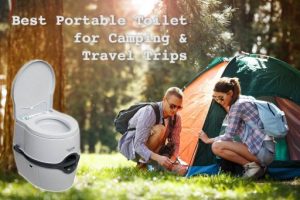 No matter how far and wide you travel, the presence of a proper toilet is an issue that you cannot ignore.
To make your travels worry-free and maintain proper hygiene, a portable toilet can be a godsend. They can be carried easily, installed quickly, and maintained effortlessly.
Choosing the proper portable toilet that will accompany you and your loved ones on countless trips can be difficult. That is why we are here to review some of them so that you can choose the best portable toilet for camping.
No matter far away from home you go, you surely will not have to worry about a comfortable and hygienic bathroom ever again.
Top 10 Best Portable Travel Toilet for Camping Reviews
In our opinion, Reliance Products Luggable Loo Portable is the best option out there as it offers amazing features at a good price. Nevertheless, our other recommendations are pretty good as well.
Without further ado, let us take a look at some portable toilets that will have your back no matter how far and wide you go to explore and travel.
1. Reliance Products Luggable Loo Portable Toilet 5 Gallon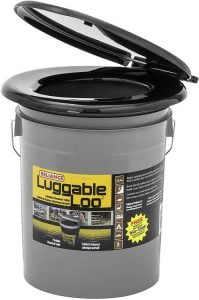 Product Specifications
Capacity – 5 gallons or 20 liters
Weight – 3 lbs.
Color – grey
Snap seat and lid
For our number one review, we have selected the Reliance luggage portable loo. The thousands of positive reviews it has received only speak volumes about its features and performance.
No other portable toilet offers such reliable performance at a price as low as this. Fishing, hiking, hunting, trail discovering – no matter what you do, you will not have to worry about looking for spots to answer nature's call anymore.
Its 5-gallon capacity means it can last a small group for some time before it needs to be emptied and cleaned.
Feature Highlights
Great value and satisfactory performance at a low price
Can be used in hiking, camping, fishing scenarios
Bucket-like design makes carrying it easier
Has a lid on it for health and hygiene purposes
A good option for any home emergency situation
Take care of your business in a hygienic and more private way. Simply make sure that you have a separate tent or place where you can place this Reliance portable toilet. Thanks to its bucket-like design and mental handles, it can be carried easily by almost everyone.
Its conveniently designed snapping lid allows you to cover it so that the surrounding stays healthy and well.
The Reliance luggable loo portable toilet is also a good tool to keep in your house as a great handy backup tool. Those who want to stay prepared for any sudden disaster will find this portable toilet greatly helpful.
---
2. Porta Potti 92306 Thetford Corp Portable Toilet for RVs, Camping, Boats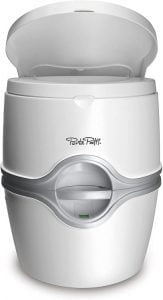 Product Specifications
Weight – 13.45 Pounds
Batteries – 6 AA required
Capacity – 4 gallons for freshwater tank and 5.5 gallons for waste tank
Height with lid closed: 17-5/8″, 44.8 cm
This portable toilet from Porta Potti has won awards for its sleek look, smart design, and outstanding performance. Those of you who are looking to spend a bit more and stay a bit more assured on their trips will love this portable toilet.
Meet the portable toilet from the future. It has a hold-down kit that makes sure the toilet is secured to the floor no matter where it is placed. Rest assured, it will not slide and run while in transit. Its integrated toilet paper holder and handle make it easy to carry it wherever you need to.
Feature Highlights
Toilet can be secured to the floor
Indicators for water and waste level
Can flush at least 50 times
Height and bowl design make usage comfortable
Cleaning and maintaining is extremely easy
No need to second guess anymore when you have the Porta Potti. It has indicators for both waste level and water level. The 4-gallon freshwater tank facilitated at least 50 electric flushes so you and your loved ones can stay assured for longer.
Just because you are not home- does not mean you need to use uncomfortable toilets. The Porta Potti takes the comfortable toilet experience to a whole new level. Its seat height and large bowl make using it easy and comfortable for almost everyone.
Once the mess is full, it is incredibly easy to clean and maintain. You can simply pour out the mess where you need to and be on your way. The cleverly placed sanitary valve keeps away any odor or leak to make your trips worry-free and dirt-free.
---
3. Cleanwaste Store GO Anywhere Complete Portable Camping Toilet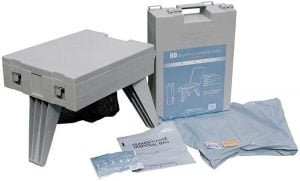 Product Specifications
Weight – 7 pounds
Capacity – 500 pounds
Includes – waste bag, deodorizing agent, toilet paper, disposing bag, and hand wipes.
The Go Anywhere toilet lives up to its name by making sure that you can go anywhere you want without worrying about feeling worried about hygiene and convenience. Let us take a look at some of its notable and user-loved features.
Meet the simplest and lightest portable toilet that you will ever see. Weighing just 7 pounds, it can be folded down to the size of a regular briefcase. That does not mean it is not comfortable as it has the height and design of a standard home toilet.
It is suitable for a wide number of terrains and can go on any trip as it can stay stable on uneven ground.
Feature Highlights
Lightweight and weighs only 7 pounds
Can be folded and carried very easily
Secure and stable on uneven terrains
Comes with many useful accessories
Converts the waste to ensure safer and easier disposal
This American-made portable toilet comes equipped with all the things you need to maintain hygiene and cleanliness. It comes with a waste bag, deodorizing agent, toilet paper, disposing bag, and hand wipes.
Those looking for an eco-friendly option surely will not find anything better than this. The NASA-developed gelling agent converts the waste into an easily movable gel. This Cleanwaste Go Anywhere portable toilet is approved for use by the US Bureau of Land Management and delivers the utmost standard.
---
4. Camco 41541 Portable Travel Toilet for Camping, RV or Boating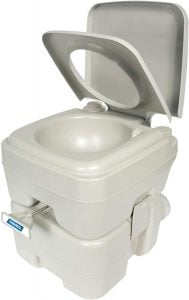 Product Specifications
Capacity – 2.5-gallon flush tank and 5.3-gallon waste tank
Sealing slide valve included
Seat width – 13 inches
Weight Capacity – 330 lbs.
Take a look at another consumer favorite portable toilet that is backed by thousands of positive reviews from satisfied consumers. The Camco 41541 will hopefully win your mind too, with its convenience and ease of maintenance.
It's detachable holding with a capacity of 5.3 gallons is big enough for a bigger party. No matter how far you go for hiking, fishing, camping, or swimming, the Camco can satisfy your needs. Those who want a smaller option can choose the smaller one as this portable toilet comes with two capacity options.
Feature Highlights
Has a smaller and a larger option to choose from
Designed just like a regular toilet
Handles make carrying easier
Odor and leakages are kept away
The sturdy design makes it easy and stable enough to use but makes sure that lightweight nature is not sacrificed. It has a seat and a cover just like a regular toilet to make sure that getting used to it does not become tough at all. All in all, it can be called the best portable toilet for van.
This portable toilet with a 2.5-gallon flush tank is also great for RV or to be used in transports. Side latches make sure that the waste tank remains attached to the flush no matter how far you travel.
It also has handles to help you carry it better. Thanks to the sealing slide valve, all odor and leakages are prevented from keeping the environment healthier.
---
5. SereneLife Outdoor Portable Toilet with Carry Bag for Traveling & Roadtripping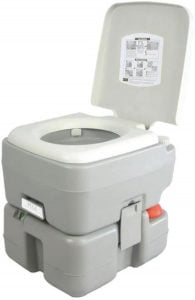 Product Specifications
Capacity – 5.3 gallons in waste tank and 3.2 gallons in the water tank
Flushes – at least 50
Carrying bag included
The Serenelife portable toilet is another of our favorites that has been a favorite among users for years. The carry bag it comes with sets it apart from other toilets and makes it a perfect travel companion.
The price, along with the features, makes this toilet a perfect investment for those who travel frequently. Its lightweight nature, along with a compact nature, makes it a perfect travel companion on land and water. This very convenient toilet comes with a carrying bag so that you can carry it easily and discreetly.
Feature Highlights
Comes with a carry bag
Perfect for a medium group or a family
Waste level indicator tells you when to clean out
Emptying is easy and not messy
Keeps away odor and leaking
Can flush at least 50 times
Thanks to its 5.3-gallon waste capacity, a medium group or a family can use it for a long time. The waste level indicator can let you know when it is time to empty out the toilet so that you know when it is time to empty the toilet.
Its splash-free design makes the emptying task easy and mess-free. No matter where you place the toilet, you want to keep the environment as hygienic and smell-free as possible. That is why this portable toilet has a double-sealed valve that keeps any odor and leakage away.
---
6. DOMETIC 301097206 970-Series Portable Toilet for Camping – Push-Button Flush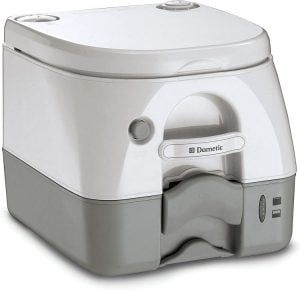 Product Specifications
Capacity – 2.6 gallon in waste tank
Material – ABS
Weight- 12 pounds
Those that are looking for a high-quality portable toilet for a relatively smaller group will love this Dometic toilet. Let us take a look at this toilet's notable features.
Frequent travelers of a smaller group should definitely check this toilet out that gives such a good value for its price. It is also a top choice among those who live in a mobile way. Touch button flush sets it apart from its competitors. The seat it has makes sure you do not feel uncomfortable while using it in unknown locations.
Feature Highlights
Good for small spaces such as tents
Has a touch button for flushing
Equipped with a waste level indicator
Elongated spout helps with mess-free and quick emptying
Comes in two sizes
Easily keep track of the waste with the help of the indicator so that you can empty it when it needs to be emptied. As they are available in two sizes, you can choose whichever one you want to. The Dometic 970 series portable toilet for camping can also be installed permanently to a location of your choice if you need to.
Designed to save space, they are perfect for smaller places and tents. To make carrying easy, this small portable toilet for camping is extremely lightweight.
The lid with the latching system makes the toilet more secure. Like all good portable toilets, it has an elongated spout that makes discharge mess-free and quick.
---
7. Green Elephant Portable Toilet for Camping – Best Lightweight Collapsible Toilet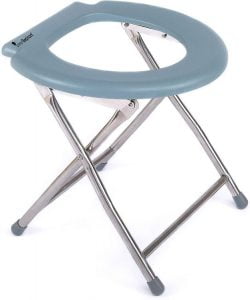 Product Specifications
Material – durable and sturdy stainless steel
Weight – 3.5 pounds
Looking for a cheap and simple portable toilet? Look no further because this toilet from Green Elephant is simple, budget-friendly, and will do what you need to get done.
Perfect for camps and hikes that involve a large number of people, this toilet is absolutely perfect. Its simple design means that you have to spend much less time figuring out what it can do.
Feature Highlights
Extremely light and makes carrying easy
Can be folded to fit almost everywhere
Comfortable seat that is suitable for both kids and adults
Simple to use and maintain
Made with top-grade stainless steel, it is sturdy and durable. At only 3.5 pounds, this portable folding toilet for camping is one the most lightweight ones ever.
Meet one of the very few portable toilets that can be folded and can fit such tiny spaces. No matter how heavy you are traveling, this toilet can slip into any crack once it is folded. This Green Elephant toilet can be called the best portable toilet for car travel because of how conveniently it can fit into any car.
The seat of this very simple portable toilet is extremely comfortable and can be used without difficulty by both children and adults. Keeping it clean is not too difficult as all you have to do is make sure that the disposal bag is placed in such a way that it covers the seat of the toilet.
---
8. VINGLI Portable 5.3 Gallon Flushing Camping Toilet Large Capacity Waste Tank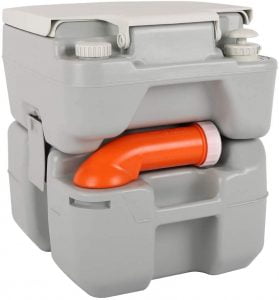 Product Specifications
Flushes – 95 to 98
Capacity – 3 gallons in flush tank and 5.3 gallons in holding tank
Weight – 11.5 lbs.
Capacity – Up to 441 lbs.
Meet another rare portable toilet that comes with a carry bag. The Vingli portable toilet is absolutely perfect for large groups that are frequently on the move.
If you are looking for a portable toilet that will service a large group for a long time, this one from Vingli should be your top choice. The 3-gallon flush tank can provide 95 to 98 flushes and keep you assured for a long time.
Its 5.3-gallon holding tank will also last for a long time without needing to be emptied frequently.
Feature Highlights
Has carrying bag and built-in handles for easy carrying
Perfect for larger groups frequently on the move
In some cases, it can directly be emptied into sewage outlets
Keeps leaking and odor away
Depending on where you are, you may be able to directly empty the waste into sewage outlets. The dumping hose is compatible with some types of sewage outlets which makes the disposal easier and cleaner for you. A display system notifies you of the waste level at all times and turns red when the tank gets full.
This large portable toilet for camping is lightweight enough to be carried anywhere. Its built-in handles and carry bag make carrying easy and hassle-free. The highly strong polythene material prevents leakage and makes sure hygiene is maintained.
To make sure that the user's experience is comfortable, the seats are durable and stable.
---
9. Cleanwaste Go Anywhere Complete Portable Toilet System, Shower or Changing Room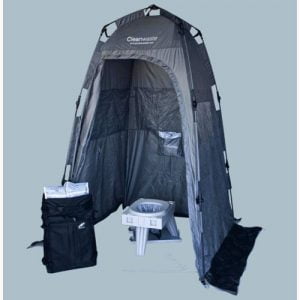 Product Specifications
Includes – 17 piece kit for setup
Weight- 7.98 lbs.
Material- Plastic
We could not but review another portable toilet from Cleanwaste because of the convenience and privacy they provide. If privacy is one of your concerns, then surely there is no better choice than this one.
This portable, collapsible camping toilet system is a complete package that completely justifies its price. The kit contains fifteen pieces of tools to help you set up the most modern and compact portable toilet you will ever need.
All of this can be fit inside a backpack that comes with the package to make sure that you can carry it easily and quickly wherever you need.
Feature Highlights
Extremely good value for the price
No need to worry anymore about privacy
Comes with the tools needed to set up, which is quick
Can be used as changing room and shower room
Setting up is extremely quick and easy
Next time you approach a portable toilet to use it, you will not have to worry about privacy anymore. It has a privacy door that can be closed and opened with the help of a zipper. This system is much like a tent and comes with the tools you need to set it up and keep it secured on the ground.
People who like to take a shower or change clothes in a more private manner will also love this portable toilet system. You can install a portable shower system inside and take a shower whenever necessary. This room can also be used as a changing room which the ladies will surely love.
The whole system takes only minutes to both set up and break up. The total cost seems surely high but actually is much cheaper than buying the parts separately.
---
10. Nature's Head Self Contained Composting Toilet – Best Portable Composting Toilet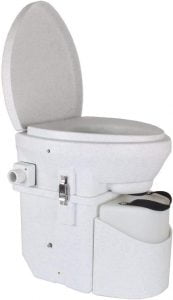 Product Specifications
Composting Toilet
Capacity – lasts 4-6 weeks for 2 people
Includes – a fan
Environment enthusiasts rejoice because this toilet helps you go anywhere and lets you turn that waste into compost. If you own fruit and flower trees, you can also put this compost to very good use.
This extremely eco-friendly toilet also has extremely good capacity. If two people use it regularly, it will last four weeks at least before the contents need to be emptied. Though it was designed keeping marine situations and traveling in mind, it is perfect for any situation where you cannot access a regular toilet.
Feature Highlights
A good investment that will serve more than one purpose
Durable and very long-lasting
Has an air circulation fan
Installing it is easy and quick
Compost can be used for gardening purposes
The stainless-steel material makes the toilet durable and very long-lasting. This toilet makes sure that no leaking or odor occurs, which may make the surroundings unhygienic. This portable flush camping toilet has a circulation fan to further make sure that the air near the toilet stays as fresh and healthy as possible.
This portable composting camping toilet can easily be installed by almost any handyman or plumber. Those who use this toilet and do some gardening can make very good use of the compost. It is always better to use natural compost on your plants rather than artificial fertilizer.
Though it can be considered significantly expensive, it will be a very good investment that will help you go in a healthy way as well as supply compost for your plants for a long time.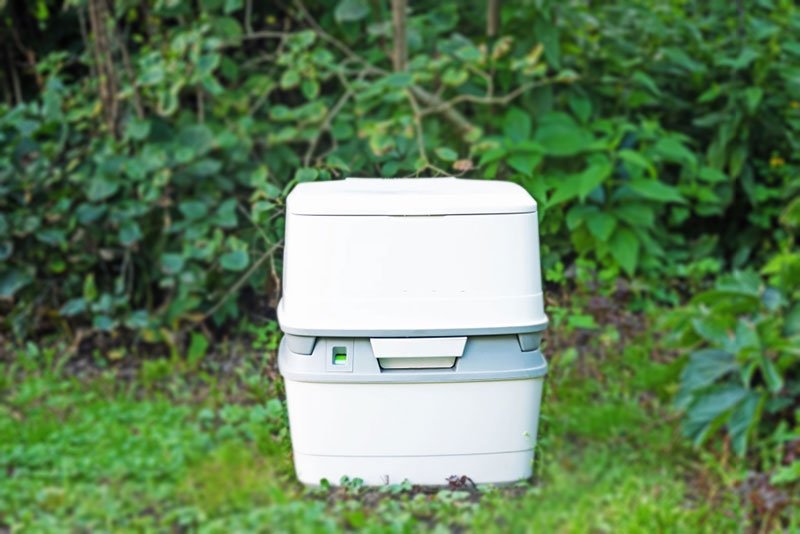 Things to Consider Before Buying the Best Portable Toilet
A portable toilet will accompany you on many trips to many locations. It also has serious health and hygiene implications that must be considered no matter how long or short your trip is.
The good thing about portable toilets is, there is an extremely wide range of designs, budgets, types, and capacities to choose from. We have constructed an in-depth and detailed buying guide just for you.
Number of Users
The number of users is the first thing you should consider while looking for a portable toilet. This factor will influence several other factors that you need to consider. If you have a large group, you need a toilet that has a large capacity and can go on for a long time without needing to be emptied.
Moreover, a large group also means that you need a larger flush tank.
Capacity
Capacity generally means the capacity of the tanks. Most portable toilets have a flush tank to clean the toilet after every use and a waste tank to catch waste. Larger groups should choose something that has a large capacity.
If you have the elderly and children traveling with you, you also will want to choose something with a larger capacity for safety and assurance.
Budget
Budget is also a very important factor that should be kept in mind. If you are a frequent traveler and are on the road often, it is better to spend more and get something that will last you for years and will accompany you on many trips.
Cheaper portable toilets are usable and suitable only when you are sure that you will not travel frequently.
Frequently Traveled Locations
Although most portable toilets can be used on both land, water, and ground in a similar manner, you should still keep in mind the frequent location you travel to. If you are on a boat frequently, it is better to get something that can be secured to the floor temporarily and move around as needed.
Similarly, those who hike a lot can best benefit from something that can be readily placed inside a tent.
Folding vs. Non-folding
This should be a serious consideration for those who travel light or do not have too many storage options. Many portable toilets can be folded down and carried in any corner, while some take up quite a lot of space. Not to mention, the foldable toilets weigh a lot less than the non-foldable ones.
Waste Level Indicator
A portable toilet without a waste level indicator should not be chosen. Second-guessing the amount of waste in the waste tank is not easy or hygienic. A waste level indicator tells you how much waste is in the tank so that you can dispose of the waste without second-guessing.
Odor and Leak Prevention
This point is a very important one that many first-time buyers often forget to take into consideration. Make sure that the toilet is designed properly and causes no leak or odor. A toilet that leaks or spreads a bad smell will spoil the whole surrounding and ruin the mood of the trip.
Waste Disposal
After all is done, the waste inside a portable toilet will need to be disposed of. This is a step that needs to be done with utmost care and concern. That is why it is vital to make sure that the waste can be disposed of easily and in a mess-free manner.
Some toilets have elongated disposal spouts to make the disposal system mess-free and safe.
Flushes
The number of flushes always does not correlate with the flush tank capacity of a toilet. That is why it is important to check separately the number of flushes a toilet can carry out after every refill. If you have kids or the elderly traveling with you, it is wise to choose something that can flush a higher number of times.
Privacy
Privacy is an important issue for many while using a toilet in the unknown woods or camps. Some toilets come as a total kit that has zippered tents for privacy. These portable toilets will be perfect for those who prefer some privacy.
The toilets can also be used as changing rooms and even to take showers. For a larger group that contains many different types of travelers, a portable toilet system that also ensures privacy is highly recommended.
Transportation/ lightweight
Lightweight, portable toilets are always wiser and more convenient options. You will have to carry it around, place it somewhere convenient, clean it necessarily, and empty it accordingly. A lightweight, portable toilet will always make every task easier for you and will make the whole trip trouble-free.
You May Read: Best Female Urinal Devices
Frequently Asked Questions About Portable Camping Toilet
1. How Should I clean the portable toilet?
Ans: We recommend you use a cleanser or solution that is specifically supposed to be used on portable toilets. Household bleaches are, in most cases, too tough for portable toilets.
2. How long does a portable toilet generally last?
Ans: In general, portable toilets can last for years without giving you any trouble. Do make sure that you properly clean them, and never forget to clean extremely thoroughly after every trip.
3. Where can I find parts for portable toilets?
Ans: Many manufacturers and sometimes retailers too store replacement parts that may need to be changed. This should be looked into before the purchase, as not every brand stores replacement parts.
4. Can I rent a portable toilet?
Ans: In most cases, you can rent a portable toilet though it will highly depend on where you live.
5. How frequently should I empty a portable toilet?
Ans: This will widely depend on several factors. We suggest that in case the tank does not get full even after a week has passed, you should empty it anyway for hygiene purposes.
Final Words
After reading our article, we hope you have learned all about portable toilets and what they can do. Our comprehensive buying guide should help you choose the best portable toilet for camping.
No matter what, always maintain the utmost cleanliness to make sure that health and hygiene are not threatened on your trips. After all, a trip is neither complete nor memorable enough if you do not have a portable toilet and have to worry about bathroom situations.
Philip Robert is an avid camper and hiker who loves nothing more than spending his weekends camping and hiking in the mountains. He has been camping and hiking since he was a young boy and has never lost his love for the outdoors.
Philip is a firm believer that there is no better way to connect with nature and get some exercise than by spending time in the great outdoors. He is always on the lookout for new trails to explore, and loves sharing his experience with others.
"MyOutdoors.net" is a place where you will find a comprehensive guide you need to know about camping and hiking. Philip has the knowledge and experience to help you enjoy the great outdoors.