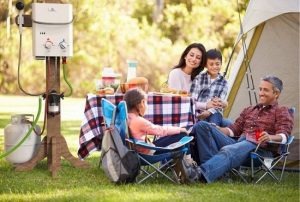 Hot water is always a necessity, especially on colder days. When you're on the go, access to clean water isn't easy, let alone hot water.
In times like this, portable tankless water heaters could be a game changer.
Whether you are going camping with your family or looking for a poolside shower, you can really benefit from one of these.
If you want the best portable hot water heater for camping or other outdoor activities, you've come to the right place.
In this article, we have discussed our top picks for such heaters that you can use to get clean hot water when you're stuck in the middle of nowhere.
Types of Portable Tankless Water Heater
Primarily, there are three different types of portable tankless water heaters to choose from. Depending on your needs, you can decide which one is suitable for you with the help of the detailed descriptions provided below.
Electric Water Heater
First, we have electricity-powered heaters that require power from an external electrical outlet. This means that considering their portability, they cannot be used entirely off the grid.
Most of these heaters run on 110V and use a small amount of current. So, they may require slightly longer to heat water.
Compared to the other types, these are less portable in a sense. But they are highly efficient and extremely dependable.
Gas or Propane Water Heater
Next, there are gas-powered heaters.
The energy source for gas-powered heaters, also known as propane water heaters, is gas.
As propane is more of a lightweight and reliable source of energy, these are usually the fastest of all heaters in terms of performance.
Solar Water Heater
Last but not least, there are solar-powered water heaters. They are without a doubt the most fuel and cost-effective.
They do, though, take much longer time to function and do not last for long.
Top 7 Best Portable Camping Hot Water Heater Reviews
Based on our detailed evaluation, we can confidently declare that the Camplux Pro Tankless Propane Water Heater is the best tankless water heater option from an overall point of view.
However, if you want a fast and consistent stream of hot water, then the EZ 101 Tankless Propane Water Heater is the wisest option. With a seriously high water flow rate and an exceptionally energy-efficient water heating system., this is an incredible small propane tankless water heater.
Furthermore, we have certain alternatives that are almost as strong as these. Check out our top 7 tankless water heater picks before drawing any conclusion.
1. Camplux Pro Tankless Propane Water Heater
For our top choice, we have the perfect water heater that not only delivers hot water within mere minutes but also saves energy in the process.
If you follow the guidelines, it's very simple to set up and operate. You won't have to wait long. Most importantly, you'll have access to hot water within a few minutes of turning it on.
This heater produces a low amount of water pressure. So, you will have the ideal flow of hot water whether you go hiking, camping, or for other outdoor activities.
Designed with safety in mind, this machine has all kinds of advanced programs integrated into the system.
Feature Highlights
Compact and lightweight, easy to transport
Easy installation and operation process
Can get a good amount of heated water in a minute
Perfect water pressure for camping and other outdoor activities
Properly configured to ensure absolute safety
For long-term cleaning, it has an anti-freezing water pump that ejects excess water to prevent freezing in colder climates. Besides, it is configured to switch off the supply of gas once the water temperature rises above 167 degrees Fahrenheit.
As this heater is small in size and light in weight, it is the perfect portable tankless water heater.
Although it is small, it can serve a lot of purposes. Even though it is an amazing option for outdoor recreation days, it can be used for several other purposes as well. It can be used in barns and cabins to provide water for animals like dogs and horses.
Furthermore, this lightweight model is fitted with 11.5 percent power-saving technology. The propane exchanger and main burner of the water heater were designed to reduce energy usage and noise emission using improved steam engineering.
Product Specifications
Weight- 16 pounds
Power source- propane
Rate of water flow- 1.58 gallons per minute
BTU Input- 41,000
Water capacity- unlimited
---
2. Hike Crew Portable Propane Water Heater & Shower Pump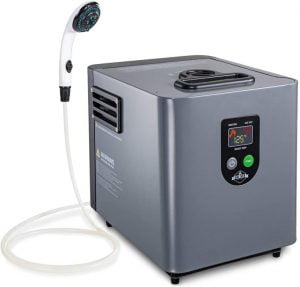 If you want an outdoor cleaning system for self-cleaning or dishwasher cleaning, this is an exceptional option.
Thanks to its small size, you can use this tankless heater to heat water on the go.
With the water heater, you will find hoses, attachments, adapters, and other accessories in the box. Besides, a case is included to help you carry your stuff when you're going out camping.
However, the propane itself is not included. So, you have to collect that yourself.
Feature Highlights
Suitable for both showering and cleaning dishes and utensils
Necessary tools and accessories included
Knobs included for adjusting water temperature and spray patterns
Advanced technologies to prevent safety hazards
In this heater, there are some special features included. For one, there is a specific knob to control water temperature. Besides, there is a hand shower and a showerhead part, and they both have adjustability options.
This propane camping water heater is equipped with advanced technologies that turn off the main burner when the temperature of water exceeds 125 degrees Fahrenheit.
Moreover, there are safety features such as 'water flow detector inclination detection.'
It's easy to use. Simply plug the adapter into an outlet or add the 12 Voltage plug socket to your car. And you'll have hot water right away.
Product Specifications
Weight- 13 pounds
Power source- propane
Rate of water flow- not specified
BTU Input- not specified
Water capacity- unlimited
---
3. FORUEE Portable Propane Tankless Water Heater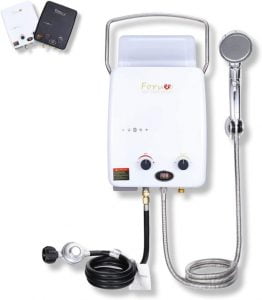 Up next, we have a multipurpose portable instant water heater. It ensures low pressure of water flow, which means you can use it in 7 different scenarios.
The key feature of this battery-powered water heater is its ability to serve several purposes. Firstly, it works as the perfect outdoor shower for camping, hiking, or any similar experiences.
Secondly, you can use it as a pool shower, which you use before or after entering a pool. Thirdly, you can use it in barns and cabins and use it to give your pets a proper bath.
Moreover, it can be used for many other purposes, like with Recreational Vehicles and more. In fact, it makes the best portable RV water heater.
Feature Highlights
Completely equipped with necessary parts and components
Runs on cell batteries
Ideal solution for a multipurpose water heater
Conserves energy
Now, this machine comes with almost all the parts needed to make it work, except batteries. You can find those in any local hardware store.
On the other hand, it includes a specialized gas regulator, which is CSA approved. It includes a lot more, such as a showerhead, a shower holder, an extension hose, and a whole lot more.
As this water heater only uses energy when necessary, energy is not wasted. In fact, it is conserved.
Essentially, it makes the most of the electricity supply in order to heat water very efficiently. When it is not being used, it doesn't waste any electricity.
It includes a number of safety features, like protection from excess heat, anti-freezing, and more. So, you will not face any kind of problems regarding lack of security from this portable electric hot water heater shower system.
Product Specifications
Weight- 14 pounds
Power source- propane
Rate of water flow- 1.32 gallons per minute
BTU Input- 34,000
Water capacity- unlimited
---
4. GASLAND Outdoors BE158 1.58GPM 6L Outdoor Portable Gas Water Heater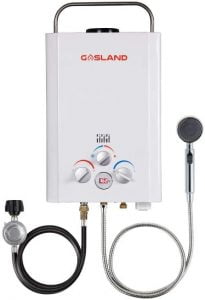 If you're looking for a portable gas hot water heater for camping, this is a great alternative. It has an advanced heating system equipped with safety features.
According to CSA, this Gasland heater is completely safe to use. Not just that, but it has special features that guard against overheating and anti-freezing conditions.
If the water temperature starts accelerating, the burner adjusts to ensure the temperature never goes beyond 167 degrees Fahrenheit. And, it automatically lowers water pressure to anywhere between 2.5 and 110 psi as required.
Feature Highlights
Excellent safety features as reviewed by CSA
Great energy-saving technology
Perfect for taking for outdoor adventures
Automatic temperature and pressure adjustment features
It works with high-power outputs, allowing you to have instant, unlimited hot water on the go. The machine does not need to be preheated.
And, it demands a low initial water pressure, with just 2.5 PSI needed to get it going. In one minute, it will generate up to 1.58 gallons of hot water.
As previously said, the flow of heat and water is thoroughly adjustable.
This portable machine is designed with 11.5% energy-saving technology. Two essential parts of the heater, the main burner, and the heat exchanger, are engineered with improved steam technologies to eliminate gas consumption and combustion noises.
Product Specifications
Weight- 15 pounds
Power source- propane
Rate of water flow- 1.58 gallons per minute
BTU Input- 41,000
Water capacity- unlimited
---
5. Eccotemp L5 1.5 GPM Portable Outdoor Tankless Water Heater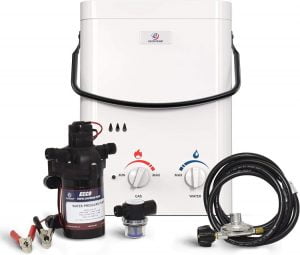 Here, we have an amazing water heater that comes with an EccoFlo diaphragm pump of 12 voltages and a strainer. If you want an eco friendly solution, this is a great choice.
Apart from the parts mentioned above, you will find a few other parts along with the Eccotemp L5 Water Heater. You'll get a three-part shower head, a gas device with safety features, a hose, adapters, installing hardware, and much more.
Now, this heater is powered by simple cell batteries. Although they are not included, you can easily find them in the nearest hardware store.
It requires very little water pressure to get it activated. With only about 20 PSI, you can get the heater to work.
Feature Highlights
Complete with all of the requisite security and performance features
Powered by simple cell batteries that are easily accessible
Low-pressure water flow required
All relevant parts included in the package
Automatic power-off function for added security
You can use any kind of garden hose to attach with this machine and instantly get access to clean hot water, which can be used for a number of purposes.
With its mechanism to instantly heat water, this portable hot water heater will make your life a whole lot easier. Be it for taking showers or washing dishes, the instant supply of water from this heater will be more than enough.
So, if you're going camping or looking forward to setting up an outdoor shower in front of your pool, you can use this.
This device has a protective shut-down mode that kicks in when it encounters unforeseen situations. For starters, if the heater is left on for more than twenty minutes, it will switch off on its own. Even when the heater gets tilted more than 45 degrees from its original position, it will shut down.
Product Specifications
Weight- 27 pounds
Power source- propane
Rate of water flow- 1.5 gallons per minute
BTU Input- 75,000
Water capacity- unlimited
---
6. EZ 101 Tankless Propane Water Heater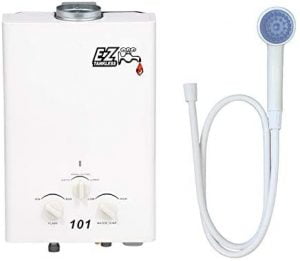 Now, if you prefer water heaters with a high rate of water flow, check this out. It is essentially the fastest on the market.
Weighing just around 15 pounds, this is a small and lightweight portable propane hot water heater for camping.
As opposed to a compact solar water heating system, this one has a propane tank. It generates heat efficiently and conveniently to assist you on your outdoor recreational days.
If you want the fastest water flow, this is the right option for you. It not only has the highest water flow rate, but it also has one of the most energy-efficient water heating systems.
Feature Highlights
Operates on D cell batteries
Can be used for different purposes other than camping
Appropriately sized for easy portability
Easy-to-use water movement and flame management dials
Good for the environment
Now, it has easy-to-use dials to control the flow of water and the intensity of the flame. There's even a heat meter on it, so the water doesn't overheat.
It has a season septic setting that you can change depending on the environment in your region, which is a distinctive characteristic.
Considering it uses all-natural elements and nontoxic substances, it is good for the environment. So, that should be an important factor when deciding on a final heater.
And, it includes parts like a showerhead, hose, and more. You just need to get the cell batteries.
Product Specifications
Weight- 15 pounds
Power source- propane
Rate of water flow- 3.2 gallons per minute
BTU Input- 84,000
Water capacity- unlimited
---
7. Coleman Hot Water on Demand H2Oasis Portable Water Heater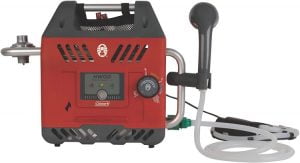 Now, for our last option today, we have a spectacular water heater having one of the best camping hot water systems.
As it has a small size, you can easily take it with you when going out on day adventures, where you might need access to clean water. With this portable heater, you can get clean and hot water very easily.
This is particularly effective in colder climates. In just 30 seconds, it will deliver water as hot as 125 degrees Fahrenheit. So, this is an ideal heater if you want your water to be heated up quickly.
Feature Highlights
A handy carry bag and retractablewater carrier included
Shower and extension hose included in the pack
Instant production of hot water
Strong and steady water flow at all times
Apart from providing properly heated water, this machine also ensures strong and steady flow. This device is well worth the price because of the high-capacity submersible electric engine.
With the heater, you will find a shower and an additional 6-foot shower hose. Being made from silicone, this hose is strong and flexible. And it makes it easier to shower outside.
Finally, it comes with a mesh plastic bag and a retractable water carrier that holds up to 5 gallons of water.
Basically, if you want fast water at a steady rate, this Coleman portable water heater is an excellent choice.
Product Specifications
Weight- 18 pounds
Power source- propane
Rate of water flow- not specified
BTU Input- not specified
Water capacity- 5 gallons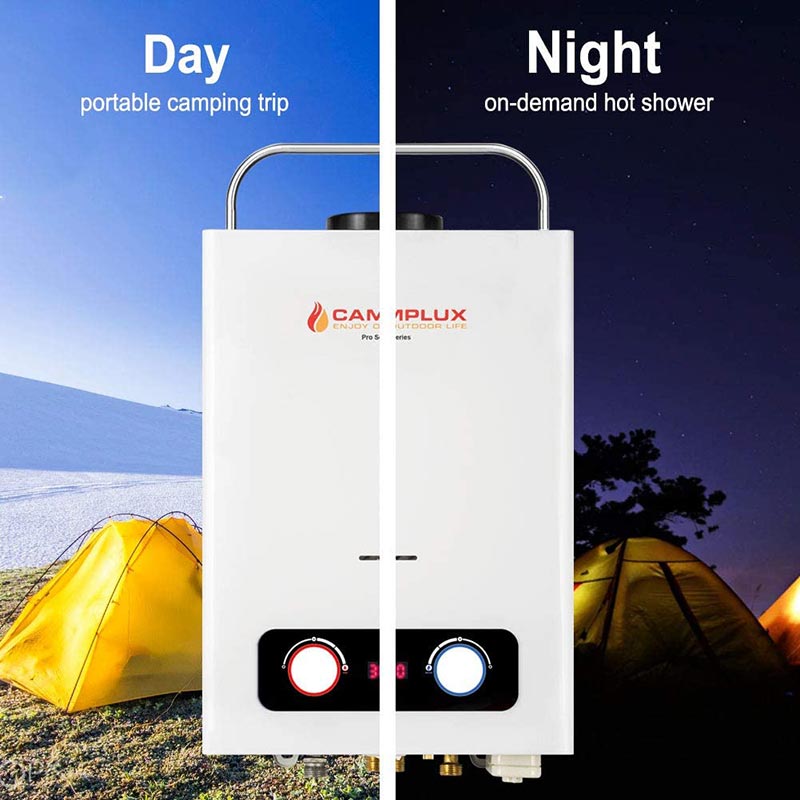 Why Should You Buy a Portable Tankless Water Heater?
Portable tankless water heaters are a must, particularly on those cold winter days. But there's always that confusion when considering unconventional things.
Here's why you should buy one of those.
Firstly, you will get access to instant hot water. You can use that water to wash your dishes or take a shower. Secondly, they are multifunctional. You can use them for several different purposes.
For instance, you can take them when going hiking or camping with your friends and family.
Also, you can set them up beside pools. That way, you can wash yourself before and after you swim. There are many other options, like giving your pets a warm bath on a cold day.
Basically, you can't go wrong with purchasing a water heater. You can use them on different occasions, and if properly maintained, they will last for a very long time.
So, yes, if you think you will go on outdoor adventures, even if just once or twice, this is an investment worth making.
What to Look for in Portable Water Heater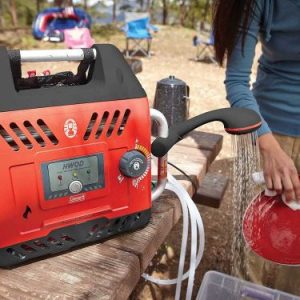 Now that we have discussed the best tankless water heaters on the market, you must have a better understanding of these products. But you are still not ready to make the right choice.
First, you have to consider some essential factors, and based on those, you can buy yourself a portable water heater.
Source of Power
As mentioned above, there are mainly three different sources of power when it comes to portable tankless water heaters.
Electric water heaters require some form of electricity. So, if you are completely off the grid, you can't have one of these.
Gas water heaters are useful for almost all purposes. But you will have to take your propane tank with you. If you're willing to take that extra trouble, propane heaters might be more fitted for you.
As for solar ones, only take those if you aren't in a hurry. They will take a lot longer to heat your water.
Performance
Check to see if your water pump is heating your water as excellently as it can. The British Thermal Unit (BTU) input is used to calculate this.
Higher BTUs are favored because they allow your water to heat more quickly.
Safety Features
Another extremely important factor is safety. If you get a water heater with poor safety standards, you might face unfortunate situations involving severely hot water.
So, make sure you get a heater that has advanced safety features. Some features, like anti-freezing protection, flame protection, automatic shut-down feature, are absolute necessities. Be sure to look out for those.
Flow Rate
This is another significant factor that you can't afford to overlook. Basically, the volume of water that runs into your water heater is referred to as the flow rate.
Portable water heaters have flow speeds ranging from 1 to 3.5 GPM (Gallons Per Minute). Higher flow rates are preferred, as it means you will obtain hot water faster than lower rates.
Size
Size is always a key factor when choosing any portable machine. And, it is no different for a tankless water heater.
You have to make sure that the heater isn't too big, but you also have to make sure that it is enough to provide a decent amount of water at a time.
The majority of portable heaters weigh between 15 and 20 pounds. You should make your choices based on how much you can take with you.
Capacity
Unlike heaters with tanks, most of these don't have a certain capacity to hold water. As you can connect the machine to a hose and water source, you should get an endless supply of hot water. So, that shouldn't be much of an issue.
Longevity
If longevity is an issue for you, and you want a heater that will last you a long time, you should avoid solar water heaters.
Electric and propane water heaters are both great options for you. But among those, some are made with significantly better parts and components. So, make sure you check for those details as well.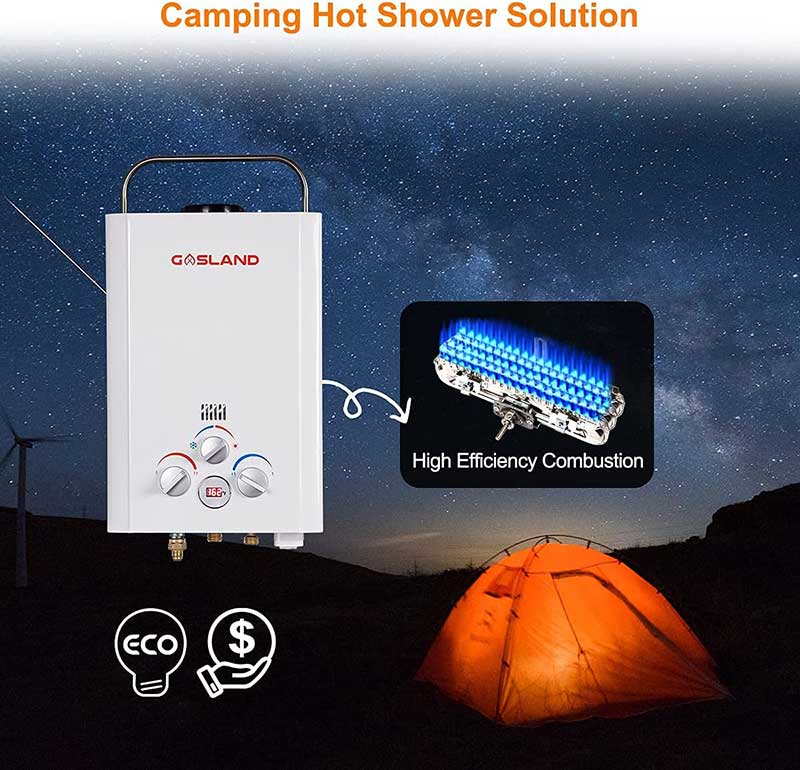 FAQ's about Portable Water Heater
1. How reliable is a portable water heater?
Ans: Portable water heaters are very dependable, but certain heaters are much superior to others. On picnics or in areas where hot water is not readily accessible, they provide sufficient hot water for taking showers and washing clothes and dishes.
We have only mentioned the most effective and dependable options for you.
2. What is the benefit of a tankless water heater?
Ans: A tankless water heater has many upsides. From a portable tankless water heater, you can get an abundant amount of hot water in the middle of nowhere.
They are less prone to leaking, are much safer, and last a much longer period of time.
3. What is the downside of a tankless water heater?
Ans: The initial cost of a tankless water heater is its biggest drawback. The cost of a tankless water heater and the cost of installation if you want to opt for help are considerably greater than that of a heater with a tank.
4. Can I put a tankless water heater outside?
Ans: Yes, you certainly can. But with some specific models of heaters, you might need to ensure some particular demands.
For instance, gas water heaters are perfectly capable of handling any kinds of environmental factors, so they don't require additional protection.
However, electric water heaters do require some form of extra care when used outside.
5. Do I need a pump for a portable water heater to work?
Ans: It depends on your portable water heater. If it is a solar heater, you will not need a pump.
However, electric and gas heaters do require pumps. And, most of the time, they are included with the heater itself.
Final Words
Here, we have provided detailed descriptions of our top picks for tankless portable water heaters, along with each of their key benefits. Based on your requirements, you should now be able to make the right decision with the help of our buying guide.
We hope you can find yourself the best portable hot water heater for camping!
Philip Robert is an avid camper and hiker who loves nothing more than spending his weekends camping and hiking in the mountains. He has been camping and hiking since he was a young boy and has never lost his love for the outdoors.
Philip is a firm believer that there is no better way to connect with nature and get some exercise than by spending time in the great outdoors. He is always on the lookout for new trails to explore, and loves sharing his experience with others.
"MyOutdoors.net" is a place where you will find a comprehensive guide you need to know about camping and hiking. Philip has the knowledge and experience to help you enjoy the great outdoors.