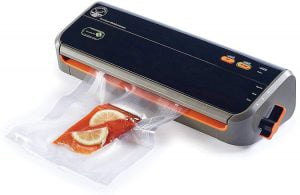 Some people consider hunting more than just a hobby. Whatever your reason is, one thing results, and that is you get fresh meat. You may have a boar, deer, or rabbit. A great dish could be served if it is made out of fresh meat, and that is possible if you preserved it right.
But come to think about this. Killing a deer can give you around 20 lbs. of meat. And you cannot consume it in just a week. That is why something to preserve it to maintain the freshness is necessary. With the best vacuum sealer for hunters, you can keep it for a long time, even for years.
Top 5 Best Vacuum Sealers for Hunters and Fishers
In this article, we have chosen five of the top ones in the market. Each of these sealers has unique features that will probably suit your taste. Let's go through the list and learn what works for you best.
List of 5 Best Vacuum Sealers for Hunting and Fishing
1. FoodSaver V4400 Vacuum Sealer Machine with Automatic Bag Detection and Starter Kit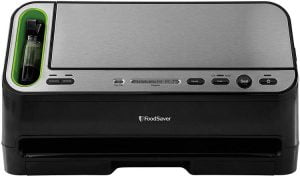 If you want to seal the freshness in and at the same time save money, this vacuum sealer is a great choice.
Do you know that you can store meat that can last up to 3 years? Yes, it is possible using the FoodSaver V4400. Your meat will be preserved for a long time without compromising its flavor and freshness. This can also be used for leftovers, prep ahead meals, and frozen foods, so they can stay for weeks instead of days.
Feature Highlights
Features compatibility and is easy to carry
Can seal freshness up to 3 years while preserving the flavor and taste
Comes with an automatic bag detection
Warrants a very consistent sealing
Made of smart technology that detects moisture thereby preserving freshness
NRTL tested and certified thus safe to use
The vacuum sealer comes with automatic bag detection. This means that sealing foods is just easy. All you have to do is to leave the bags in the vacuum chamber and the machine will just seal them in no time. And that's it! Your food will stay flavorful, delicious, and, most of all, fresh.
Carrying it during hunting will not be a problem as it is simple to use. It already has a cutter and roll storage built-in the device, so it is easy to have customized bags according to the size of the foods you seal. Moreover, LED light indicators are made to regulate the sealing process.
This vacuum sealer is made of high-quality materials, thereby ensuring durability. FoodSaver aims to provide you with a very consistent sealing through its airtight seal and optimum vacuum level features. It is made with smart technology that can automatically detect moisture for you to achieve an airtight seal.
---
2. FoodSaver Vacuum Sealer GM2050-000 Outdoorsman Handheld Sealer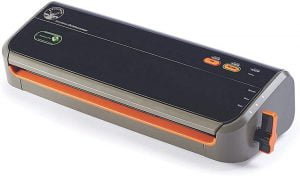 TheFoodSaver GM2050-000 is created with a heavy-duty construction at a relatively lower price and can make poultry, fish, and meat to stay fresh longer.
This vacuum sealer is undoubtedly affordable but offers various features that you will surely love. It is made of a smart sealing system that gets rid of air and applies heat to maintain freshness. No need to worry about spoilage and freezer burn because the FoodSaver GM2050-000 can make it stay fresh longer.
Feature Highlights
Made of exquisite and heavy-duty construction
Ensures airtight sealing for years of freshness
Compatibility allows you to carry it anywhere
Can fresh up fish, poultry, and meat up to five times
Usage up to 40 consecutive seals under normal operating conditions
You can use this to store up to 120 lbs. of meat or 40 consecutive seals with its peeped up power processes. Unlike the first one, this can preserve your food faster, so you don't have to wait longer. You just have to use the vacuum and seal button to start the process. The machine will do the work –seal the bag if there is no more air.
This GM2050-000 variant is designed for anglers, outdoor enthusiasts, and hunters in mind. It is ideal for a cabin, campsite, or even at home. You will most likely prefer this product because of its design, as well as its user-friendly features. Using this machine, you can preserve your harvested fish or meat in no time.
Moreover, this is a good idea for panfish, small birds, fish filets, and waterfowl breast weighing around 3 lbs. You can definitely carry this anywhere! Bring it with you on the river or to the woods to process game and fish quickly. This machine will fresh up your food five times and can be used up to 3 years.
---
3. GERYON Vacuum Sealer Machine E2900-MS Automatic Food Sealer

If you want something that can save you time, money, space, and food, you only have to consider having the Geryon E2900-MS sealer machine.
Vacuum sealing can give extra space in your storage as well as preserve foods in bulk. So, if you caught a lot of fish from hunting, you really need to have it sealed using the best vacuum sealer for fish. What is good about this is that it can quickly seal your foods in just seconds, plus it is easy to use.
Feature Highlights
Useful for both moist and dry foods with its unique setting
Faster and easier meal preparation is perfect for camping, hunting, and fishing
Can seal various food items and keep them fresh for a long time
Easy-to-clean housing ensures the safety of foods
User-friendly and gives quality airtight vacuum seal
This is designed with an automatic sealing operation, so all you need to do is to wait until the machine does its work. Its buttons are made of digital and soft touch too. No wonder, it is dubbed as user-friendly to everyone. With its easy-to-clean housing, you can easily clean it after use to maintain food safety and optimum performance.
The Geryon E2900-MS is not only perfect for meat hunters. This can also be used with dry foods. So, if you are fond of hunting animals at the same time gathering fruits in the woods, you can bring this machine. It has a dry or moist setting to obtain optimum sealing.
And in case you have to bring food for a hunt, camp, or fish, using this makes meal preparation faster, more economical, and easier. Just like the above-mentioned sealers, this machine gets rid of air and heats the bag to preserve freshness, shelf-life, and taste of fish, fruits, cookies, vegetables, meat, and many more.
4. KOIOS Vacuum Sealer Machine 80Kpa Automatic Sealer with Cutter- Best for Hunting and Fishing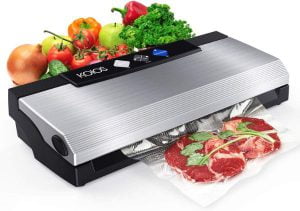 You can keep your kitchen running smoothly by preserving foods and maintaining its freshness,along with saving space, time, and money with the KOIOS vacuum sealer machine.
Operating this machine is just easy. All you have to do is to fill the bag with foods, lock it, vacuum and seal, then unlock it. Yes, it takes only seconds to preserve the foods for weeks, months, or even years. The KOIOS vacuum sealer is not just an ideal choice for hunters; instead, it is for everyone!
Feature Highlights
Very affordable but comes with great and useful features
Has dry and moist modes so you can use it with whatever food items
Compact design makes it handy, especially for hunters
Easy-to-use and comes with a cutter
NRTL tested and certified, thus, safe to use
If you are one of those who are fond of hunting, you will most likely need to bring food with you. Having it sealed can give you a good meal, plus it saves up space, so you won't find it hard to carry it anywhere.
This is a good choice of vacuum sealer for hunters, especially for those who are on the go all the time, as it can help speed up meal preparations. With this vacuum sealer, you can prepare lots of food at once and seal them.
The KOIOS can keep the taste, freshness, and aroma of different food items for later consumption. Itseals and heats the airtight bag – the reason why it is effective in increasing the shelf life of the foods. Moreover, it is excellent in sealing both moist and dry foods as the machine simply minimizes the moisture in the bag.
Also, this vacuum sealer comes with an accessory hose port, which means that it is also compatible with wine stoppers. What more canyou ask for? Now, you can pack foods in advance for camping trips, barbecues, and picnics. Your favorite cereals, huts, and beans can be kept longer.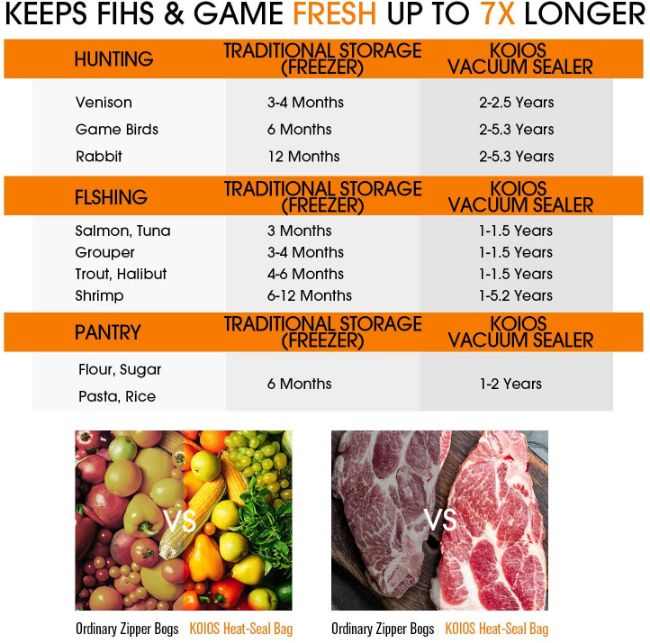 5. VacMaster VP215 Chamber Vacuum Sealer – Perfect for Pro Hunters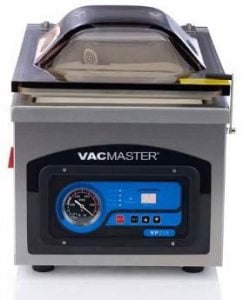 This vacuum sealer comes with an exquisite oil pump that can allow you to perform even the toughest jobs.
What's with the oil pump? Unlike other vacuum sealers, you need to wait for some time to use it again. But with this vacuum sealer, no cool-down time is necessary, which means that you can seal more bags continuously without the risk of overheating.
Do you worry about the noise of oil pumps? Well, the VacMaster VP215 is quieter compared to others, so it's not a problem. More importantly, the ¼ HP rotary oil pump makes it possible for you to carry larger loads. So, if you have caught a lot of fish or a large deer or boar, this is an ideal vacuum sealer for you.
Feature Highlights
Made of a powerful motor that quickly sucks out moisture and seals the bag
Features double sealing, thereby, ensuring a complete and stronger seal
Easy to use features of the machine – ideal not only for hunters
It is very durable, giving you the best value for money
No cool-down time, thus, more bags sealed in a few minutes
A perfect option for those who need to seal numbers of bags instantly
VacMaster ensures lasting food and a stronger seal with its double seal feature. You can't find this kind of feature anywhere. That is why it is considered as one of the best vacuum sealers for hunters.
The reliable VP215 is not only a good choice of vacuum sealer for hunting and fishing, but this can also be used for catering, delicatessens, small restaurants, and culinary institutions. This can pack both liquids and solids such as soups, fresh meats, stews, and marinades.
Since it is made of a very powerful motor, the air can be exhausted easily. You can utilize it with any brand of bags, which means no limit with vacuum sealing. This machine is undoubtedly durable, but it is not a good idea for hunters who want to move around with their vacuum sealers.
FAQs About Vacuum Sealers
1. What is the best vacuum sealer for deer meat?
Deer meat can give you around 20 lbs. That means that you need a lot of bags to seal the meet. An ideal vacuum sealer for deer meat is one that does not have long cool-down time such as the VacMaster VP215.
2. What is the best vacuum sealer for fish?
Choose a vacuum sealer that has both moist and dry modes such as the Geryon E2900-MS and KOIOS vacuum sealer machine.
3. How long does vacuum sealed beef last?
The fridge life of beef can be extended up to 2 weeks. If you keep it frozen, it can reach up to 3 years, though.
4. How long can you keep vacuum sealed beef in the freezer?
A vacuum-sealed frozen beef can last up to 3 years. If stored in other ways, it can last about a year.
5. How long can you keep foods in a refrigerator?
Most foods that are vacuum-sealed can last about a week or two as compared to foods that are merely stored in a refrigerator, which can be kept only about 3 days. However, vacuum-sealed meats that are frozen can be kept for 2 to 3 years.
Final Words
If you are serious about hunting, you should understand how crucial it is to preserve the meat. You should not allow the meat to spoil just because of poor safekeeping or packaging. Having the best vacuum sealer for hunters can help you with that. Hoping that you already have one in mind after reading through the pages!
Philip Robert is an avid camper and hiker who loves nothing more than spending his weekends camping and hiking in the mountains. He has been camping and hiking since he was a young boy and has never lost his love for the outdoors.
Philip is a firm believer that there is no better way to connect with nature and get some exercise than by spending time in the great outdoors. He is always on the lookout for new trails to explore, and loves sharing his experience with others.
"MyOutdoors.net" is a place where you will find a comprehensive guide you need to know about camping and hiking. Philip has the knowledge and experience to help you enjoy the great outdoors.