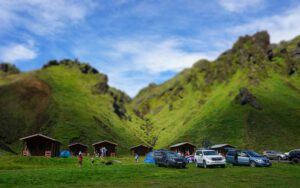 Winter slowly taking over the world will soon return to its hideout for another long session. And so, everybody is trying to make the most out of it and enjoy this season to fullest.
Some prefer spending time with family at their granny's house. While others might just plan a posh vacation at a luxurious resort.
But for me, breathing with nature and taking a break from the entire city life while spending moments at a beautiful camp is what sounds marvelous. I'm sure most of us who swear by the feeling on a camp trip will believe same.
And if you are someone new to join this fun, get ready to never leave the love of camping. You just need to figure out a great spot, learn some camping hacks and make a list of things to take along. Focusing on the latter part, what are the best camping accessories that you may want to include in your shopping list? Well, you and I will figure that out today.
What Are the Must-Haves for Camping: Ideas for Top Camping Essentials
With increasing number of folks getting into backpacking, hunting, hiking, and camping, the number for supplying gear provided by manufacturers is insanely on skyrocket.
You can't imagine how plentiful that list could be for taking care of your night sleep to the morning breakfast. It's crazy how people can enjoy their time out of their homes and still feel very less of uncivilized problems. Because no matter what your needs are, a tool can be bought and stay right beside you to fulfill those.
However, of course, budget issues won't want you to buy a very heavy pack for camping gear. And so, it's important that you make a list of some essentials that can enhance the quality of your experience out there.
My years of camping has taught me a lot about what tools can't be missed and a few others that are good to carry. I'll try to be a little bit focused on beginners while picking some of my favorite essentials from that list.
Your Campsite House
If you are believing that I'll tell you about building a house into your campsite then yes, you're right. Sounds too silly? Well, not when I say that it's actually a tent that I'm talking about. Sorry, I wanted to light up the mood but can't help my bad puns.
Anyways, tents are one of the main things you want to include in your camp shopping list. It's the shelter that is going to protect you from outside elements that can be problematic. For example, the climate suddenly worsening to pour down rain drips over you. That sounds romantic but not when your house is far away.
Also, to spend the night comfortably you need to have some sort of shelter. There are lots of options when it comes to buying tents for campsites. The main thing here is to figure out a suitable camp size based on a number of people resting inside. Don't forget to add extra space if gears are going to live inside with you.
Cabin, Pop-up & Roof-top Tents
Talking about the categories, I can remember three types. One is the cabin tent that comes with a pretty high roof and vertical walls. The dome style tent is not a formula here. Instead, it's more like a tiny cabin.
These are available for four to sixteen people capacity options. And according to that and some other features you can avail cabinet tent from both affordable and expensive range.
The next type is probably for those who don't want to be bothered by setting up a complicating tent. I'm indicating to a pop-up tent. These are super simple to set up with automatic features sometimes.
You can get the tent ready by almost ten seconds. And that's a huge relief especially when you walked a pretty long distance and don't have the energy to follow setup rituals for an hour.
No doubt the tent is a big plus considering user-friendliness. But you have to deal with the tent being larger than average models. These are also available at cheaper to expensive price ranges.
Finally, there are rooftop tents that are cool for vehicle camping. These are super-fast at set up and also feel amazingly comfortable. There are many models that suit mini-vans, Jeeps, trucks and even SUPs.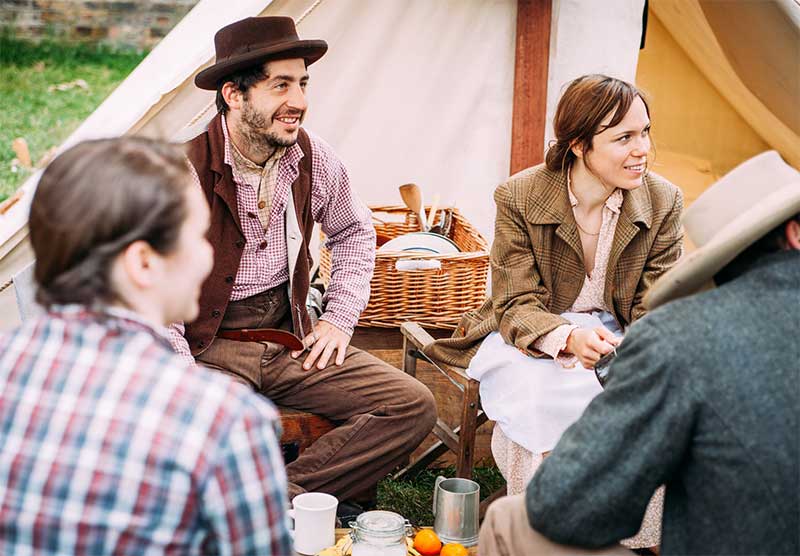 To Sleep Like a Log
I know a lot of buddies and acquaintances who totally skip camping trips because they are too scared to sleep inside a tent. According to them, tent sleeping is very uncomfortable and bothering. But to be honest, I never feel such things.
Yes, I do agree during my beginner's day on camping, the sleep used to be a problematic issue that never felt complete. But after I realized importance of including proper sleeping gears in my essential camping accessories list, this problem soon left the chat.
Yes, a good night's sleep needs some right sort of tools to get going. Starting from layers to quality, everything needs double-check for you to ensure the night won't be sleepless. Let's talk about a few gears that decrease such chances.
Bedding Types
The bed you'll sleep on could be one of a few categories. The most popular one is probably an air mattress. This is a fantastic option for those who need a bigger surface for sleeping. Maybe because more than one or two people are joining the trip. It's probably a portable option to go for a huge family as well.
Of course, the size is a major consideration when it comes to air mattresses. A flocking on top can be another big feature to look for. Especially those who hate slippery surfaces while sleeping. The mattress thickness and inflation pump will determine comfort level.
Now if you love the idea of air mattress but not with a huge surface, sleeping pads can come to play. These are portable and lightweight compared to an air mattress. Few people refer to them as mini air mattresses with amazing self-inflating benefits as well. This just plays as a start for better comfort with lesser weight.
Also, if you want to experience a small packing size, then the additional price will get added to your overall bill. For backpackers and hikers, this is a fabulous option to camp in a place during nighttime. You can arrange for extra foam padding to optimize the level of comfort.
If you are someone who needs better support off the ground, camping hammocks can help. But for these to work, you probably need a campsite with trees.
However, some don't really find it comfortable. But for tree camping, it's one of the best options that is safe.
And finally, sleeping bags are the most conventional style of bedding that is super warm as well. With extra padding support and lightweight packing benefits, these are perfect for fighting temperature problems.
Comfy Blanket
I know, a blanket is available at your house and so maybe you won't be interested in buying one. Don't! If you own a blanket that is low in weight for easy packaging as well as a quick-drying fabric made one that also resists stain, then surely, you're fine.
But if not, then maybe buying a reasonable camping blanket will rescue you from an uncomfortable night at a campsite.
Pillows for Camping
Your home pillows will be very hard to travel with. And so, you must think about buying these specially made pillows that can be packed lightly.
These are pretty much good to mimic the comfort of home like pillows. Also, the camping pillow offers quick-drying benefits that are actually one important point for a camping site gear.
Campsite Kitchen Gears
Can you imagine camping without meals? I Can't! And that's why I'm always give importance to packing up food for camping.
I love taking pre-packed meals and most of us would feel the same. However, inside the camping site, you definitely won't want to eat a cold meal, right?
So, carrying some kitchen gears can really help in adding flavor to camp meals. These are also great at keeping food and drinks fresh. A morning that starts with a warm breakfast and a night ending with a cup of hot chocolate is surely what we all want to experience on a camp trip.
Keeping Food Fresh with Coolers
Now the first tool for camping here is definitely cooler. This is an ingenious way to keep all your carried meals fresh and eatable. Also, your favorite drinks will taste better if chilled properly.
There are various coolers differing in size and ice holding time limits. These factors are going to vary the price as well. So better determine something that fits exactly your need and nothing fancy.
A Stove to Warm Food
Having a camp stove that uses compressed gas, alcohol or wood can be a great thing while camping in woods. Especially when you go with your family. The prices are high when it comes to camp stove.
But it's also one of the musts for long-distance camping. Going for wood and alcohol-based camps stove can save you some bucks.
The right size camp stove can really help you a lot more than you think. Depending on the camping members, you may need more than just one burner. A tiny and portable option will keep your food temperatures enjoyable.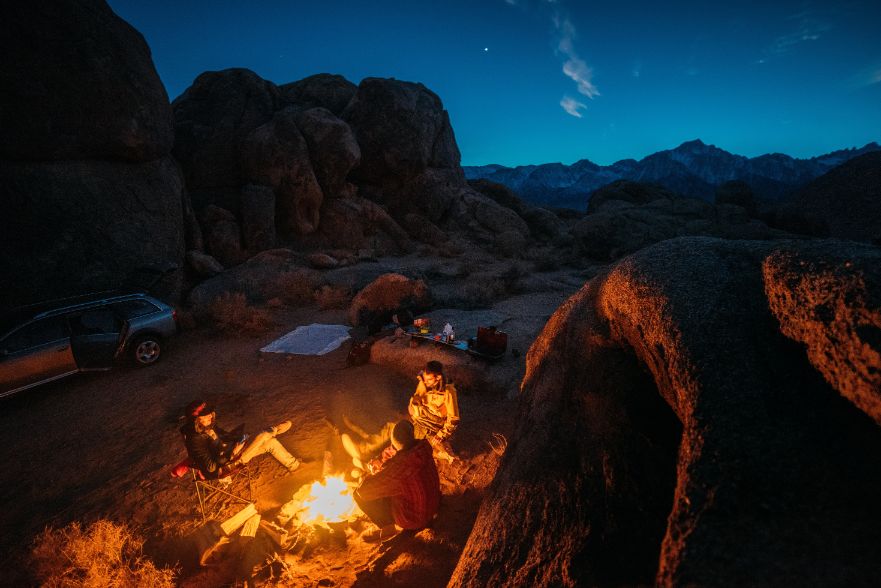 BBQ Night with Camping Grill
If you are thinking about arranging a BBQ or grill night while camping, this tool can't be forgotten. Also, a camping grill can quickly manage for food with the least amount of job required.
Foldable and collapse options for such grill can make your camp trips easy peasy lemon squeezy. Also, these grills are quite cheaper than any other cooking gear included in the list.
Cookware & Utensils
You can, of course, bring cookware and utensils from your home. But when camping with a large group, the weight could be an issue. So, looking for lightweight and collapsible models might become seriously important in such cases.
For a list of utensils, you should think about spatulas, spoon, forks, plates, chopsticks, knives, tongs, grilling fork, frying pans, bowls and so on… This list actually is more individually decided. So, you are the one who decide what needs to be there as camping utensils.
Coffee Makers for Saving Your Day
A few people can stand not having breakfast but damn coffee is not included. This is one liquid that really stimulates you and gets rid of all stress and tiredness you've had from the outside sleep experience. And so, having a portable coffee maker is more than important for such folks.
You can determine from a battery or propane powered coffee maker to carry it along for the trip. A French press might be the best choice for those who are too much in love with this dark liquid love.
What You Wear in Camp
Your clothes are important for such night stays and actually, it's way more thought-provoking when cold. Clothing that wicks moisture and quick drying should go first in the bag. Camp shoes are a must if you are going on a hiking trip. Your foot health entirely depends on these.
A towel for general purpose can be used in a number of ways. Keeping sunlight out from your head, cleaning sweaty eyes and also for simply wiping the face. A towel is a tiny must-have you can't seclude for this list.
Take enough warm clothes with you. Have separate wears for night and day. Because you will be doing a lot of activities in the morning. Since there are fewer chances of taking a bath, having an extra cloth to sleep in while the dirty ones hang outside for drying seems pretty useful.
Make sure you carry clothes that are warm enough for chilly nights. Pair of socks, beanies, caps, eye masks, earbuds, wool gloves, water-resistance jumpsuits, jackets, t-shirts, and sweaters are some of the many clothing gears you don't want to exclude for this list.
Other Gears to Include:
Let's talk about some best camping essentials below that plays as extra potion of convenience on a camp trip.
You should include a proper foldable camping knife for wood shaving and ropes. I'm not talking about kitchen knives that are less sharp than this one. It's meant to handle tough things like thick ropes.
Often the campsite needs firewood and so including a camping axe will help. You can carry a not-so-heavy version to quickly get done with most tasks. One of the best camping accessories that work as an alternative for axe is a hatchet.
Have lots of collapsible water bottles or containers. You are going to need plenty of water for drinking, washing dishes and even cleaning tools.
Carrying a quality camping water filter is a great way to have a trip into backcountries. Most of the time, water here is not drinkable. And a personal water filter will help you out from such situations.
A lighter is an important tiny gear to include for setting campfire. It's also going to help you burn the stove and grills.
One of the top things needed for camping is enough lights. A campsite in dark will scare the hell out of people. So, carrying a compatible searchlight or spotlight will greatly help.
To keep your sleeping areas lighted, you can bring some camping lanterns. These are portable and runs with battery to give you great illumination.
Conclusion
So, there were my picks on what are the best camping accessories that you need to make a remarkable camp trip. You can take these ideas and create a list of your own.
Make sure of giving priority to people who are camping along with you. It's best if everybody tries to think about other camping members' essential tools as well. That way, you won't be missing any important gear on the camping site.
I Wish You Lots of Kismet for Your Next Camping Holiday!
Philip Robert is an avid camper and hiker who loves nothing more than spending his weekends camping and hiking in the mountains. He has been camping and hiking since he was a young boy and has never lost his love for the outdoors.
Philip is a firm believer that there is no better way to connect with nature and get some exercise than by spending time in the great outdoors. He is always on the lookout for new trails to explore, and loves sharing his experience with others.
"MyOutdoors.net" is a place where you will find a comprehensive guide you need to know about camping and hiking. Philip has the knowledge and experience to help you enjoy the great outdoors.