For a camper, hiker, or backpacker on a night tour, the precious stuff would be either a sleeping bag or a Bivy bag. These two differ a lot just by the look and application in the real world.
The discussion about Bivy vs sleeping bag is pretty hard to find as these two falls into a different category of sleeping stuff.
Don't panic! I will talk about this theme and bring all the contrasting points along with the general info about their good and bad sides.
Keep on reading to find more below!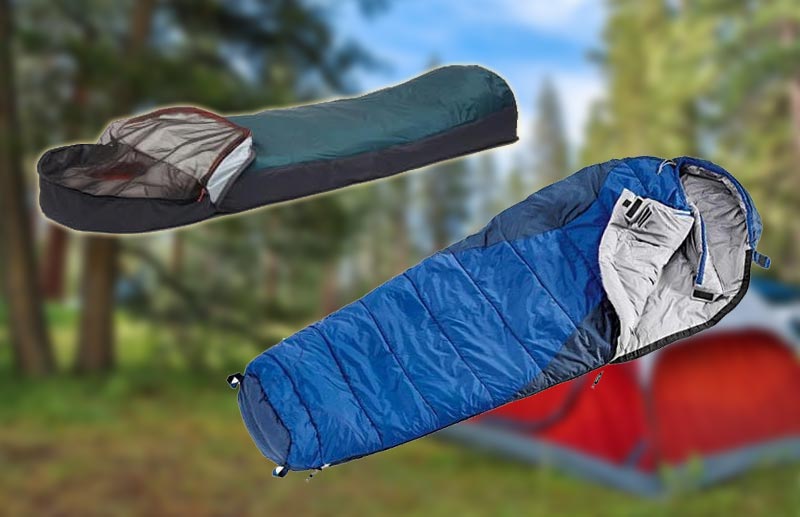 A Quick Look into The Bivy Vs Sleeping Bag Argument.
Explaining the difference will be confusing unless you know each of them from a clear viewpoint. Let me walk you through their overview before getting into the second section.
Bivy Bag
The Bivy aka Bivouac bag is a literal bag (more like a comforter) that people use as a small teepee. It works great against water, dust, bug, and other small creatures who can disturb your sleep.
Mostly, the Bivy bag is made with solid nylon that can resist water in a good way. In case you are looking for one of the best Bivy sleeping bag, try the light and travel-friendly Go Time Gear Life Bivy Bag.
Positives:
Light and reliable.
Easy to carry around.
Ideal for low budget.
Bugproof and dustproof.
Sleek construction.
Negatives:
Only good for unexpected nightstands.
Sleeping Bag
The sleeping bag is simply insulation that wraps people inside to keep them warm and cozy. Most use it in winter unlike the Bivy bag for its thick and cushiony feel. And it needs no care or support to survive longer.
Built out of nylon, polyester taffeta, and ripstop fabrics, it stays solid and the same even if used daily. After hearing all the praises if you need one, I would recommend using the TETON Sleeping Bag for its well put together traits.
Positives:
Perfect for trapping heat in cold weather.
Nice weight to warmth ratio.
Strong fill power.
Last for a long period.
Safe and comfortable to use.
Negatives:
What Is the Difference Between Bivy and Sleeping Bag?
Now that you have a complete understanding of these two gears, I'll just lift the veil about the contrasting things between sleeping bag liner vs Bivy in a short while.
Warmth
If talking about their warmth and temperature rating, they might show dissimilar scores. As the Bivy is more like a shelter that most people use as a replacement for the tent. The warmth needed for freezing weather can't be fulfilled with it.
Almost all Bivy bags might be able to increase warmth from 4° F to 8° F on average. In comparison to that, the sleeping bag would keep you hot more than anything by adding 5° F to 15° F warmth. Ensuring a large temperature rating for around 0° F to -20° F.
Summary: The sleeping bag provides better warmth than the Bivy bag.
Purpose
The next thing that poles them apart is the purpose. In most user experiences, the Bivy bag would do a great job if used in neutral or warm weather.
Furthermore, Bivy is basically used in outdoor survival and camping emergencies. It is just a cover that grants protection against rain and basic obstacles excluding heavy snow. The Bivy bag work the same as a raincoat jacket which blocks heat inside but not like a sleeping bag.
On the other hand, the reason why people use sleeping bags is to sleep in a warm and enclosed area. It mostly traps your body heat inside to keep the environment heated.
However, there are a few sleeping bags that are rated to use in 4 seasons including summer, spring, winter, and autumn.
Summary: The Bivy bag is ideal for summer or spring while the sleeping bag stands on top for cold weather.
Weight Point
The weight of Bivy and the sleeping bag is pretty much different (unless the bag is down). Like everything else, the Bivy bag is super compact (small + portable) thanks to the tiny bag and stuffing capability to carry in the tiny sack.
This might not give a similar experience to the sleeping bag as it tends to be bulky due to insulation, fill power, and padding system.
However, the down sleeping bag is pretty light and travel-friendly (which most use for camping). Because the down bag is made out of goose feathers that don't weigh as much as a synthetic bag.
Summary: The Bivy bag is light unlike the hefty sleeping bag (excluding the down bag).
Frequently Asked Questions
Do you need a sleeping bag with a Bivy?
Most Bivy bags work like a cover to use against rain or snow which has space to fit the sleeping bag. However, it isn't necessary to use the bag if the weather is fine. You can use alternative stuff like a thin blanket or comforter.
Does a Bivy bag add warmth?
Yes! The Bivy bag does increase warmth by raising the temperature inside the cover. As the interior environment is enclosed, the heat doesn't come out of the sack.
Are Bivy bags waterproof?
Nearly all Bivy bags made with quality materials are rainproof to be used in harsh weather which contains raindrops and wind.
Wrap Up
Picking the right gear is a lot important for a camper to get enough nap in comfort and warmth. To decide on one out of Bivy vs sleeping bag, you might need to think about the beneficial traits based on your camping style.
In my opinion, the Bivy bag would be ideal if you need a light, watertight, and tent-like surrounding inside. But be ready to give up the warmth.
Or pick the sleeping bag for getting durability, comfort, good warmth, and insulation in the winter. You need to sacrifice the fatigue in the shoulder due to its bulky weight. Hope this guide is detailed for you to find out the real winner depending on your purpose.
Philip Robert is an avid camper and hiker who loves nothing more than spending his weekends camping and hiking in the mountains. He has been camping and hiking since he was a young boy and has never lost his love for the outdoors.
Philip is a firm believer that there is no better way to connect with nature and get some exercise than by spending time in the great outdoors. He is always on the lookout for new trails to explore, and loves sharing his experience with others.
"MyOutdoors.net" is a place where you will find a comprehensive guide you need to know about camping and hiking. Philip has the knowledge and experience to help you enjoy the great outdoors.