Many individuals may find the concept of lugging a tent and other gear for temporary lodging to be too burdensome. They want greater privacy and independence. Additionally, some campers may feel themselves facing an unplanned overnight stay at a campsite without the proper materials.
In such a case, you may be asking, "Can I Sleep in My Car at a Campsite"? If you've never slept in a car earlier, you might be concerned about safety. You could also wonder if you'd be breaking any rules.
In this article, we'll go through the specifics of the aforementioned issues. We'll also share with you some helpful hints about car camping, especially sleeping in your car at a campsite. Let's get back to work, shall we?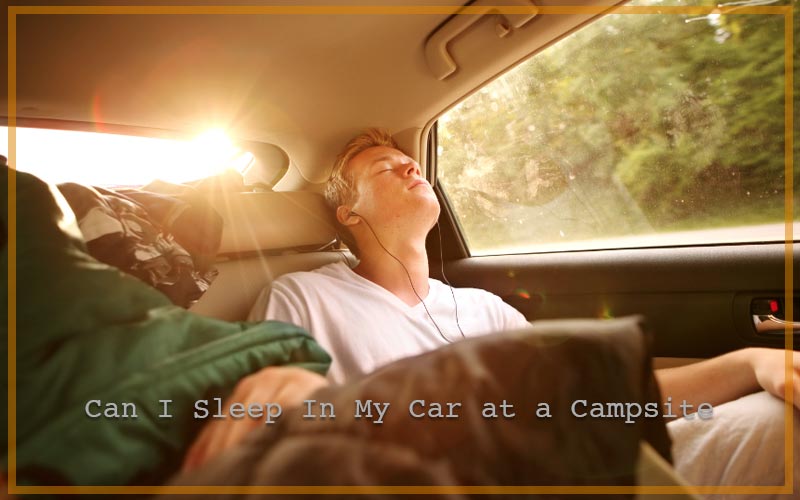 How Can I Sleep In My Car at a Campsite Without Any Hassle
Sleeping in your car at a campground might be a cost-effective and convenient solution compared to tent camping. As a result, you may save a bunch of time on preparation and be free to go whenever you want.
Here I will discuss different aspects of car camping so that you can gain a quick understanding of the topic. So, keep reading.
Be Aware Of Any Permissions You May Require
When it relates to sleeping in your car at a camping world, each campsite has its own set of restrictions, although many of them are comparable. So, before you start on any road trip, check out the campground's website to see whether there is a section dedicated to camping rules and regulations in that area.
As you're planning to camp in your car, you should be aware of the additional obligations that come with this as well. Overnight parking or sleeping in your car at the campsite means that you have to keep in mind that you park your vehicle in the right spot the campsite allows for the car camper. Although many camping areas allow car camp, others do not.
Some campgrounds like the national park or state park may offer you a pitch that includes public land for parking. Other camping sites, on the other hand, may require you to park further from the pitch.
Why Sleep in a Car at a Campground?
That's an excellent question. You probably notice that sleeping in the car is more prevalent than you thought. The biggest advantage is that you won't need a tent.
Furthermore, a car is typically better protected than a tent when you go for wild camping. Whether it starts raining, you won't even think about getting wet from water coming into your tent. Moreover, whether you are only going away for one night of dispersed camping, you will not have to set up a tent, which could be a waste of money and time.
Is Sleeping In The Car Legal?
It varies because the restrictions for this differ from campsite to campsite. Distinct states have different regulations when it comes to lawfully sleeping in your car in the parking lot.
However, some camp spots do require permits if you plan on camping there. These regions are normally inaccessible if you sleep in your car, but you should double-check before taking any decisions. You should just obey the laws of the area in which you're camping.
The Benefits of Sleeping in a Car at a campsite
Once you set up your mind to sleep in a car at a campsite others may feel it strange. But do not hesitate to do it as it is conceivable, and also many folks have done the same things already.
The only thing you have to understand is that different vehicles provide vastly differing comfortability. For example, if you are with bigger vehicles, such as RVs, provide a more relaxing and comfortable environment for sleeping. On the contrary, sleeping in your car, apart from sleeping in a tent, needs minimal setup and is quite easy to do.
To stay safe and warm, all you need is heavy clothes as well as a blanket or sleeping bag. Sleeping in your car simply gets you off the surface, which makes you, especially cozy if it rains or cold weather outside. Your car also provides a better and much more comfy night's sleep in any camp spot.
Here are a few suggestions about sleeping in a car:
Never let your car run overnight. Otherwise, toxic air or perhaps carbon monoxide poisoning may result.
Always turn off your engine before you are going to sleep in your car.
For protection, close the windows carefully, but allow a tiny space for airflow.
Try buying bug nets, or using mosquito netting trimmed to fit and attached with magnets to block insects out.
Always have some water with you.
Check out your item list to make a comfortable sleep and get all of the necessities.
Toilet paper and wet tissues are important. Carry an emergency medical kit box as well, because you never know when you'll need it.
Always lock your doors and avoid parking on the side of the road for overnight camping.
Make sure your car is neat and well maintained before sleeping in it. You should clean and sanitize your car if you want to feel fresh and keep hygienic.
Safety comes first
It's vital to note that having a good night's sleep is an essential part of becoming a productive human being as well as a safe driver. Therefore, even if you're going on an exciting trek or a tough road journey, you'll need a decent night's sleep. Wherever you move, keep in touch with your family and friends first.
Final Thoughts
Many campsites allow people to sleep in their cars. Some areas require travelers to stay at a designated campground, whereas others let campers for free camping. Some campgrounds will ask you to reserve a spot, while others will not. Understanding the car camping rules and parking laws will help keep you out of any difficulty.
Hopefully, now you can provide the right advice to anyone who asks you about sleeping in a car on a campsite.
Philip Robert is an avid camper and hiker who loves nothing more than spending his weekends camping and hiking in the mountains. He has been camping and hiking since he was a young boy and has never lost his love for the outdoors.
Philip is a firm believer that there is no better way to connect with nature and get some exercise than by spending time in the great outdoors. He is always on the lookout for new trails to explore, and loves sharing his experience with others.
"MyOutdoors.net" is a place where you will find a comprehensive guide you need to know about camping and hiking. Philip has the knowledge and experience to help you enjoy the great outdoors.