Everything about camping is fun and cheerful until you desperately need a bed or cot to sleep comfortably.
When talking about the bed, there's the prestigious brand called Coleman that offers its exceptional series and models.
Out of all, the two series that almost everyone find premium and well-made are Ridgeline and ComfortSmart cots.
The main difference between them is the performance that ranks one on the top. The ComfortSmart cot is an all-in-one (durable, functional, and fine quality) gear for camping use. Then, the Ridgeline is light to travel with at a low expense.
To understand the Coleman Ridgeline vs ComfortSmart cot debate, here's the detail!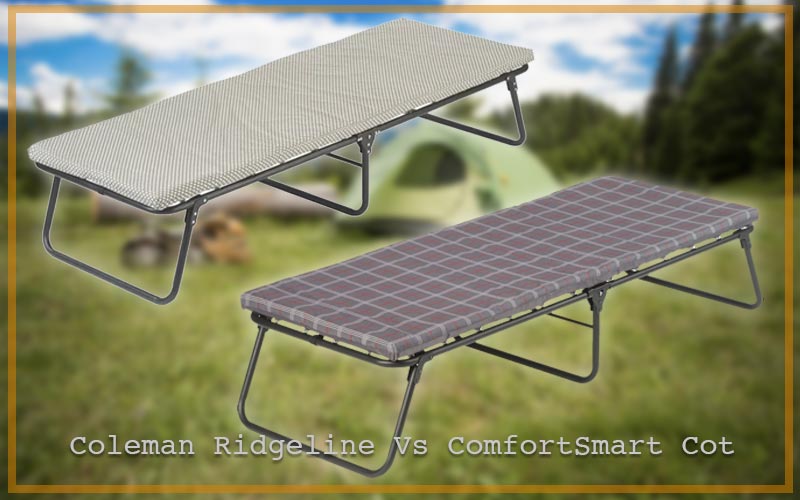 Coleman Ridgeline Vs ComfortSmart Cot : Pros & Cons
The whole topic will be easy to relate to if you first learn about them individually in a better way. Plus, you'll see sections that include good and bad sides to know which one serves what. Let me lift the veil for you by presenting these.
Coleman Ridgeline Cot
Being a light camping gear, the Coleman Ridgeline cot is reliable and easy to fold. It as well has a nice outline and purpose that ensure good accessibility.
Plus, this cot gives better sleep quality on camping days for 1 to 2 days (with an additional mattress).
Pros:
Air mattress included.
Pretty reliable and dependable.
The frame seems strong.
Rational price range.
Light in weight.
Cons:
Low capacity to carry an overweight person.
Most don't come with a stuff sack.
Coleman ComfortSmart Cot
The Coleman ComfortSmart is an ideal camping cot that contains a stable steel frame with a soft and cushiony fabric mattress. It's portable and user-friendly to fit into the car space plus ensures comfort like the Coleman ComfortSmart Camping Cot.
Pros:
Pretty comfortable to sleep on.
Lasts for a long period.
Simple to pack and fold.
Takes less time to set up.
Ideal gear for camping use.
Cons:
Gives a heavy feel when carried with one hand.
Expensive than Ridgeline.
Comparing Coleman ComfortSmart Cot Vs Ridgeline Cot!
If after finding more on each series, it's getting confusing, this section will help. I'll just break down all the differential points in a detailed way. Let's Get Into It!
Experience
Although both camping cots are built from the same brand (Coleman), they serve differently which can be identified if used practically.
The Ridgeline cot is easy to bend, fold or do whatever you want to fit into a small space. It never gives the pain to set up thanks to its nice design.
Plus, this gives a good sleep experience, especially in the dark hour. However, it makes terrible noise due to the steel frame which knocks a lot.
Then again, the ComfortSmart cot is a solid item that lasts longer than Ridgeline. It stays dry no matter what weather you are using.
But keep in mind this takes time to dry in fully wet conditions. It also doesn't need to reinflate to pump and irritate your roommates. Plus, this cot gives a warm and friendly feel to sleep well.
Bottom Line: Both give a good sleeping experience (except for the Ridgeline noise).
Weight Point
Another reason why Ridgeline and ComfortSmart cots tend to differ from each other is due to the weight. To clarify it in a simple way, the Ridgeline cot is light in weight (in most cases) to hold or carry during the camping week.
On the other hand, the ComfortSmart cot seems pretty bulky which gives fatigue or hand pain if held for too long. Plus, it requires a gripping sack to carry easily.
Bottom Line: The Ridgeline is quite lighter than the ComfortSmart.
Carrying Capacity
Both camping cots carrying capacity is limited which poles them apart. The Ridgeline cot can hold for up to 225 lbs or 102 kg weight capacity on average.
It literally means a healthy weighted person with some gear like cloth or air mattress can rest on this cot with no issue.
In contrast, the ComfortSmart cot tends to hold for up to 275 lbs or 125 kg weight capacity. That is noticeably bigger to carry overweight folks.
Bottom Line: ComfortSmart can carry more weight than Ridgeline.
User-Friendliness
The Ridgeline cot is a great choice for anyone with a maximum of 5'4 feet or less height to take a tiny nap on average. That means a short buddy can get into it and rest well.
In opposition, the ComfortSmart cot is perfect for those who are a maximum of 6 feet or less. It lets a big man or woman sleep or rest without having less space, which is a plus point.
Bottom Line: The Ridgeline is made for short people and the ComfortSmart suits the tall ones.
Comfort
One of the many reasons why people use the cot is to get the desired comfort to spend the camping night comfily.
In this case, the Ridgeline cot might give back and hip pain due to its low insulation and cushion. However, it's fixable if you use any air mattress over the cot (a cheap one will work too) to have a cushion that supports the back of you.
Quite the opposite, the Coleman ComfortSmart has a great cushion and insulation that is enough to sleep during camping sessions.
Although it might not give the best sleeping cot for people who are side-sleeper, this will work better than the Ridgeline.
Bottom Line: Most go with ComfortSmart to achieve comfort, unlike the Ridgeline.
Wrapping Up
Coming this far, you now must a little sorted on the debate of Coleman Ridgeline vs ComfortSmart cot and its winner.
Just think of your essential traits in the camping cot before having a preference and that will help you make the right decision.
If you ask me for the best camping cot, I suggest choosing the ComfortSmart cot for purpose and application.
However, that doesn't mean you can't go with the Ridgeline as it's still pretty great to carry for camping.
Philip Robert is an avid camper and hiker who loves nothing more than spending his weekends camping and hiking in the mountains. He has been camping and hiking since he was a young boy and has never lost his love for the outdoors.
Philip is a firm believer that there is no better way to connect with nature and get some exercise than by spending time in the great outdoors. He is always on the lookout for new trails to explore, and loves sharing his experience with others.
"MyOutdoors.net" is a place where you will find a comprehensive guide you need to know about camping and hiking. Philip has the knowledge and experience to help you enjoy the great outdoors.