Camping refreshes people's minds while taking them away from the hustle and bustle of urban life. But getting away from your day-to-day life also means leaving most of your amenities behind. Showering is one such thing that you have to struggle to do while camping, especially car camping.
Despite things looking grim at first, there are quite a few ways to shower while car camping, although not as good as your own home. You can use public bathrooms, camping site bathrooms, use portable, DIY, or solar showers to clean yourself after a day at the trails.
Let's take a look at how to shower while car camping to make sure your camping trip is a healthy and hygienic one.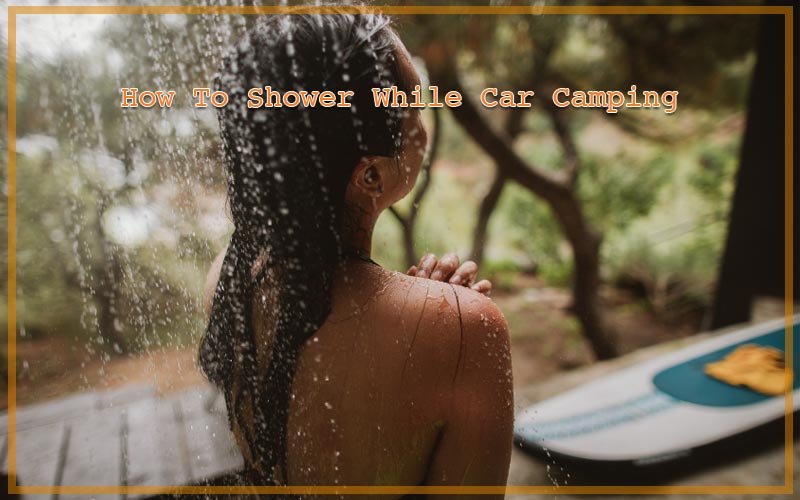 Showering while car camping: How to protect your privacy
Usually, when you shower in your home, you have privacy due to having a shower curtain or even a door. But during car camping, you won't be able to get these. That doesn't mean that you have to shower in full public view. There ARE a few ways you can get your privacy while also enjoying a shower on a car camping trip.
1. Showering in a swimsuit
You don't have to wear your birthday dress when you shower on a camping trip. Wear a swimsuit while showering so that you don't feel uncomfortable and naked while doing so.
2. Showering in the dark
Not everyone is comfortable in swimsuits, I am a prime example. So, what will you do in that case? Just wait until dark, and then shower. Doing anything in the dark is more difficult, but at least you won't have someone looking at you while showering.
3. Setting up a privacy shower enclosure
If even showering in the dark doesn't work for you, you can just set up a privacy shower enclosure. They also come with hooks with which the portable showers can be hung. So, I'd say they are quite beneficial.
How to solve showering problem while car camping
Now that you've figured out where you will shower, it's time to find out the means you can do it. Let's dive right into it.
1. Using DIY showers
The whole idea of camping is to become as close to nature as possible. That of course doesn't mean that you will be filthy. To save you from this, there is a way you can build your shower. All you need is a two-liter soda bottle.
Remove the cap of the bottle and poke a few holes in it. Fill the bottle up with water and place the cap back in its place. Now, put it upside down and you have yourself a nice DIY shower.
2. Using solar showers
Everyone likes a warm shower. If it is possible to take a warm shower while car camping, even better. A very good way to do it is to use a solar shower.
The basic concept of the solar shower is very simple. All you need to do is to fill the bag up with water and keep it in the sun all day long. Then in the afternoon, suspend the bag from the back window of your car and have yourself a nice, warm shower. They are also quite cheap, so pricing won't be a problem here.
3. Using battery-run showers
There are some nifty showers you can take along with you while car camping. These showers have a battery-powered pump which is dropped into a bucket. Then it pushes the water from the bucket through the shower nozzle and you have a working shower in no time. They are also very affordable, which goes along with the idea of camping.
4. Using foot pump showers
If you don't like the idea of dropping an electronic appliance into a bucket of water, then you have a foot pump version at your disposal. They are a hybrid of a solar shower and a pump shower. The catch is that you are the pump.
Fill up the water reservoir and keep it in the sun for the water to warm up. Then use the foot pump to pump the water pressure up so that it enters the shower nozzle. Once adequate pressure is built up, then take your shower. You may need to keep pumping at regular intervals to make sure there is sufficient air for the shower to work properly.
5. Using multi-user systems
While camping, you need a significant amount of water for drinking and cleaning purposes, but the way to get so much usable water isn't always possible. The multi-use systems come in clutch in these situations. These act as both a water purifier and a shower. So you can get your drinking water as well as warm water for showering in one go.
6. Using various facilities
If you don't want to go through the hassle of buying or building your shower, you can easily use various facilities for a very reasonable price and shower there.
Private camping sites, army-owned campsites, or even some gyms provide showering facilities at a very low price. Some places even allow you to bring a guest, so you don't have to pay for two people and save money.
Tips for showering while car camping
Since showering on a camping trip is not what people usually do daily, things can sometimes go a little south. Here are a few tips that will make your showering experience a smooth one.
Not going into the shower barefooted
Adjusting the showerhead according to your need
Mentally preparing yourself for cold showers
Keeping a lookout for frogs, insects, and snakes
Showering during early morning or early evening
Final words
Finding out a good way to shower during camping is not a very difficult task as everyone thinks. Especially if you know the right way to shower while car camping, things will go very smoothly for you in a place that isn't suitable for amenities such as showering.
Philip Robert is an avid camper and hiker who loves nothing more than spending his weekends camping and hiking in the mountains. He has been camping and hiking since he was a young boy and has never lost his love for the outdoors.
Philip is a firm believer that there is no better way to connect with nature and get some exercise than by spending time in the great outdoors. He is always on the lookout for new trails to explore, and loves sharing his experience with others.
"MyOutdoors.net" is a place where you will find a comprehensive guide you need to know about camping and hiking. Philip has the knowledge and experience to help you enjoy the great outdoors.