Holding two diverse personalities in appearance, it's easy to guess that the sleeping pad and bag differ a lot.
Both of them do a great job to make you feel cozy and warm during the camping days and the nights. But, the real question for most would be what is the difference between a sleeping pad vs sleeping bag.
As they have a similar purpose, one tends to ensure better traits than another. Want to know which one? Continue Reading This Guide till The End!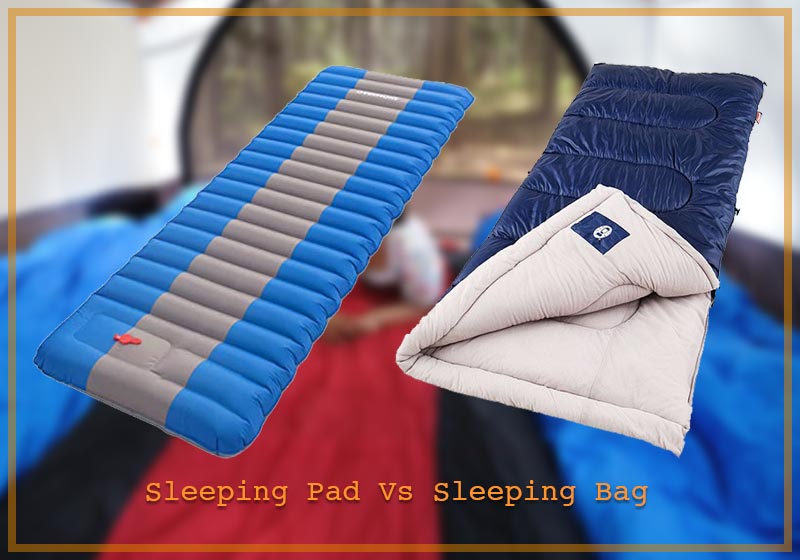 A Short Description of Sleeping Pad Vs Sleeping Bag
As it's a trendy topic among campers who need to save budget but want the best gear to camp comfortably, the discussion wouldn't start unless I give a full insight into both sleeping pad and bag. Here's what you need to know about them.
Sleeping Pad
The sleeping pad tends to be cushiony which compresses a lot. There are literally a few different types of sleeping pads in the store. Such as: closed-cell, self-inflating open-cell, and backpacking air pads.
Based on the user's reaction, the Sleepingo camping pad is one of the best sleeping pad for its light, clean, and inflatable traits.
The pads for sleeping in camp tend to be lighter with some layers and insulation to keep you above the ground in cold weather.
Good Sides:
Quite durable to stand longer (except for the air pad types).
Light in weight.
Reasonable price.
Ideal for hikers and backpackers.
Keep the body warm.
Bad Sides:
Require effort and space to pack.
Only comfortable for a back sleeper.
Sleeping Bag
The sleeping bag is more breathable and softer thanks to the fabrics that stick to the skin to keep the body heat inside. You'll find many types of sleeping bags in the store including rectangular, mummy-style, quilts, double-style, zipless, and so on.
It as well contains good insulation with the lining and inner stuff so that a camper can sleep in peace. Out of all, the Oaskys Sleeping Bag is a banger that contains a tiny bag and great filling while being cozy all season.
Good Sides:
Give better warmth to the body and head (with a hoodie).
Perfect for camping use.
Comfortable to sleep on.
Mostly watertight and compact.
Easy to pack in a small space.
Bad Sides:
Pretty bulky on skin.
A bit more expensive than the sleeping pad.
Face To Face Sleeping Bag Vs Pad Comparison
The difference between them is quite a lot which I will present down below in a detailed manner so you understand why they differ. Here I go!
Material
The sleeping bags are mostly built out of nylon and polyester taffeta stuff. These materials are soft, weatherproof, anti-abrasion, and a lot stronger.
On the other hand, nearly all sleeping pads are made with thick foam that seems tinder and comprisable. In the wet state, the sleeping bags are simple to dry out without facing damage, unlike the sleeping pads.
Summary: The sleeping pads won't stand more than 8-10 years, unlike the sleeping bags which last almost forever.
Weight
Holding more fabrics and insulation, the sleeping bag is a lot bulkier than the sleeping pads. The reason is that the fabrics and inner linings make them heavier.
Then again, the sleeping pads only have the padding system which doesn't include more weight causing them almost weightless.
Summary: The sleeping pads are less heavy than the sleeping bags.
Insulation
As the sleeping bags contain fluffy insulation, they will secure you completely. They might keep your upper part in a good way but the lower insulation lacks a lot when compressed (which is treatable if using a matching size mattress).
Quite the opposite, the sleeping pads have good insulation that can hold your weight on the backside in a good way.
Summary: The sleeping pads grant a cushiony feel on the bottom, unlike the sleeping bags.
Warmth
With the lining and wadding, the sleeping bags stop the interior body heat to escape from the sides to the tops. They work like a blanket which you don't need to crawl.
In contrast, the sleeping pads have a great amount of cushion to ensure warmth. However, they fail terribly to prevent the heat from escaping.
Summary: The sleeping bags hold better warmth than sleeping pads.
Price Tag
In most marketplaces, sleeping bags are pricier than sleeping pads. Considering the quality, lining, sewing design, interior fillings, and other stuff, I can understand why they are expensive.
Summary: The sleeping bags range from around $50 – $1,000 while the sleeping pads come at $24 – $400 in general.
Frequently Asked Questions
Does sleeping pad go inside sleeping bag?
Despite it's not compulsory to use the pad inside the bag, it can work. You just need to grab a tinier one for your sleeping bag so that the pad can fit into it.
Can I use a sleeping bag and pad indoors?
Place the sleeping pad inside or above the bag as you wish. It literally gives comfort for a good night's sleep so you can try both in wintery weather.
Do you need a mattress with a sleeping bag?
Anyone who is considering a little lift and wants to increase both comfort and warmth can insert the mattress as it works like magic.
Overall Thoughts
All in all, the sleeping pad vs sleeping bag debate is ended with a tie. They both rock in traits to confirm good heat at a different level while holding some drawbacks which can't be ignored.
If you need good warmth, durability, and comfort, then try the sleeping bag. Otherwise, the sleeping pad is affordable to give better insulation and a light feel.
In my opinion, you should take both sleeping bag and pad at the same time and use them to get both warmth plus insulation without missing the comfort which you will need for camping.
I hope you spent a fun time reading this article. Do you find it helpful? How much we deserve out of 5 stars! Hit the ratings below.
Philip Robert is an avid camper and hiker who loves nothing more than spending his weekends camping and hiking in the mountains. He has been camping and hiking since he was a young boy and has never lost his love for the outdoors.
Philip is a firm believer that there is no better way to connect with nature and get some exercise than by spending time in the great outdoors. He is always on the lookout for new trails to explore, and loves sharing his experience with others.
"MyOutdoors.net" is a place where you will find a comprehensive guide you need to know about camping and hiking. Philip has the knowledge and experience to help you enjoy the great outdoors.