It's really confusing nowadays when we try to select a tent or pop up a camper. Both of them are good for camping, and people use both of them all over the world. We go for a pop-up camper to spend our time with more comfort and many conveniences. In contrast, a camping tent is totally simple, offers fewer features, and costs less.
So the question always comes; first, tent camping vs pop up camper; what is the basic difference between them. Tent camping means installing a tent manually in a suitable place but pop up camper is actually an RV or trailer that stays compact but it expands with a built in bed and many other options automatically with electric power.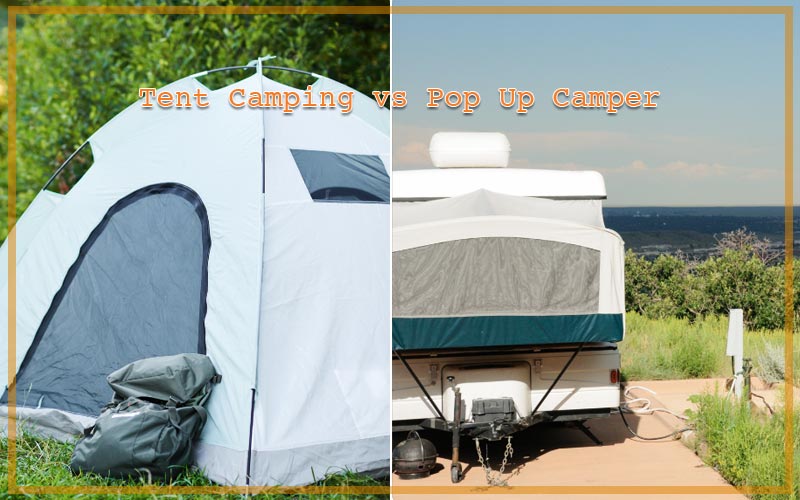 Things to Know about Pop Up Camper?
First, what is a pop up camper? A pop-up camper is a vehicle that we take to the camping place, towing the vehicle with our car. Most of the time we call vehicle like the camper, RV, or trailer. So, during traveling, the RV can be compressed, and it takes less small space compared to its original size.
Now when it expands, it provides a large space, large enough to accommodate a bed or two beds sink and space for keeping many other things. But the cool fact about the pop up camper provides several windows, so having light and natural air will not be an issue ever.
Pop up camper provides necessities like walled shelter, the bed is higher from the ground like a proper bed, and it also has a potential air conditioning system. You can use battery power for electricity or shore electricity in a pop up camper.
Different pop up campers offer different things like some have toilets and some have showers and some offer fold up cabinets. So it's quite clear that the amenities pop up camper offers, all make our life easier during camping time.
Tent Camping Vs Pop Up Camper: Guess The Winner?
It's time to discuss more details about pop up camper vs tent camping. Tent camping is the most used camping style for all of us. To stand a tent requires poles or sometimes the tents have a sturdy base that helps them to stand. Most of the tents have no windows and you can't place a bed inside a camping tent. A sleeping bag is perfect for tents.
Here we would like to discuss the advantages we get both from a pop up camper and tent and if they are worth it. Let's see what is waiting for us.
Advantages of Pop Up Camper
Tent camping vs pop up camper is becoming the most debatable topic nowadays. The question arises during every summer vacation when people go camping with friends and families. Here we will stand with some real impact of pop up campers during a camping trip and show you how a pop up camper makes our life easier.
1. Weather
To adjust the inside temperature, most of the pop up campers come with a gas heater, heaters are more necessary, because pop up campers have large windows in it, so you can have natural air flow anytime you want, but keeping the inside warm is tougher.
There are a few brands of pop up campers that provide air conditioning systems in case you travel to a warmer place and sweat a lot inside the thick canvas sheets.
2. Easy to Pack
Packing before a tour is the most hassle. In a pop up camper, there is always a built-in bed. So no hassle to make ready the sleeping mat or sleeping bag, etc. Furthermore, pop up campers always have a storage place where you can keep your camping accessories and gears permanently.
So if you keep all the camping things in the storage, then in the next camping you don't have to worry about finding camping things again. Even in storage, you can keep all the packet of foods you will need.
3. Sink, Kitchen, Shower or Bathroom
Now it may sound awkward, but having a sink for washing dishes and under sink cabinets, kitchen counter for cooking, bathroom or shower are sounding like a complete apartment. Pop up camper is not like an enormous apartment, but it comes with these features nowadays. Even pop up campers come with dinette tables nowadays.
4. Comfortability
You can easily get power from the battery or from shore electricity in a pop up camper. Electricity is the must one for tent vs pop up camper summer. The pop up campers have a 12 volt battery as an electrical source. Electricity brings the best comfort you can have during a camping trip. You can run a refrigerator and store your food there in a pop up camper.
Advantages of Tent Camping
Don't think canvas tent vs pop up camper has so much differences. Yeah pop up camper is more comfortable, never underestimate the tent camping. Tent camping has some advantages, often they are better than pop up campers.
1. Budget
Budget is the big issue here.we rarely go camping and when we go, we think about saving money. Tent camping is the perfect way to save your money. It costs almost 10 times less than a pop up camper. A large tent for almost 10 people costs only $300 or a few more, and if you add other accessories for camping with it like a gas burner, chair etc, the cost will rarely exceed thousands of dollars.
2. Comfort
Pop up camper and tent camping mostly depends on their cost and comfortability. No doubt pop up campers make our camping life a lot easier. You don't have to carry the pop-up camper towing with your car, and if you have a tent footprint, then it is possible to launch anywhere on the surface.
3. Setup
Installation of a tent is one of the easiest of works. You just need to dig holes for the poles and then put the poles inside. Then just hook up the tent with the poles. Even carrying a tent is not that tough, pretty lightweight. It doesn't require much more maintenance like an RV or trailer or pop up camper.
Frequently Asked Questions
Is a pop up better than a tent?
– Pop up campers have many amenities and if you look for just comfortability, then a pop up camper is better than a tent. But considering other factors like costs, regular maintenance, these all make this camper complex. Anyway, no doubt pop up campers ensure more comfortability.
What are the differences between a pop up camper and tent?
– pop up campers mostly have a built-in bed with the camper and also it offers a kitchen place, sink for washing dishes, water supply, electricity and even showers. In contrast, a tent is more of a simple thing. You will not get as many comfortable features as pop up campers. But tents ask for almost 10 times less money than pop up campers.
Can you live in a pop-up camper in the winter?
– yes, the pop -up camper provides a built-in heater. So during winter, keeping warm inside of a pop up camper was never an issue.
Final Note
The key difference between a tent and a pop-up camper is, one comes with just the tent and the other one comes with every built-in feature you need during a camping trip and purchase them manually if you have a tent. But surely a popup camper requires so much maintenance, so keep it in mind. You can sell pop-up campers in the marketplace easily.
Philip Robert is an avid camper and hiker who loves nothing more than spending his weekends camping and hiking in the mountains. He has been camping and hiking since he was a young boy and has never lost his love for the outdoors.
Philip is a firm believer that there is no better way to connect with nature and get some exercise than by spending time in the great outdoors. He is always on the lookout for new trails to explore, and loves sharing his experience with others.
"MyOutdoors.net" is a place where you will find a comprehensive guide you need to know about camping and hiking. Philip has the knowledge and experience to help you enjoy the great outdoors.