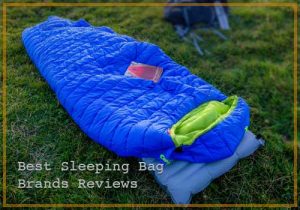 Ask someone who had to spend the entire night in the backcountry with shivers that were unbearable and uncontrollable as it was freezing cold. And they'll tell you why there's a desperate need of looking for a quality sleeping bag.
Now determining the quality and value worthiness of a sleeping bag can be done by considering a few critical factors.
And one is the brand that particular sleeping bag comes from. So, knowing what are the best sleeping bag brands can be a fabulous piece of information to get your hands on a quality pick.
If you do agree with the point, then don't mind if this guide seems a bit long. Because I am planning to cover a few famous and reliable manufacturers of sleeping bags with my personal favorite from each.
Here are the 5 Best Sleeping Bag Brands for Camping Backpacking
Now even when only counting the good ones, there are a lot of names to take. But let me keep this guide limited with manufacturers that are most preferable by maximum camper's slash backpackers at the moment.
1. Feathered Friends – The Industry Leading Lightweight Focused Sleeping Bag Providers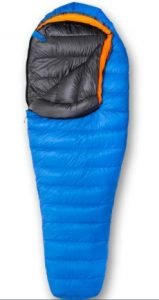 If you are a fanatic of lightweight sleeping bag options, you're more likely to have heard about this brand that focuses on the minimum weight feature. I'm talking about Feathered Friends. A couple started the journey in 1972 and now, have become the owner of one of the finest providers of quality backpacking and adventure garments.
The Feathered Friends is majorly about down filling. They ensure only goose down with maximum quality for making their sleeping bag. There's not one of these that uses less than 900 fill power down. Though you'll find many above that range.
The down this brand uses are also 100% RDS certified. So, an ethical source of down is definitely another segment of assurance as a consumer you can have. Typically, a sleeping bag from Feathered Friends lasts a lifetime.
The price being on the higher side, it's not a surprise they ensure solid making to be confident enough in providing lifetime warranty for any workmanship or material related defects. I mean, that's awesome!
My Favorite Feathered Friends Pick – Feathered Friends Egret UL 20° Sleeping Bag
With a fabulous warmth to weight ratio and also being super lightweight, the Egret UL 20° & Swallow UL 20° Sleeping Bag also impresses with high-quality materials and an assuring RDS certification as the Feathered Friend's trademark.
The only thing that can make you a bit off about it is the price, which is not very cheap for sure. But then again, the quality is also nowhere near CHEAP!
---
2. Western Mountaineering –Wide Range of Quality Assured Sleeping Bags to Choose for Intended Use

There are plenty of sleeping bag manufacturers USA-based. But probably the most popular one that is in this game for more than 30 years is Western Mountaineering. And they are known for providing the highest quality materials made items for outdoor adventure.
With 850 fill power or more than that, you get to see a wide range with Western Mountaineering sleeping bags. And so, there's more likely to be a pick for everyone depending on the specific intended use. One of the many reasons why adventurers love sleeping bags from this particular manufacturer.
Maximum models are either semi-rectangular shapes or mummy-style ones. And this is for making the most out of weight savings. The usage of 7 deniers ripstop nylon for a well-made shell is also a highly appraisable quality of this particular brand.
Not to mention how some extreme adventurers find Gore Wind stopper holy grail pick from Western Mountaineering. And to make the deal even solid, you get a lifetime warranty for any sort of material defect as well as workmanship faults.
My Favorite Western Mountaineering Pick – Western Mountaineering Alpinlite 20°
It's definitely a lightweight option from Western Mountaineering that also comes with very quality rich material making. The warmth and no-snag zippers are fabulous features of it. And also hands down for the full-length draft tube as well as the down collar that is 360°.
This one too is a not very cheap pick and the features are so worth the price that's a bit high.
---
3. Marmot – Makers of Lightweight Backpacking Sleeping Bags That Are Also Super Affordable

This brand is continuously bringing gems to outdoor history since its beginning in 1974. From clothing, backpacks, tents to wonderful sleeping bags, they provide some of the finest lines to ever exist. The main focal point of this brand is its affordability, which makes many people love the fact that even with less budget they can have something good.
The larger company Newell's subsidiary brand Marmot is however a bit less independent at the present moment. However, they are still rocking with producing many reliable and high-quality sleeping bags that are perfect for a lightweight backpacking experience.
Another fabulous fact about Marmot is implementing modern material as well as innovative designs for perfecting performance. And this is very visibly noticeable in their sleeping bag options. Not only this, the brand has gotten lots of praise for being conscious of the environment and society for their production approach.
My Favorite Marmot Pick – Marmot Trestles 30 Sleeping Bag 
The ample insulation, as well as accessory zipper with some comfortable functions, will make you believe that Marmot Trestles 30 is an expensive item while it's not. It's a perfect affordable option to take along for short trips to make the most out of the wide temperature range advantages.
The only glitch about it is the heaviness as well as slightly off compressibility. But for the price, it's still a fantastic inexpensive option to try.
---
4. REI CO-OP – The Best Design & Making Value Included Sleeping Bag Provider

Having a huge retail chain in a list of sleeping bag brands can make you a bit weirded out at first. But what can I do when the REI Co-op is definitely one of the finest ones to exist that does excellent at making value ensuring backpacking gear, including sleeping bags?
The quality of their offered sleeping bags will vary depending on your budget flexibilities. But it's definitely true that for the price, they try to combine the best set of features for providing value confirmed versions of sleeping bags.
The most preferable ones for backpacking lovers are their sleeping bags and quilts that are more on the higher end. These are down-style sleeping bags mainly that are super lightweight for a comfortable backpacking experience. The fabulous warmth to weight ratio plus throughfall designs will make you a fan of sleeping bags from REI Co-op.
My Favorite REI Co-op Pick – REI Co-op Magma 15 Sleeping Bag
The Magma 15 is compact but warm and also actually is pretty affordable for the specs it comes with. There's a no-snag zipper to ruin the mood and certification from RDS to ensure the best quality. Some however find the material a bit thin and fit to be somewhat snug. But that also varies from person to person.
Overall, it's a solid, summertime suitable, well-shaped, and fair-priced sleeping bag from REI Co-op for outdoor lovers.
---
5. NEMO – Finest Weather Convenient Sleeping Bag Providers with Trademark "Thermo Gills" Technology

The NEMO started its journey during the early 2000s and has been in attention for its creativity and thoughtfulness at designing fantastic outdoor gears. The features and experimental points are definitely something it praises when you use outdoor gears from this particular brand.
It has definitely made a name for the trademark technology "Thermo gills" that shows some amazing temperature regulation benefits. For warmer nights it's a fantastic feature to have. There are many models that even let blanket fold flexibility.
And according to users, it feels like you are in your bedroom being super comfortable. Their spoon-shaped bags are very preferable for side sleepers. Such shapes are more likely to give better room for elbows as well as knees. And this makes it extremely comfortable for the ones sleeping on their sides.
The waterproof foot box is also a notable feature that is often seen in many sleeping bags from NEMO. Tall hikers will find it very helpful as having a wet foot box due to condensation is a common issue for people with such height. The brand is also known for using RDS certified down that's also water-resistance. And against any sort of manufacturing defects, NEMO assures a lifetime warranty too.
My Favorite NEMO Pick – NEMO Disco 15° Camping Sleeping Bag
Those who love to have the flexibility to wiggle with a little extra room would love this luxurious bag from NEMO. It's super comfy, as well as the pillow pockets, are a fabulous addition. This bag includes the Thermo gills as well as a waterproof foot box. The external draft collars are also super nice.
However, people who don't prefer bulky and heavy sleeping bags might not love them to the fullest.
Wrap Up
And there is also north face, mountain hardwear, sierra designs, and plenty of other fantastic sleeping bag brands that are getting admiration from backpacking lovers from all around the world.
To be honest, the list of best sleeping bag brands is pretty packed with plenty of outdoor gear manufacturers constantly bringing new technologies and at the same time trying best to keep it less costly. But the ones I just talked about above are by far, the best feature combination providers.
Also, remember that just by picking a reliable brand, you are job is not done. You still need to be aware of quite a few factors that decide which sleeping bag specifically fits just right for you and this includes climate consideration, warmth level, bag fit, shape preference, and many more.
So, take your time browsing through available fine options and try to identify the sleeping bag model that seems just the right one for you. Good Luck!
Philip Robert is an avid camper and hiker who loves nothing more than spending his weekends camping and hiking in the mountains. He has been camping and hiking since he was a young boy and has never lost his love for the outdoors.
Philip is a firm believer that there is no better way to connect with nature and get some exercise than by spending time in the great outdoors. He is always on the lookout for new trails to explore, and loves sharing his experience with others.
"MyOutdoors.net" is a place where you will find a comprehensive guide you need to know about camping and hiking. Philip has the knowledge and experience to help you enjoy the great outdoors.