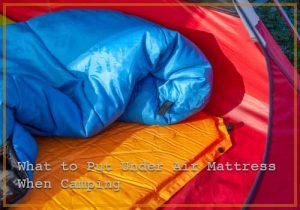 The thought of what to put under air mattress when camping for the first time is something that often crosses one's mind. And if you are in that dilemma, then perhaps a few suggestions on that note will sound great.
I hope so! Because that's why I basically decided to write about it today. There are quite a few items that are ready to be spilled from my mind at the moment. So, I'll just start the piece without further ado.
The Best Thing to Put Under Air Mattress When Camping
Wondering what to put under air mattress while camping can bring you to a list of options to try from. And each of them may pull off better scores at giving a certain type of need. Have a look at the pointers to understand what I'm talking about:
If you want to give the mattress a lifted effect, then Dri-Dek can be your best bet.
For ensuring a warm and restful sleep, a setup of foam beneath the mattress sounds perfect.
The extra cold weather can be handled just right by simply putting a quality mylar blanket beneath the mattress or even better wrap it.
Summertime sadness due to the heat can be dealt with a nice thick tarp right below the air mattress to keep those rocks out from poking holes in it.
See? There are so many options to pick from. However, to understand which one would be perfect for the type of camping you'll be having in a certain location as well as specific weather with specific conditions, that needs a more in-depth idea. Something I'll be putting down for you. You Are Welcome!
Use Dri-Dek – Lifting Effect to Mattress, Enjoy the Underneath Air Circulation & Rest Your Best
Areas that are more on the slick side would typically be really uncomfortable when one plans to camp there. But such areas are also very unsafe to handle a camping plan. And that's where veteran campers love to use a branded material for having a good list of comfort factors no matter what the corresponding situation. I'm talking about Dri-deck.
This fabulous thing would take care of both comforts as well as tricky areas. And so, it can be a great option to get and put beneath your air mattress in a surrounding like that.
Now it's basically a plastic substance. And you'll find it in form of tiles. So having them in the right amount that would fit beneath your air mattress is fine. Some even go for using it as the tent floor covering agent. It's not only going to be nice camping under mattress insulation thingy but also would lift the mattress off ground.
There are holes in the Dri-Dek. And that's why you'll enjoy a great amount of air circulation working through the mattress bottom. For a boost of insulation enhancement, you can place a closed-cell foam pad or even a basic blanket right above the mattress. And this setup will allow you to enjoy your camp resting periods without any problem.
So, if you're looking for air circulation as well as protecting the bottom of your air mattress, Dri-Dek could be an option for you.
Next Read: Best Camping Accessories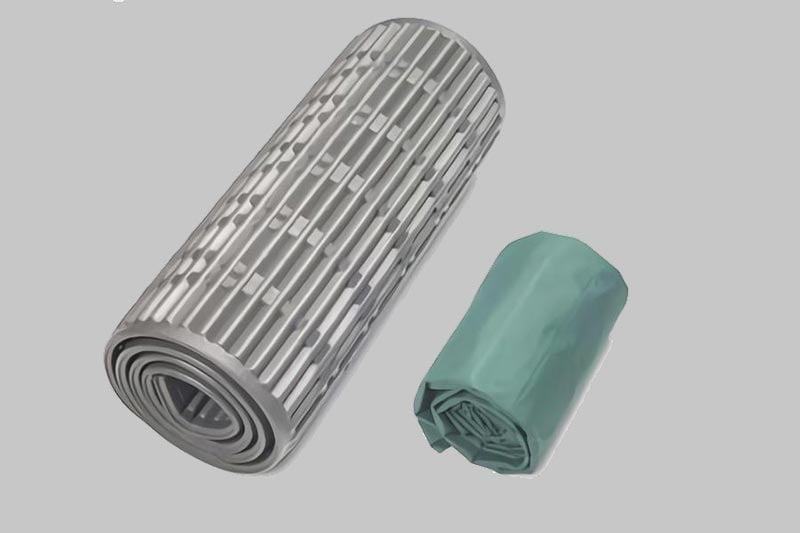 Go With Foam – Keep Things Extra Warm & Also Clean
Cold tent floors can be a hard thing and your air mattress alone may not be able to resist the chills. And so, having some foam beneath being a layer between the mattress and flooring will really help. You might not have really crazy great benefits from this but along with a warm camping mattress, it's still pretty helpful.
If you however also need the additional insulation scores, then place foam on top of the air mattress as well. This setup will keep you extra warm and cozy during terrible winter nights at campsites.
Another thing! There are some of us who just do not own an air mattress for occasional camping plans. But also have the air mattress used at home whenever a guest pays a visit.
And in that case, the air mattress's bottom being dirty from previous camp trip's messy tent floor won't allow such home use. How can one lend a dirty bottom mattress to their guests, right? This is also something the foams will help you with. The bottom of the mattress will stay mess-free as the foam would play role of middle layer. Great right?
The Blankets– Rocks Poking Through the Mattress Won't Be a Case
Now there are people who just don't feel any concern on having more ventilation. Their priorities are keeping rocks away from poking through the air mattress plus not getting the bottoms dirty. And both of these wishes can come true with simply getting a blanket or tarp for placing beneath the mattress.
But the concerning point about having blankets and tarps beneath is that there are almost no temperature fluctuation benefits to this. It won't put any effort in keeping you cool or warm, whatever that is. Basically, there are close to zero ventilation benefits to this, so make sure you know that.
Add Padding or Mylar Blanket – Cold Tent Floors Won't Be Disturbing Your Sleep
You can add some padding-right beneath the air mattress and keep cold floor out of touch from your body. And if that's not what you'd quite like, maybe buy a mylar blanket and have it underneath.
This thing is great for extra cold weather. It has some great insulation benefits to help you stay warm against cold. The thermal blanket can also be an option for fighting against the cold. People who know how to insulate an air mattress for camping are more familiar with these items.
Thick Tarp – Works Great During the Summer
If you are camping with air mattress during the summer, then use a thick tarp to place underneath. And it will make sure there are zero holes poked by those rocks beneath. Plus, it gives amazing benefits for those who need good ground insulation.
Since it's too hot, you can choose not to use any insulation on top of the mattress. There are different types of tarps available with various thicknesses though. Depending on what you're needing, you can fold the tarp and put under air bed when camping during hot climates.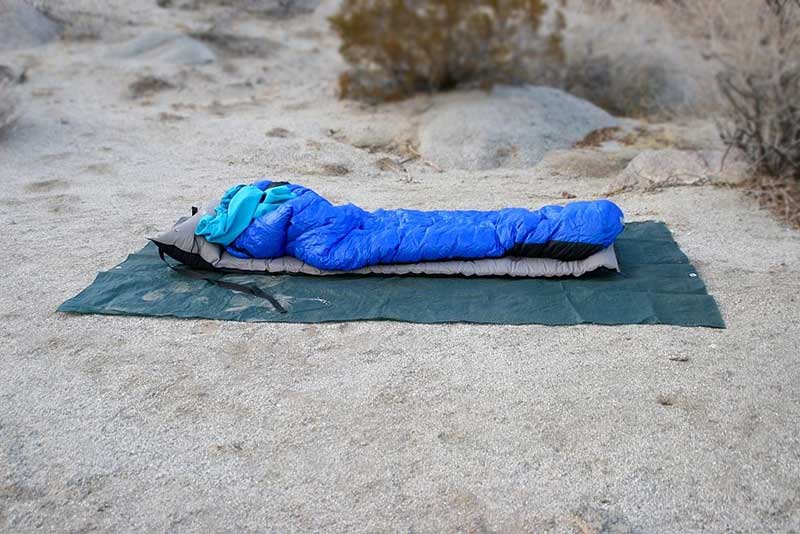 Frequently Asked Questions
1. How do you protect the insulated air mattress for camping?
Apart from placing the items we were talking about beneath the air mattress, there are other ways to keep in mind as well that really help in protecting mattress.
A very important tip here is to make sure you own a proper cover, something that would go around the mattress like a huge pillowcase. Also, one of the most effective tips for sleeping on an air mattress while camping is to have an extra sheet on top of it.
2. Does a space blanket under air mattress work?
Not really, to be honest. It basically is for reflecting heat, and having the blanket beneath the air mattress will have zero benefits whatsoever.
3. Can you use a yoga mat under air mattress?
If you don't have a self-inflating air mattress, then placing a yoga mat might help. But don't expect it to be something drastically enhancing the whole experience. It's just one of those ways you chose to go for because there's nothing else to do.
Final Thoughts
Still worried about what to put under air mattress when camping? Hopefully not anymore! After taking care of this matter there is also other stuff you need to prepare for before the main trip. Camping is for sure one of the most delightful activities one can involve in.
However, without proper preparation, it can turn into a hassle real soon. So well done that you chose to research all confusing matters beforehand.
Philip Robert is an avid camper and hiker who loves nothing more than spending his weekends camping and hiking in the mountains. He has been camping and hiking since he was a young boy and has never lost his love for the outdoors.
Philip is a firm believer that there is no better way to connect with nature and get some exercise than by spending time in the great outdoors. He is always on the lookout for new trails to explore, and loves sharing his experience with others.
"MyOutdoors.net" is a place where you will find a comprehensive guide you need to know about camping and hiking. Philip has the knowledge and experience to help you enjoy the great outdoors.