Discussing the right type won't give a certain solution unless you know are sleeping bags comfortable.
Observing the behavior along with the traits one serves will help you decide whether it really comfy or not.
Breathable and lighter sleeping bags (rated +25° F) will ensure comfort in summer. Then, bulkier, and down sleeping bags (rated 0° F) will be cozy in the wintertime.
These two lines might not describe the reality of sleeping bags being comfortable. Let's present the main reasons which make the bags cozy for most.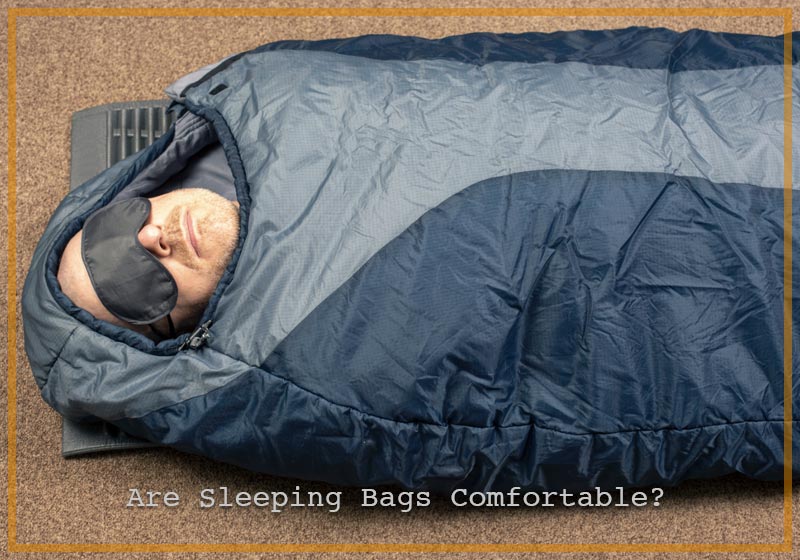 Exactly Why Are Sleeping Bags Comfortable Than Others?
Before thinking of picking the sleeping bags, it's better to know whether it is worth the attention. Just look into the handy characteristics that make it comfortable to sleep on.
Types
In most cases, the sleeping bag comes in 4 types which goodness along with comfort in different ways.
Mummy: It looks like the 'mummy' that includes the hoodie. However, this contains less foot room.
Rectangular: It has plenty of space for both the foot and upper body. And this does not come with a hoodie.
Semi-rectangular: Quite similar in look to mummy, it is bigger and wider to ensure a great heat trap.
Double: Made for couples, this tends to give better sleep quality and cushion.
Out of all, most people find the rectangular, semi-rectangular, and mummy sleeping bag super cozy to use in camp.
Quality
The sleeping bag quality is on another level thanks to the additional items like bed shell, hoodie, zipper, and stash pocket. These extras along with worthy traits make it a quality item to use comfortably.
Comfort Level
Cold or hot weather, the sleeping bag comes with a nicely graded level of comfort in a different atmosphere. These levels are indications of how an ordinary person can easily figure out the right type (in Europe).
| | |
| --- | --- |
| Levels | Gender |
| Comfort | Suitable for a woman (average temperature) |
| Limit | Suitable for a man (not freezing temperature) |
| Risk or Extreme | Avoid crossing this level (super cold for humans) |
If you are looking for one of the most comfortable sleeping bags, try the TETON Sports LEEF Mummy Sleeping Bag as it is a blend of good comfort and performance.
Lining
Nylon, Polyester, & Taffeta: As a synthetic solution, these are soft linings that might not be the comfiest options.
Polycotton: A mixture of fabric and cotton, this kind of lining is a lot cozier than anything. It ensures better cushion and softness to wreck moisture.
Silk: Being the coziest choice, this kind of lining is great for sleeping bags. But it tends to be fragile and not durable, unlike others.
Insulation
The sleeping bag insulation can be divided into 2 sectors: down and synthetic to ensure the max warmth and fill power at the same time. This as well ensures better comfort for night staying in good warmth.
Down: This is made out of goose feather that contains around 600+ to 900+ fill power.
Synthetic: This is built out of recycled and CirroLoft fibers. And the fill power is a lot.
Temperature Level
Based on different weather, the sleeping bag comes in individual temperature ratings to be ideal for use.
Here is the data table about the suitable weather and temperature level of a bag.
| | |
| --- | --- |
| Weather Type | Temperature Level |
| Summer Season | 25° F – Above |
| 3 Seasons (summer, spring, & autumn) | 15° F – 20° F |
| Winter Season | 15° F – 0° F (below) |
Frequently Asked Questions
Are sleeping bags better than blankets?
Both sleeping bags and blankets are great in different aspects. The blankets are versatile and take less space to store. On the other hand, the sleeping bags are warm and comfortable which makes them better than the blankets.
Can you use a sleeping bag every night?
Yup, you can! It's just your preference to sleep on a sleeping bag or other camping gear. There's no limitation or restriction when using the sleeping bag.
Is sleeping in a sleeping bag bad for you?
No, there's no negative health or physical effect if using a sleeping bag. It might be a bad choice if you are a side sleeper since this will require the full body to weigh on one side. That might cause pain in the body.
Wrapping Up
In winter or summer, people use sleeping bags on camping days. Knowing whether it is comfortable to use or not is essential to use in daily life. A short hack is to use a sleeping pad beneath with a pillow in the bag to confirm full-level comfort.
After reading this guide, hope you left with no queries to ask why are sleeping bags comfortable. Happy Camping!
Philip Robert is an avid camper and hiker who loves nothing more than spending his weekends camping and hiking in the mountains. He has been camping and hiking since he was a young boy and has never lost his love for the outdoors.
Philip is a firm believer that there is no better way to connect with nature and get some exercise than by spending time in the great outdoors. He is always on the lookout for new trails to explore, and loves sharing his experience with others.
"MyOutdoors.net" is a place where you will find a comprehensive guide you need to know about camping and hiking. Philip has the knowledge and experience to help you enjoy the great outdoors.