Planning for 2 or more days camp while having the big tent to prepare everything. But wait, where would you sleep to keep yourself warm? In this situation, you have to choose between a sleeping bag and a blanket.
All campers would like to keep them cozy during the camping days and both will do great to insulate you in a different way. Come to think of it, who will win if putting the sleeping bag vs blanket for camping argument?
Read the given sections carefully to note the difference better. Here I Go!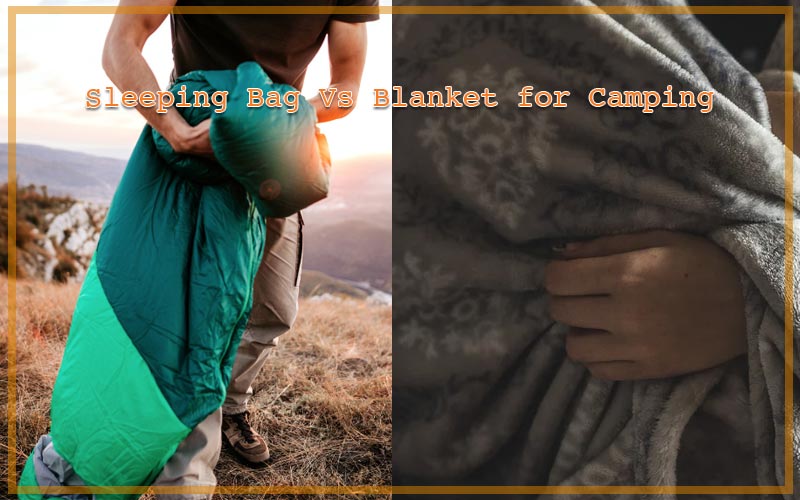 Contrasting Points of The Sleeping Bag Vs Blanket for Camping.
You'll visibly locate the dissimilarity between these giant gears. Aside from that, they contain unique functionality that poles them apart. Without wasting time, let me walk you to the comparison points.
Comfort
One of the most needed traits in gear to sleep during camping is comfort. If you only need comfort over other things, then prepare to take the camping blankets instead of sleeping bags. Why?
The sleeping bag contains a liner, padding, and insulation which will work great to sleep on a freezing night. Campers who tend to move a lot when sleeping inside or top-up position will definitely struggle with it.
However, the blanket no matter if it's made out of wool or nylon fabric would stand on top to provide comfort. It as well lets you have enough interior space to move your body parts for a good night's sleep.
Winner: Blanket.
Temperature Rating
It is not true that the blanket made out of sleeping bag material instead manufacturer uses mink, woven acrylic, fleece, cotton, and wool stuff.
Thanks to that, the blanket has a temperature rating of around 41° F to 50° F. It gets better if you use this in less wintery places which has a sunny climate.
In contrast, the sleeping bag is mostly made using nylon, polyester, and ripstop materials to ensure both strength and agility.
Due to the temperature rating which is up to 0° F to 30° F in general, it suits wintery areas more. Some sleeping bags have a 4-season or 3-season usable tag to use in autumn, fall, and summer seasons too.
Winner: Tie.
Carrying Facility
It's true that the sleeping bag is easy to pack thanks to the carrying case which fits perfectly on a small backpack. Still, the blanket is sleek and includes no zip, strap, or padding which adds weight to the pack simply unlike the sleeping bag.
But, if you put them side by side, the sleeping bag might feel easier and more compact to carry on your backpack when traveling.
Winner: Sleeping Bag.
Durability
The toughness indicates the overall lasting ability of a gear. In this case, the sleeping bag will take over the winning spot due to its longevity.
However, it's true the added tiny accessories (zipper, strap, and so on) can break easily if putting a lot of pressure.
Still, the sleeping bag tends to stay the same without causing any difference in color, texture, or other things. In a wet state, the bag takes time to soak water, and this doesn't damage the surface.
The blanket can be handy to ensure no wear and tear despite being used for several months. Plus, it doesn't take much time to dry out.
Winner: Sleeping Bag.
Price Range
If looking into the price section, it's clear that the winner is blanket. The sleeping bags which are good in quality and contain strong characteristics will cost between $50 to $300.
Then again, the blanket for camping use that has solid traits and quality will range between $100 to $400. So, you know which one to prefer when your budget is pretty low.
Winner: Blanket.
Pros & Cons of Sleeping Bag Vs Blanket
Both sleeping bags and blankets contain the highlighted traits along with the drawbacks which you should know. Let's drive into it.
Sleeping Bag
It's sleeping stuff which most use to sleep on while camping. And if you like to get one, try the comfy and massive Sleepingo Double Sleeping Bag. This holds both ups and downs which I'll mention down below.
Benefits:
Comfortable and safe.
Includes zipper and hoodie.
Available in down and synthetic insulation.
Easy to backpack.
Solid construction.
Negatives:
Not versatile like a blanket.
Bad for summer use.
Blanket
It's a thick cover that campers use to get a good warmth. Grab the Horizon Hound Camping Blanket if you prefer portable and warm enough stuff to sleep on. Just like a sleeping bag, it does have good and bad sides which are given beneath.
Benefits:
Light in weight.
Great for summer and spring use.
Easy to carry.
Provide good warmth.
Compact and reliable.
Negatives:
Pretty expensive.
Not for heavy cold seasons.
Frequently Asked Questions
What to use instead of a sleeping bag?
Instead of the sleeping bag, you can use a camping quilt, wool blanket, or other insulated liners. It will fulfill the need for comfort and warmth on cold nights.
Why sleeping bag is important in camping?
It is essential to use a sleeping bag during the camp along with other gear to have better warmth. This signal thing makes an environment where heat can't go out of the bag.
Are sleeping bags better than blankets?
It's hard to say the sleeping bag is better than the blanket as both does a great job to provide better heat during camping days.
Wrapping Up
Woah! The sleeping bag vs blanket for camping debate finally ended after showing comparison facts. You have to agree with me that both are fab in their own way thanks to the good sides (even though they contain bad traits too).
My sole opinion is the sleeping bag would be perfect for anyone who needs gear for cold season camp. And folks who want gear for summer or spring season camp should definitely try the blanket.
Hope this guide seems fun to read and helps you discover their different insights. Whatever you decided, put your chin up and be confident about the choice!
Philip Robert is an avid camper and hiker who loves nothing more than spending his weekends camping and hiking in the mountains. He has been camping and hiking since he was a young boy and has never lost his love for the outdoors.
Philip is a firm believer that there is no better way to connect with nature and get some exercise than by spending time in the great outdoors. He is always on the lookout for new trails to explore, and loves sharing his experience with others.
"MyOutdoors.net" is a place where you will find a comprehensive guide you need to know about camping and hiking. Philip has the knowledge and experience to help you enjoy the great outdoors.