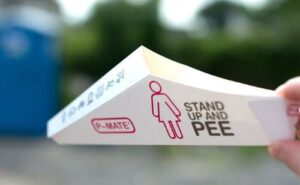 Do you love adventures? The best female urination device is already out there to take you one step ahead into wilderness.
Women face more challenges than men in the outside world due to their anatomical design. When proper hydration is crucial during day-long undertakings, many women compromise it for fear of using the public facility.
Even physical conditions sometimes make it hard to squat for peeing. And for explorers, the fun diminishes every time they need to look for hiding places and stress over bared back during the whole time of action.
But no more grumbling. To let women walk on an equal footing there are some excellent urinal devices out in the market, from which we picked only 7 top-rated pee funnels according to female consumers & reviewers.
Top 7 Best Portable Female Urination Device Reviews
The most disquieting challenge women confront is relieving outside while maintaining hygiene. Pick the best female urination device from our choice list and give your bladder rest without dehydrating.
1. Sunany Female Urination Device – Best Women Pee Funnel for Hiking, Camping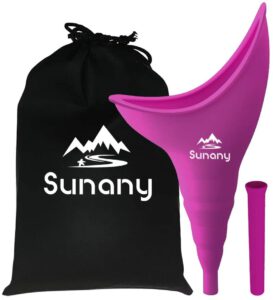 Specification:
Toxic-free silicon made urinal
Leak-proof foldaway design
Anti-slip and eco-friendly
Arc width 14.5 cm
24 cm long tapered funnel
Includes 12cm spout extension
Fit inside a plastic bottle
Convenience with proper protection is invaluable. Sunany Urinal Funnel comes with an extra-long spout to allow more secure relieving without squatting.
The gentle opening effortlessly adjusts with the body and ensures no dripping or dropping-off during peeing. It downright contains the liquid inside without releasing any moisture out. And the long end enables precise pointing so not to spoil your clothes with splashes.
Feature Highlights
Travel-friendly light consolidated design
Long tube ensures accurate aim
No itching or skin rash with soft silicon
Comfortable body-fit funnel mouth
Perfect for all outdoor activities
Easy cleaning with soap water
Usable over long times
No chance of soiling clothes with excellent sealing
The eco-friendly design is beneficial to both the body and the environment. It gives the confidence to reuse the funnel over prolonged periods. Besides, you can easily wash off the silicon urinal with water or soap mixture after each use.
The toxic-free substance doesn't give any discomfort or rashes during or after usage. Moreover, you can double it to stow inside anywhere and carry it around all day long.
No more stressing over using a public toilet. You can use Sunany in any place. Its bottle fit tube will let you discharge during an emergency without drawing unwanted attention. It is the best female urinal device for travel, pregnant women, or other emergencies.
And for any inconvenience or damaged product, you can contact their customer support within 6 months of purchase.
---
2. The Tinkle Belle Female Urination Device – Best Urinal Funnel for Outdoor Activities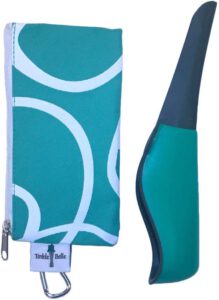 Specification
Two-layered design with a hard casing and stretchable core
Ergonomic shape fits accurately
Total dimensions in inches – 9×1.5×2
Long spout with thumb rest
Soft rubber mouth help in wiping
Light, collapsible design
Includes carrying pouch
No need to remove clothes anymore during peeing. You can relieve yourself fully clothed simply by inserting The Tinker Belle Urination Device.
The plastic exterior of the device ensures secure placement inside clothing with no slipping. And the soft interior clings to the body with total coverage. It is the best portable female urination device that you can use in any position and conveniently double up to store in the carrying pouch.
Feature Highlights
Allows discharging while fully clothed
In-built wiping discards need for carrying tissues
Securely place inside without sliding-off
Firmly cling to body to prevent dripping
Long spout keeps clothes safe from splashes
Permits to use in all positions
The urinal is perfect for maintaining complete outdoor hygiene. The thumbing feature permits accurate pointing, and the long tube ensures no driblets on clothes. With Tinker Belle, you won't have to carry extra wet tissue either. The holding mouth does the job of wiping. Using it, you can easily clean the remaining droplets from your body.
The Tinker Belle allows more freedom in movement with a confident leak-proof design and minimum exposure during peeing. The hard casing makes it easy to wash away and help frequent reuse over a long day of events. And by purchasing Tinker Belle, you can take part in their dream to provide a safe environment for the orphaned children.
---
3. pStyle Stand to Pee Device with Ease While Fully Clothed – Portable Reusable Pee Funnel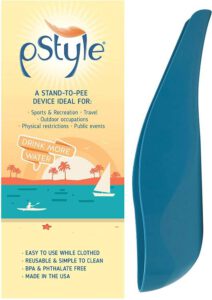 Specification:
Made from polypropylene plastic
Safe BPA free plastic
No harmful phthalate
A 7.75 inch long urinary device
Weighs only 24 grams
Reusable and spacious
It is the best lightweight female urination device that is simple from its design to use. The firm plastic device effortlessly glides through clothes to let you relieve yourself without the need of exposing your bum.
pStyle is made of toxic-free plastic that is totally safe for human contact. It has a deep and wide cup that completely covers the body part and ensures no spillage. The long passage conveniently contains heavy flow. And you can easily clean off the droplets every time using the holding edge.
Feature Highlights
No need for undressing
Works for wiping after use
Easy to clean using soap water or wipes
Safe to clean with dishwasher
Conveniently slide through clothing
Securely fits inside to secure placing
Broad, deep curve ensures no spill
pStyle is easy to wash off and works great for travelling women. Despite a stand-to-pee device, you can use it even in a squatting position. The hard casing is useful in secure placement inside clothing. So you can do your job with little exposure while keeping your clothes perfectly dry.
That makes it an excellent use for outdoor trips. The plastic body easily shakes off extra water, and you can stow it in the bag after cleaning with water or wet wipes. The only downside is it doesn't come with any carrying case. However, it fits inside any pouch.
---
4. Venus To Mars Silicone Feminine Urinary Device – Portable Pee Funnel for Travel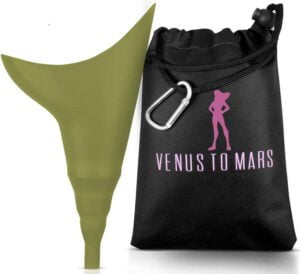 Specification:
Made from medical-grade silicone
Do not contain lethal substances
Foldaway design
Includes a carrying pouch
Compatible with washing machine
Resistant to odour
Body-fit shape with long spout
Certified from FDA as safe
It is one of the best portable pee funnels for women; that is hygienic and certified as safe to use. The soft silicone is safe from any bacterial contamination and comfortably adjusts with the body.
It has good coverage to ensure no spillover during peeing, and the silicon body completely contains moisture inside the funnel. The extended spout gives more control over channelling flow far from the body. Therefore, no chance of wetting clothes with splashes or droplets.
Feature Highlights
Comfortably cling to body part
Secure sealing guards against any spillage
Collapsible design makes it easy to carry
Can hang with backpacks using karabiner
Long tube allows distant aiming
No risk of infectious disease
Hand-free cleaning
The compact design allows easy storage inside bags, purses, or you can just suspend it from the backpack using the cord-locked pouch it comes with. Nevertheless, it doesn't trap the odour inside; and will allow you to clean using washing machines.
The tapered end of the funnel fits inside all plastic bottles. So you can use it inside confined places where there is no chance of disposing of water. Venus to Mars is quite easy to use and doesn't call for much drilling before use. It is perfect for repeated use with no consequence of allergies or skin rashes.
---
5. PeeBuddy Disposable Female Urination Device – Best Urinal Funnel for Travel, Public Toilet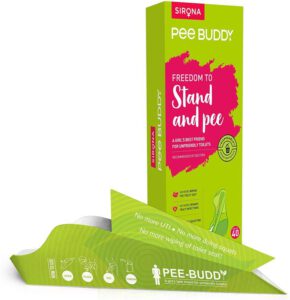 Specification:
Made from top-grade paperboard
Water-tight covering
Ergonomic shaped pee funnel
Eco-friendly one-hand design
Suitable for all kinds of clothing
Single-use pee funnel
No more holding back during long hours of flight. You can stay hydrated and safely relieve yourself in any sort of washroom using PeeBuddy.
It is the best disposable female urination device for airplanes that will let you enjoy a stress-free fly with no torment on the bladder. Simply use it in the lavatory, then throw into a waste bin. No cleaning, no storing. It is a great saviour when there is no way to escape a public restroom.
Feature Highlights
Perfect for public toilet
Protects from bacterial contamination
No trouble over cleaning
Safe for environment
Easy to use and dispose
No chance of leakage or overspill
Effortless targeting with tapered end
Require one hand only
PeeBuddy urinal funnel is fully biodegradable. It is cupboard made, and you can burn it in the fire when using in outdoor feats. The funnel shape permits accurate aiming and does not confine both hands during use.
Its body-shape design securely adjusts to prevent spilling, and the water-resistant coating seals the moisture from leaking out. It is perfectly suitable to use regardless of the dress you are wearing. And you can relieve the bladder from its burden without damping your clothes or shoes.
PeeBuddy funnels come in folding designs that you can slip inside a bag or purse without ado. It is lightweight and highly portable, which will ensure proper hygiene and hydration at the same time.
---
6. Venus To Mars Female Urinal Device – Reusable Pee Funnel for Camping, Car Travels

Specification:
Sturdy plastic body
Light and compact size
Total dimensions of package in inches- 6.9 x 3.8 x 0.4
Weight of the product 1.41 in ounces
Nylon carrying pouch with carabiner
Suitable to use in washing machine
This female urinary device is carefully designed for outdoor camping. Venus to Mars has another version of the urinary device that comes in cone-shape. However, this one is open-topped and has a robust plastic body.
The plastic form will let you securely position it inside clothing without dropping off. And the ergonomic shape ensures no spilling at the time of peeing. Besides, the device is made open-top to protect against spillover or side leakage during excess flow.
Feature Highlights
Hard plastic device easily slides inside cloth
Effortless carrying with a suspended carrying pouch
Allows hand-free cleaning using washers
Work as wiper of extra drops
Open-top design prevents overflowing
Body-fit shape ensures no leakage
Easy to use with one hand
Tapered protruded spout help accurate pointing
It has a narrowing structure with a pointing end. So you can direct the flow afar to save your clothes from backsplashes and wetting. It is the best female urination device for backpacking that is simple to clean and reuse. And you can store it inside the case and hang with the backpack while out in the wilderness.
Moreover, you can carry more than one device due to the lightweight. It will let you pee without removing clothes, and the handy design does not call for more than one hand. If you don't like it, return it. And you will be fully recompensed.
---
7. YYAN Unisex Silicone Reusable Urination Device With Urinal Bag – Best for Car Travel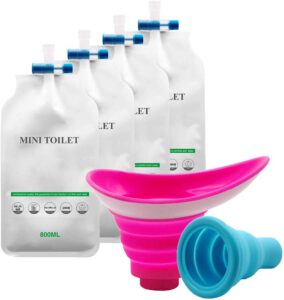 Specification:
Made from food-grade silicone
Foldaway condensed shape
Close-fit design with arch mouth
Sealed container dimensions in inch- 5 x 6.9
One-hand application
2 inch long funnel with 4.9 inch opening
Separate designs for male and female
YYAN comes with two distinct shapes urinary devices for male and female. The feminine urinary device has a crescent opening that is wide enough to cover at length and closely fits with the body part.
The collapsible funnel requires little room and conveniently accommodates inside any unused space of the bag. It is light and manageable with one hand only. The soft silicone is safe for skin and does not result in irritation or skin rashes.
Feature Highlights
Securely snug with body to prevent leakage
Soft silicone-free from toxic substance
No skin irritation or allergy
Foldable light device allows easy storing
Excellent sealing ensures no seepage from pee bag
Do not release bad smells
Disposable bag reusable after thorough rinsing
Effortless guiding requires one hand
The urinal bag has a cross valve that blocks the liquid from dripping. You can reuse it until fully loaded without upsetting the clothes. The tight sealing prevents the odour from escaping, and you can dispose of the bag once full, just like usual junks.
However, you have the option to reuse it simply by cleaning with soap water. The urinal funnel with bag is convenient to use in all situations like long-distance car travels, traffic jam emergencies, camping, or other recreational purposes. Its locking grip ensures no leakage when you are in action. And unlike the pee bag, it is perfect for reuse over long periods.
How to Use Female Urination Device?
Despite the difference in size and shape, all female urination devices (FUDs) come with similar instruction manuals. That is, uncover the body part and place the FUD mouth under your private section. Depending on the device, you might not need to remove all clothes.
Now, closely seal it with the body part and direct the other end far from your body. Then, pee controlling the flow as much as you can. Once done, make sure nothing is left inside the funnel, then remove and store cleaning with soap water or wet wipes.
Tips for Using FUD:
Stand with your legs wide-apart
Direct the spout at a faraway distance to avoid splashes
Practice before using the first time with clothes on

 Why You Need Urinal Device to Pee Outdoor
There aren't many options left for women when it comes to peeing outdoors. If you want to argue with the public toilet, then how sanitized are they? Not to mention the trade-off of safety a woman has to make every time they enter roadside restrooms.
And for women voyagers, there actually isn't any option other than squatting behind bushes or trees. More of it, sometimes finding a hiding place even gets difficult. Just with one device, women can win over a lot of obstacles; be it in their jobs or out on unknown expeditions.
The options women had before FUD:
Public Restroom:
Yes, those dirty restrooms with germy pan covers. That was enough to get a bacterial infection. Even if we ignore the obnoxious experience one had to go through, the health issue stands out alone to compel women either to repress their bladders or not to intake water.
Plastic Bottles:
During the long road trips, that was the only option they had been left with. Which is not only unwholesome, due to the leakage they commonly had to face, but also inconvenient.
Bushes:
That is the common thing for hikers. When out in the primitive world everyone is chasing behind new discoveries; their quest is to look for bushes they can hide behind.
But that's the story of old times. With a female urination device, they can do their job while standing like men and barely exposing their bums. No more contamination or running behind bushes. And what more comfortable than peeing inside a warm tent in the middle of a wild blizzard.
And you can intake all the water your body craves without the fear of releasing later.
Two general types of female urination devices in the market:
Non-disposable:
These are reusable and durable in nature. Besides, they are more comfortable and leak-proof than their opposite version. Non-disposable FUDs are mostly made of silicone or hard plastic. They are safe and the materials used are free of toxicants.
Besides, these FUDs fit better with the body part and can contain the moisture inside. Use them to serve your purpose, then clean with soap water and store inside the bag.
Disposable:
They give the advantage of quick use in contrast to their counter type. Disposable FUDs are commonly made of biodegradable materials. You can dispose of them in trash cans after using. However, they might call for more exposure than non-disposable ones; and therefore, ideal to use inside public toilets.
Disposable FUDs save the work of cleaning. That buys them some points. However, they might not seal with the body securely, and there is always the chance of overflowing and spillage.
Both of them have their advantages. And there is no rule to make you stick with one. You have the choice of using both together or interchangeably. That is up to the situation you are inside. But the crucial part is determining the best female urination device for yourself.
It's not rare to find women complaining about overspill or splashes. When much of it can be attributed to the lack of skills in using FUDs, not picking the right one isn't a far-off idea either.
Buyers Guide to Find the Best Female Urinal Device (FUD) on The Market
There are several factors you need to take into account, considering your physical build and necessity. Here are some of the aspects in light of which you can assess for yourself:-
Material
Most female urination devices are either of plastic or silicon. And all disposable FUDs are of endurable papers or cupboards. When silicon FUDs are soft and malleable, plastic FUDs give the convenience of secure positioning with no chance of slipping.
Silicon FUDs come in a collapsible design that makes them a bit more compact than plastic ones. Nevertheless, some plastic FUDs also have a foldaway feature. Moreover, plastic FUDs, due to their hard casing, effortlessly glide through clothes and allow peeing without the need of putting down clothes.
If it is your first time and not feeling much confidence in using one, plastic FUD might be your best option. They have the least chance of slipping and thereby wetting you all over.
Shape
The widely found female urination devices come in cone shapes with tube end or pipe end. And you will find them silicon made with an extended spout. The long end comes exclusively handy when you are in a closed space, like a car or a concert hall, and there isn't any room for dispensing liquid.
At those moments, you can conveniently put the tube or pipe end inside a plastic bottle and do away with it later. And some FUDs come with an extra tube to give you more control in aiming flows faraway from the body.
On the other hand, plastic FUDs come in an open-top design which saves from overflowing. But apart from the design, what you need to look for is how wide the mouth of the pee funnel is. And how narrow the fluid passage is. Is it right-fit for you or not?
Weight
All female urination devices are lightweight by nature. But if you are trekking, you might look for something extra light and more compressed. Silicon FUDs are more flexible in that sense. However, some FUDs come in their own carrying case and with a carabiner to let you suspend it from the backpack.
Besides, you might want something which will not only let you carry more than one FUDs but also allow one-hand use. In that case, the plastic FUD might turn out to be more convenient than the silicon one.
Comfort
Perhaps the most compelling reason for using a pee funnel is to relieve yourself without exposing your bum, just like men do. Some pee funnels may call for semi-exposure when others don't.
So if that is your primary purpose, and certainly it should be if you are on an expedition, then a plastic FUD is more right for you. But if you are an expert in using FUDs, then any ergonomic design FUD should be okay, be it plastic or silicon.
Cleaning
Disposable FUDs spare from the trouble of cleaning pee funnels. But if you are using a reusable one, you need to clean it every time. Pee funnels are typically easy to clean and require only soap water or wet wipes.
However, some allow the added convenience of cleaning with washing machines. If you don't want to use your hands, then look for one that is machine washable.
Safe Use
Before purchasing your FUD please make sure it doesn't contain any toxicant, like BPA or phthalate, and completely eco-friendly. Do not poison your body trying to save yourself from one contaminant. If you face any irritation or skin rash, immediately take medical assistance.
Assurance
Any warranty or guarantee always speaks for quality. But it is not common to find a warranty on such kind of products. However, if you are too fastidious, then there are few options that come with the refunding policy.
Apart from all these assessments and weighing of options, you can actually create your own option. Yes, you can make your own pee funnel simply using a plastic bottle.
Curious to know how? There are many informative videos on how to make your own pee funnel. Hopefully, that will guide you through.
FAQs About Female Urinary Devices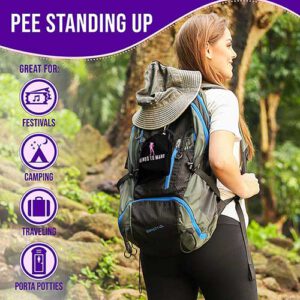 1. Which one is the best pee funnel in the market?
Ans: According to customer reviews, pStyle is the best female urination device on the market.
2. Can I use my pee funnel with a bottle?
Ans: It depends on the type you are using. If your female urination device has a tapered tube or pipe end, then surely you can.  Just put the spout inside a bottle, and you are good to go.
3. Is it unhealthy for women to pee while standing up?
There isn't enough data on what position is best for a female to urinate. However, as it is natural for women to pee while squatting, that is likely to be the ideal position for them.
4. How can I control my bladder while using a pee funnel?
Ans: You can do the Kegel exercise. As it helps toughen bladder muscles, you will master better control over bladder flow.
5. Can my little girl use a pee funnel?
Ans: Yes, pee funnels are safe for girls of all ages. They come in different shapes, so pick the one that serves your purpose best.
Conclusion 
Dare to step out of social dogmatism? Women should define what they can do and cannot. If it needs stand-in-peeing to keep pace with the world, then be it.
No more dehydrating yourself over long journeys. And no more timid visit to strange restrooms.  For you, there are so many wonderful pee funnels waiting out in the market. Pick the right one from them and give yourself the chance to outshine.
Your body has the right to stay grand, and so do you. Stay safe and become the conqueror of the world with the best female urination device.
Philip Robert is an avid camper and hiker who loves nothing more than spending his weekends camping and hiking in the mountains. He has been camping and hiking since he was a young boy and has never lost his love for the outdoors.
Philip is a firm believer that there is no better way to connect with nature and get some exercise than by spending time in the great outdoors. He is always on the lookout for new trails to explore, and loves sharing his experience with others.
"MyOutdoors.net" is a place where you will find a comprehensive guide you need to know about camping and hiking. Philip has the knowledge and experience to help you enjoy the great outdoors.