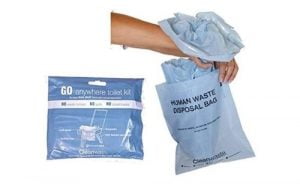 In the 21st century, one of the greatest drawbacks of technological innovation is human beings getting disconnected from nature.
It is a very common case that people tend to feel suffocated and under pressure after living for too many days in urban areas.
Therefore, many of them prefer to camp as a means to reconnect with nature.
However, one of the biggest problems of camping outdoors is attending nature's call. You need to have one of the best camping toilet bags to take care of this issue. It will grant you a great deal of comfort, and you can fully enjoy the serenity of living in a forest or nature park.
Top 7 Best Portable Toilet Bags for Camping
Green Elephant Portable Toilet Bags is simply the best pick out there, thanks to its huge carrying capacity and user-friendliness.
Nevertheless, today, we have compiled a list of 7 of the most popular toilet bags for camping available in the present market. Continue reading to know more about them, their features, and benefits to identify the one you will be okay using the most.
1. Green Elephant Portable Toilet Bags – 100% Compostable Toilet Liner Bags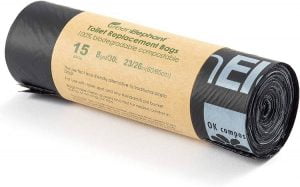 Product Specification
Weight: 0.75lbs
Dimensions: 6.3 x 2 x 1.8 inches
Build materials: Plant resins, vegetable oil, compostable polymers
The thing about excretion is that it can happen at any time. Your body might subconsciously schedule this activity, but it is hard to maintain that while on the road. So you will want to get some portable toilet liner bags that you can set up instantly when in a pinch.
We recommend using this product in this regard as it has a straightforward set-up system which will only take a few minutes.
Feature Highlights
Fast and easy set-up method
Safely disposable and odorless
Attachable on standard buckets and toilets
Massive carrying capacity of 8 gallons
Flexible and durable body
Portable toilet bags need to have a good amount of sturdiness because the last thing you want is to for them to spill and create a mess. Its durability needs to combine well with its elasticity for it to store the wastes in large amounts. Green Elephant understands these requirements and has made this item flexible accordingly.
The purpose of a toilet bag doesn't end with excretion. These bags also need to be strong enough to prevent the contents inside from creating an awkward situation. Their disposal is also vital.
You will find this unit to tick both boxes as its opaque body blocks sight and smell of the interior, and its compostable structure helps in environment-friendly disposal.
As a final measure, the feature that makes this commodity from Green Elephant one of the better commode liner bags is its fitting. It has a total capacity of 8 gallons; you won't have to worry about it overflowing rapidly.
Furthermore, it can work on most standard devices. For the best results, connect it to the brand's toilets or a standard 5-gallon bucket.
---
2. Camco Toilet Waste Bags – Hunting, Hiking & Camping Toilet Gel Bags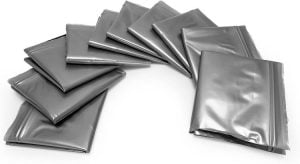 Product Specifications
Product weight: 1.5lbs
Shape: Cylindrical
Color: Black
Volume: 3 / 4 Gallons
If you're someone who loves to inhibit in the wilderness or have been camping for years, then we're sure you are familiar with the Camco toilet waste bags. This item is known for its excellent performance and dependability, which makes it outshine its competitors.
Campers love it for its double bag design, which guarantees no possibility of leaks.
There are very few outdoorsmen who have used this product and have opted for an alternative ever again. The reason behind this is mainly because of its innovative feature.
Feature Highlights
No chances of a leak
Reinforced heavy-set design
Economical option with 10 packs each
Biodegradable powder for convenient storage
Universally applicable on all bucket variations
Camco puts biodegradable powder into it during the manufacturing process. This quality helps the bag lubricate any liquid that falls into it, making it easier to contain.
Toilet bags are undoubtedly vital on camping trips because of their purpose. Furthermore, considering how unpredictable its rate of use can be, it's always a good decision to buy it in bulk.
In that regard, you will want to go for an option that can provide you with maximum value. You can select this commodity because each purchase will give you ten packs.
Another feature to put emphasis on when buying toilet bags is their compatibility. You need to have a good idea of the size of the bucket or toilet you will be using and go for an option that will fit them. You will love these waste bags from this perspective as it is a universal fit and will work superbly with all buckets.
---
3. Portable Toilet Replacement Bags – 100% Compostable & Biodegradable Toilet Bags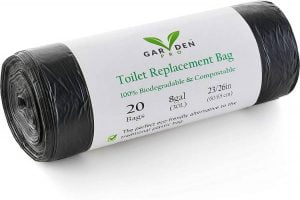 Product Specifications
Color: Black
Build Material: Resin
Volume: 8 Gallons
Thickness: 1.1mil
Product Weight: 1.12 pounds
Dimension: 5.87 x 2.68 x 2.28v inches
Often, we see people wondering about the uses of camp toilet bags other than excretion while on outdoor trips. It is a grossly existent superstition that such an item does not have any other purpose than feces disposal.
Once you buy the Portable Toilet Replacement Bags, this misconception will come to an end. Its 8-gallon body makes it an excellent garbage bag too.
Disposing of human excretion can be a tricky and nasty business. Drop it carelessly, and you will be contributing more to environmental pollution unconsciously.
Feature Highlights
Usable for trash collection
Biodegradable and environment-friendly
Prevents leaks and odor emission
Able to contain 18lbs of content
Disposal process similar to compost
To safely take care of it, you will need a toilet bag that is not harmful to the environment. GARDEN V PRO can try this item as it is biodegradable and smoothly decomposes into the soil.
A toilet bag needs to be very strong. Its material needs to be flexible and powerful enough to carry the contents safely. If such units malfunction, then the result will leave you with a massive mess in your hands.
This option is one of the trustworthy camping poop bags because it can hold 18lbs inside. Furthermore, it is free from leaks and odor.
Last but not least, another excellent quality about the Portable Toilet Replacement Bags is its disposal process. Unlike most of its competitors, you won't have to depend on factors out of your hands to take care of it. All you have to do is bury it inside a hole, and it will work like compost and decompose automatically.
---
4. Trail Essentials Portable Toilet Waste Bags – Biodegradable and Compostable Poop Bags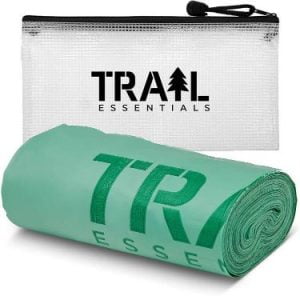 Product Specifications
Unit Amount: 25 pieces
Build Material: Resin
Storage Ability: 5 Gallons
Product measurements: 23 x 19 inches
A significant problem that most campers face when outdoors is carrying toilet bags. There is no separate packaging that can contain them in most cases. Therefore, a lot of people need to bring another container along.
However, you won't face this problem when using this product. It comes with a Ziploc bag. Therefore, you can store them easily.
When it comes to building materials, Trail Essentials manufactures these products with the utmost care. Its primary building materials include vegetable oil and compostable polymers. Therefore, it can quickly decompose underground within ten days of burial.
Feature Highlights
Ziploc waterproof bag to store the item
Organic materials for fast decomposition inside the soil
Universal compatibility
Star-like bottom seal to prevent leaks
Free from odor
Another great thing about this product is its construction. Emphasis is put on every aspect of this unit's structure to make it one of the best portable toilet bags around.
First of all, its 8-gallon capacity makes it compatible with most lavatories. Lastly, its bottom has a star seal to ensure that it does not leak under any circumstance.
Nowadays, a lot of toilet bags have a fragrance to cover the smell of the contents within. However, it is a clear indicator of weak construction as it poses the risk of the odor getting out.
Trail Essentials have made a brilliant masterstroke with this commodity as it is fragrance-free. It doesn't have an individual smell while also locking the odor inside.
---
5. Lunderg Portable Commode Liner Bags – Best Disposable Camping Toilet Bags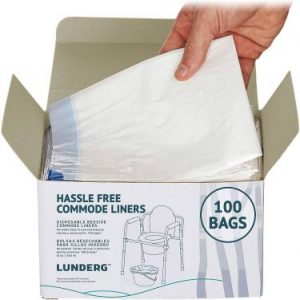 Product Specifications
Product Dimensions: 20.5 x 15 inches
Product Weight: 4.12 Pounds
Color: White
It's always ideal to buy camping toilet bags in bulk when going camping. This commodity is something that won't harm you if you have a couple of extras in hand.
Therefore, buying them in bulk can go a long way to keep your inventory effectively replenished at an affordable rate. You can select these Commode Liners as each purchase will provide you with 100 disposable camping toilet bags.
When looking to buy toilet bags, it's always best to go for the ones that are easy to manage and quick to secure. The waste will contain needs to be withheld carefully, cleanly, and efficiently.
Feature Highlights
100 pouches on every purchase
Easy to open up
Securing it prevents odor
Safe for medical use
Hard box as packaging material
Lunderg ensures that you will be able to achieve this convenience with this item. It's super easy to use, and tying it up prevents any odor from coming out.
An excellent factor of these toilet bags is their versatile use. Typically, most units of this kind are only usable while camping or for outdoor use. However, the Commode Liners are perfectly safe for medical use.
Therefore, the elderly can safely use them daily. The universal size of it makes these camping poop bags compatible with all potty chairs too.
Lastly, the main reason why you will never want to switch brands again after using this toilet bag is the convenience that comes with it. The product comes packaged in a hard box so that you can carry it around easily.
Furthermore, each of the commode liners comes pre-separated; therefore, you won't have to go through the hassle of separating them before use.
---
6. Go Anywhere Toilet Kit Portable Toilet Waste Bags – Best Camping Toilet Bags With Gel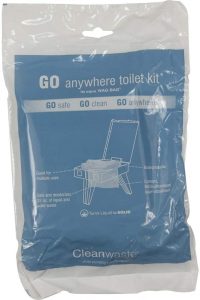 Product Specifications
Degradable and disposable bags
Pre-loaded Pooh-Powder to gel waste
Unit Amount: 12 Packs
Per Unit Capacity: 32oz
There aren't many people who are aware of camping toilet bags with gel currently. Had they known about this variation, they will never settle for another alternative again.
It is truly an innovative option among its peers. The Go Anywhere Toilet Kit is an excellent example as the gel helps to disintegrate the feces and its odor the moment it enters the bag.
A feature that users often ignore when buying toilet bags is its sealing process. You want the product itself to be self-sufficient in this regard. This aspect is vital in determining if there are chances of leaks or not. Philips has integrated an outer zip into these pouches. So, it will aptly keep the contents within effortlessly.
Feature Highlights
Gel-infused body for fast disintegration
Outer zipper for instant sealing
Made with puncture-resistant material
Plethora of attachments to maximize value
Free from odor
One of the most tasking parts of using portable toilet waste bags is handling them once they fill up. Maximum caution needs to be exercised to avoid it leaking or tearing and creating a mess.
However, you will feel at ease with the Go Anywhere Toilet Kit. It's made with puncture-resistant material to guarantee that it will not tear or damage under any circumstance.
It is a scarce case that you will find toilet bags to have any other features other than the primary purpose itself. However, getting one that comes with attachments or extra benefits will make using them a more comfortable experience.
Philips has integrated Pooh-powder, toilet paper, and hand sanitizer into this unit so that you will not require any separate purchases.
---
7. Reliance Products 2683-03 Double Doodie Toilet Waste Bags – Camping Composting Toilet Bags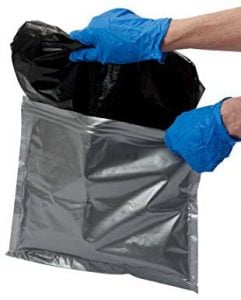 Product Specifications
Unit Color: Black
Unit Dimensions: 7.5 x 4.5 x 5.75 inches
Body Shape: Collapsible
Finishing off our list is one of the more performance-oriented camping composting toilet bags. You can never go wrong in purchasing it as it is perfectly trustworthy and dependable.
It is made of heavy-duty polythene, which makes it as durable as high-quality trash bags. The Double Doodie Toilet Waste Bags is an item that you can trust blindly.
One purchase of this toilet bag ensures that you are sorted for an entire camping trip. Reliance Products have been very economical yet practical with the bags' unit to provide you with a complete experience.
Feature Highlights
Leak-proof packaging
Resistant to punctures
6 packs on every purchase
Heavy-duty polyethylene body
Double-zip seal for more safety
Each purchase of this product will come in six packets. Therefore, you won't have to worry about extra expenses or shortages during the trip.
Build components are critical for a toilet bag. You need to buy one that has dependable ingredients to provide it with sturdiness and strength. The Double Doodie Toilet Waste Bags are one of the better biodegradable toilet bags for camping. They are made with organic synthetic ingredients to prevent any leaks.
Safety and fortification are paramount when buying a toilet bag. After all, safe disposal is crucial when it comes to feces. Reliance Products have included bio-gel into the interior of this product to ensure that it can solidify the liquid and mask the smells too.
Moreover, the body has a double zip to secure itself properly, and the body is free from punctures and leaks.

Things to Consider Before Buying Portable Toilet Bags for Camping
Buying a camping toilet bag can seem like a complicated task because of how similar they are. However, if you keep an eye out for the following fundamental factors when looking to make a purchase, you will be able to find the option that will serve you perfectly.
Size
Finding a toilet bag of the appropriate size is vital. It is a clear indicator of whether the product will provide you with the value that you want. Furthermore, it will also help you understand how frequently you will need to replace the commodity. Therefore, it also determines the convenience of using it by extension.
Ideally, you will want to get the variation that has ample amounts of carrying capacity. At the same time, you want it to have a size that makes it manageable to carry in full capacity.
Furthermore, universality in size is also essential so that it can fit all toilets and buckets. In that regard, an 8-gallon pouch is ideally the perfect choice.
Build Material
It's important to know what kind of ingredients comprise the camping toilet bag you're about to select. Build materials play a vital part in contributing to the overall strength of this unit. Its durability also helps you to understand if there are any possibilities of punctures or leaks when using it.
You will also be able to understand if it is environment-friendly or not.
Going for a trash bag that is made of organic material is always a good option. Not only are these options friendly to the environment, but they are strong too. Toilet bags made from resins and fibers also decompose well in the soil, so they are suitable for composting as well.
Decomposition Process
Do not settle for an item that only holds the content when looking to buy a toilet pouch. There are many options that come with loads of features to make using them more convenient. They are easier to manage, and you will be able to dispose of them quickly and more efficiently than their competitors.
Among the many options that are available in the current market, it's best to purchase camping toilet gel bags. These variations are super effective in handling human feces. It quickly solidifies the liquid content and makes them easier to manage and carry around. It also minimizes the chance of messy situations.
Value
Toilet bags are more a necessity than a luxury when you're out in the wilderness or on the road. You will need to attend nature's call without causing an infection safely.
Needless to say, it's also crucial for preserving the environment and prevent you from resorting to behaving like a troglodyte. Therefore, there's no harm in trying to go for an option that provides you with a good value when buying them.
There are many brands out there that sell toilet bags in bulk. They come in different amounts of packs that range from 6 to 20. You should buy the one that will suit your needs the best depending on the duration of your trip or outdoors stay to make the most out of your purchase.
Packaging
It's ironic, but carrying around toilet bags can be very difficult if it doesn't have convenient packaging. You will need to keep in mind that you will need these in bulk when you're on the road. So, it might take up a lot of space on your luggage if it doesn't come in a convenient storage unit.
Always go for the toilet bags that come in paper boxes. They are easy to carry around and barely take up any space. There are many options that come in a Ziploc bag to which are excellent choices as they are waterproof. You can go for the units that come pre-separated to make the experience more convenient.
How to Dispose of Toilet Waste Bags
Ideally, there are two ways in which you can dispose of toilet bags. The process is as follows.
Water Disposal
Human feces are soluble in water. Therefore, many toilet bags are now available with the option of disposal in water. These variations are made of organic bio-resins and fibers.
All you need to do is tie the bag up once it gets full and chuck it into the water. The pack will decompose in the water within a few hours and not cause the water any harm.
Soil Decomposition
Human excretion makes for excellent compost. You will find many toilet pouches that have the structure suitable for soil composition. Once it fills up, all you have to do is dig a hole and put the bag inside.
It will decompose into the ground within a few days. At the same time, it will contribute to the soil contents and make it more fertile.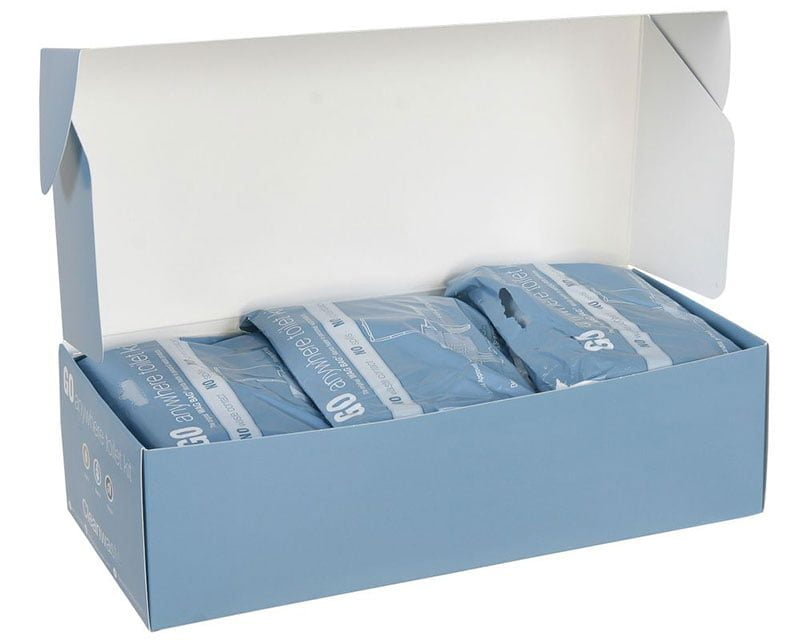 FAQ's About Portable Commode Waste Bags
1. How many toilet bags should a couple carry when traveling?
Ans: It normally takes two days for a couple to fill up the average camping toilet bag. Therefore, it will be a wise decision to consider this timeframe as the benchmark when going on trips as couples.
2. What should be done with human waste when camping?
Ans: Proper disposal of human waste is necessary when camping to keep the place habitable and hygienic for everyone. So, it's best to keep them in camping toilet bags and dispose of them in cat holes and sewage at the first chance you get.
3. Is it wise to buy toilet bags with fragrance?
Ans: Fragrant toilet bags are a worthy purchase as it helps to keep the odor at bay. However, there are also many options in the market that prevents odor from coming out regardless of having no fragrance of its own.
4. Are composting toilets worth it?
Ans: Composting toilets are definitely worth the purchase. They are environment friendly and also do not emit any odor. At the same time, they do not take up much water during flushes, making them economical too.
5. How long do compost toilet bags require to function?
Ans: Typically, composting toilet bags take as much as 3-4 weeks to decompose properly. It won't leave any traces underground and perfectly mix into the ground below.
Final Words
Life on the road or camping outdoors can be rough and rustic. You can make it a bit more comfortable by simplifying your excretion facilities. Getting the best camping toilet bags will go a long way to help you out in this regard.
Now that you have completed reading our article, we are confident that you will be able to select the one that meets your requirements perfectly.
All that's left is to hit the open roads with your family. You will never have to worry about nature's call when you're trying to be united with nature- ever again!
Philip Robert is an avid camper and hiker who loves nothing more than spending his weekends camping and hiking in the mountains. He has been camping and hiking since he was a young boy and has never lost his love for the outdoors.
Philip is a firm believer that there is no better way to connect with nature and get some exercise than by spending time in the great outdoors. He is always on the lookout for new trails to explore, and loves sharing his experience with others.
"MyOutdoors.net" is a place where you will find a comprehensive guide you need to know about camping and hiking. Philip has the knowledge and experience to help you enjoy the great outdoors.