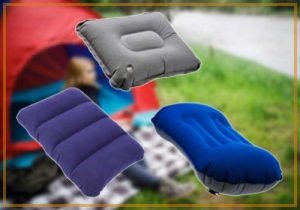 The last thing you would want at a campsite after a long day of walking and preparing everything for camping is to sleep on an uncomfortable pillow.
Most lightweight backpackers prefer using an inflatable pillow, which is a real space saver. But when it comes to quality sleep, not all of these pillows are equally comfortable to sleep on.
When you are looking for the best inflatable camping pillow, apart from the features and price tag, you also need to consider your sleeping position. There's no one pillow for all sleeping styles.
Below are the top 7 camping pillows you can fit inside your backpack. Pro travelers really praised how these pillows helped them to get tight sleep at night.
Top 7 Best Inflatable Camping Pillow Reviews
With a non-slip cover, great head and neck support, and high portability, Trekology Ultralight Inflatable Pillow stands out to be the best among others on the list.
If you prefer a full-size and thick pillow, the Wise Owl Outfitters Camping Pillow would be the best choice for your needs.
1. Sea to Summit Aeros Premium Plush Inflatable Pillow for Camping or Travel
Feature Highlights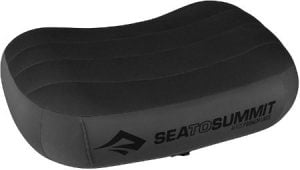 Made of soft polyester knit fabric
Contoured shape feels comfortable for the head
Easy to inflate
Fits inside a pocket when it's deflated
Washable exterior
Say hello to the first pillow on the list from Sea to Summit. To make sure you sleep with comfort, the manufacturer used super-soft 50D brushed knit fabric to make this pillow. Whether you are a back or side sleeper, this pillow is designed to contour your head shape naturally.
It weighs just 4 oz in the deflated state, and it got a similar size to a coffee cup. No matter how small your backpack is, you will always have the space to fit this pillow inside. You can even fit it inside your pocket without any issue.
With just 8 breaths, you can fully inflate this one. The large size inflates to 16×12 inches size. You can opt for a smaller and larger size as well.
Downside
Feels a bit crinkley
Not the cheapest option on the list
Verdict
For both back and side sleepers, it's the best pillow for camping. If you frequently change position while sleeping, this one's the right pick for your sleeping style.
---
2. Nemo Fillo Inflatable Camp Pillow – Ergonomic Pillow for Camping & Backpacking
Feature Highlights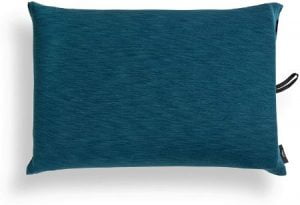 Beam baffled air cell gives it a natural shape for the head
Feels soft and comfortable to sleep on
Very small size easily fits in tight spaces
Ideal for using as a lumbar support
Machine washable
Using an inflatable pillow doesn't mean you will have to compromise with quality sleeping at night. This inflatable pillow here feels like a regular home pillow because of its 3 inches baffled air cell. It's not like conventional inflatable pillows that feel like a balloon.
The fabric used for this pillow is soft, cool, and feels quite comfortable. A thick layer of foam gives you the natural feel of sleeping on a regular pillow.
When it's deflated, it's about the size of a potato. So, yeah, if you are one of those people who backpack as lightweight as possible, this is the most needed inflatable backpacking pillow for you.
Unlike conventional inflated pillows, you won't get lost in your backpack as it comes with a stuff sack.
Downside
Has a strong chemical odor
Sounds like plastic rubbing while moving the head around the pillow
Verdict
If you need a comfortable and versatile pillow, which will be your ideal companion while sleeping on a bag and sitting on a chair, you won't regret buying it.
---
3. Hikenture Camping Pillow with Removable Cover – Best Lightweight Camping Pillow
Feature Highlights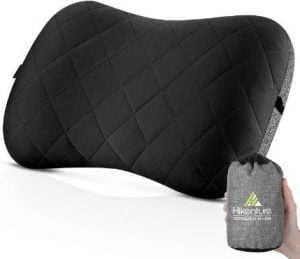 Thick TPU material to prevent leaking
Thicker shape, ideal for side sleepers
Takes 3-4 breaths to inflate
Removable and washable pillow cover
Fits into a small compartment inside any backpack
Not all inflatable pillows leak during the night, and this one from Hikenture is one of those. It got a thick TPU material underneath the fabric that does this magic.
Compared to other pillows on the list, it's a bit heavier and thicker as well. If you are a side sleeper, this pillow would be a comfortable choice to sleep on.
Inflating this pillow only takes about 3-4 breaths. So, it's super convenient from this aspect too.
If you put it on your polyester fabric-made sleeping bag or pad, still it won't move that much during the nights. Thanks to its detachable elastic strap to further ensure tight sleeping nights.
Downside
Okaish comfort while resting the head on it
Feels a bit harder when fully inflated
Verdict
If you prefer sleeping on a slightly higher-sized pillow and are a side sleeper, this pillow will be a great bang for the bucks. Although it's not the most comfortable feeling pillow on the list, the experience won't be deal-breaking, considering the price.
---
4. Trekology Ultralight Inflatable Camping Pillow for Backpacking or Travel
Feature Highlights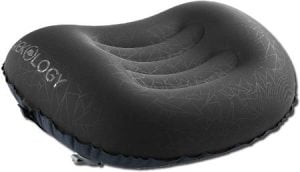 Anti-slipping rubber dots on the back surface
Comfy front fabric
Feels comfortable for the head, and great support for the neck and back
Lightweight and compact form factor fits a small pocket
Easy to inflate with 3-5 breaths
Not all inflatable pillows are designed to pair with sleeping pads perfectly. This one from Trekology is one of those few travel pillows that doesn't slip much on sleeping pads or beds. In terms of its perfect size, versatility, and sleeping comfort, it's the best full-size inflatable pillow that you won't regret buying.
Sleeping on it feels quite comfortable, thanks to its comfy front fabric. When it comes to durability, it doesn't disappoint as well.
Both back and side sleepers will find its shape pretty comfortable for the head, neck, and back support. Other than sleeping, you can also use it as lumbar support when you're traveling.
All these conveniences don't weigh much. When deflated, it's the same size as a soda can. So, yeah, you will always find a tiny bit of space in your backpack for it.
Downside
Verdict
When the need is to get a versatile pillow for sleeping as well as sitting when you are away from home, this inflatable one will be your ideal comfy companion.
---
5. Klymit X design Inflatable Camping and Backpacking Pillow, Ultra-Compact
Feature Highlights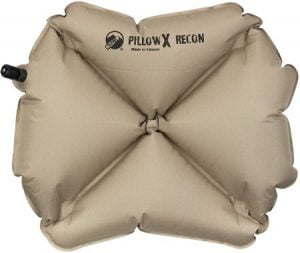 X-designed self-centering shape for perfect head support
Can be used as a seat cushion
Ultra-lightweight and portable backpacking pillow
Height and pressure are adjustable
Only takes 2-3 breaths to inflate it
Neck pain also triggers when using a poorly made pillow. If you struggle to find the right head resting position in portable pillows, you may want to try this self-centering travel pillow.
One of the best features of this one is that you can adjust the air volume inside it. Easily inflate or deflate as per your comfort and preference.
For a large head, its 15×11 inches diameter will be more than enough to get some quality sleep. You can also use it as a seat cushion.
Weighing only 1.95 oz, it feels like nothing. If you are to get the best lightweight camping pillow for super limited backpacking, you will find it easily fits in a tiny and packed sleeve without any issue.
Downside
Average thickness doesn't allow it to inflate much
Has no grip
Verdict
That being said, this ultra-slim and lightweight pillow is for those who find other pillows not much support for their head. However, its slippery surface won't go well with sleeping pads. So, you may need to wrap it with a cloth or something to minimize the slippery issue.
---
6. Therm-a-Rest Compressible Pillow for Camping, Backpacking and Traveling
Feature Highlights
Full-size compressible pillow
Less thick design for back sleepers
Soft and durable cover fabric
Easily compressible, fits right for backpacking
Versatile pillow for traveling
If you are looking for a full-size travel pillow, then an inflatable one won't be a good idea according to your preference. This one right here is similar to full-size pillows that we use in the bed at home.
Although it's not the thickest pillow on the list, this would be the best one you can buy if you are a back sleeper. Even when you are traveling, you can use it while sleeping on a seat, placing your heat on it.
Its brushed polyester cover remains much gentle and soft against the skin. So, comfort won't be compromised.
The Thermarest compressible pillow is a bit large compared to other inflatable pillows when it's packed. Still, it rolls compact enough to fit a small pocket inside your backpack.
Downside
Not for side sleepers who need a thicker and firm pillow
Verdict
If you find thicker and firm pillows that bother you and disturb your sleep when you are away from home, this pillow is your friend. However, side sleepers can also use it while seating, but it won't be comfortable to sleep on.
---
7. Wise Owl Outfitters Camping Pillow – Compressible Memory Foam Travel Pillows
Feature Highlights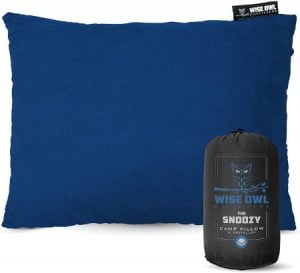 5 inches thick, and very firm pillow
Soft and cozy memory foam to support the head, neck, and back
Full-size pillow for home-like sleep
Comes with a waterproof sack
Machine washable
Don't underestimate this pillow just because I have listed it in the last position. The previous one was a full size thin pillow for back sleepers. The Wise owl camping pillow is thicker, and suits side sleepers the best. So, if inflatable pillows aren't your type, this pillow can get you the same comfortable sleep that you enjoy at home.
The pillow got cushioned memory foam inside. To make sure your skin doesn't feel uncomfortable, it got a soft cover. It's also machine washable.
Compared to inflatable ones, it's a bit large in size when it's packed. Still, you should be able to place it in the bottom part of your backpack. Read more about memory foam camping pillows.
Downside
Not for people who prefer thin pillows
Verdict
I would highly recommend you to get this if a firm pillow is your type and preference. Sleeping side-wise will be much more comfortable when you have this at a campsite or hotel.
What Kind of Pillow Should I Bring Camping?

The pillow you use at home isn't something that you can carry for camping. You need to backpack as lightweight as possible. Even if you aren't a lightweight backpacker, there are still things to consider when it comes to bringing a pillow at a campsite.
Lightweight and Portable Size
All the backpackers prefer carrying a small and portable backpack, which doesn't take much space. That's why inflatable pillows are very popular among pro travelers. You can inflate whenever you want and deflate, making it pretty small, similar to a soda can.
However, if you prefer a full size pillow and not an inflatable one, make sure your backpack has enough space to fit the pillow. Most of these full-size travel pillows are rollable. So, still packing at the bottom won't be much of an issue.
Non-Slip Cover
If you have a sleeping pad or bag that got polyester fabric, you will need a pillow with a non-slip cover. A polyester pillow cover will slip, and it will make you feel quite disturbing and uncomfortable throughout the night.
Easy to Inflate
Make sure your inflatable pillow is easy to inflate. If it takes nearly half a minute to give it the shape, it's not worth bringing for camping.
Be very careful while inflating these pillows. You don't want to blow up a camping pillow trying to inflate it using a pump.
Thickness
If you are a back sleeper, you will be able to comfortably sleep during nights on a thin pillow.
For side sleepers, a more firm and thick pillow are needed. Read inflatable camping pillow reviews above to find the suitable one for your sleeping position and style.
Frequently Asked Questions

1. Are inflatable pillows worth it?
For backpacking, inflatable pillows are super convenient. However, you will have to compromise with things like their slippery cover, being hot when you put your head on for a long time, and not getting the same comfort of using a regular-sized pillow. But there are some great inflatable pillows that overcome these issues.
2. Should you take a pillow camping?
If you are someone who cannot sleep properly without a good sleep system that includes a sleeping bag or pad and a pillow, you should definitely take an ultra-portable pillow for camping.
3. How do you keep a pillow on a sleeping pad?
Pillows always slip on a sleeping pad surface. You can take a rubber band and wrap the pillow and the sleeping pad horizontally to reduce slippage. Or consider placing a rubbery kind of fabric between the pillow and the pad.
Final Words
Hope you have found the best inflatable camping pillow from the above list that suits your sleeping position and meets other needs.
Don't just go for a cheaper pillow even if you are looking for a temporary one. A bad pillow can ruin your sleep at night, and make the camping tour stressful. You surely don't want that. Cheers!
Philip Robert is an avid camper and hiker who loves nothing more than spending his weekends camping and hiking in the mountains. He has been camping and hiking since he was a young boy and has never lost his love for the outdoors.
Philip is a firm believer that there is no better way to connect with nature and get some exercise than by spending time in the great outdoors. He is always on the lookout for new trails to explore, and loves sharing his experience with others.
"MyOutdoors.net" is a place where you will find a comprehensive guide you need to know about camping and hiking. Philip has the knowledge and experience to help you enjoy the great outdoors.