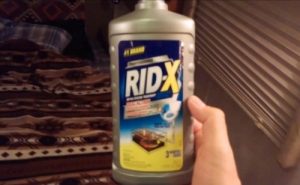 Suffering from a dirty RV toilet? Cannot get rid of the foul smell in your portable vehicle? We are here with the perfect solution.
Recreational vehicles come with some chores. One of them is the regular maintenance and cleaning of toilets and sinks. However, with just one product, you can easily combat all these issues. This product is an RV toilet treatment.
RV toilet treatment is a liquid or tablet component that dissolves the waste in an RV tank and cleans it, removing the foul smell in the process.
Want to find out what the best RV toilet treatment is? Then go ahead and keep on reading.
Benefits of RV Holding Tank Treatment
Before getting into the review, let's check out the benefits of having an RV holding tank treatment.
Cleanliness
An RV holding tank treatment primarily focuses on maintaining the cleanliness of tanks. By removing and digesting wastes, it keeps the tanks clean.
Odor-Management
Another benefit of having an RV holding tank treatment is that it manages the foul odor produced by wastes. It either eliminates the odor or masks it through fragrance.
Tank Maintenance
By regularly cleaning the wastage, an RV holding tank treatment ensures that the tank does not deteriorate quickly and remains in a good shape.
Top 10 Best RV Toilet & Holding Tank Treatment Reviews
According to our research, the best RV toilet treatment out there is the Happy Campers Organic RV Holding Tank Treatment. Whether it be the price, formula, or performance – this toilet treatment excels in every aspect.
However, all the recommendations we have are great. So before purchasing any toilet treatment, take a look at our extensive reviews.
1. Camco TST Ultra-Concentrate Lavender Scent RV Toilet Treatment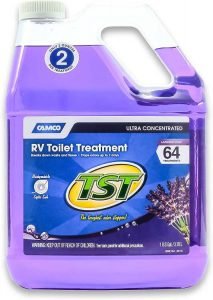 Product Specifications
Brand: Camco
Size: 1 Gallon/3.78 Liter
Scent: Lavender
Type: Liquid
Concentration Level: High (Ultra-concentrated)
Formaldehyde Status: Free
We're starting our list with the very popular Ultra-Concentrated RV Toilet Treatment from Camco. It is the first of the two Camco products featured in this list.
This specific product comes in different sizes and styles. Other than the 1-Gallon container that we're covering, it also comes in bottles capable of containing 4, 32, and 64 ounces of product. We're specifically mentioning the Lavender scent here. However, there are other scents named Clean, Fresh, Hibiscus, and Orange.
Feature Highlights
Does not require any sort of mixing or preparing beforehand
Simultaneously works to break down waste and remove odor
The formula does not contain formaldehyde and packaging can be recycled
Does not have an overpowering scent
Actively keeps things flowing
Since this treatment is free of formaldehyde, it is quite safe for the environment as well as the sewage-collecting septic tanks. Camco markets the TST range as the most powerful odor-stopping agent. It is capable of stopping odor for up to seven days. Not only does it break down waste but also tissues.
With this product, you will get the most of waste removal and odor prevention without any extra hassle. Without having to mix or prepare, you can directly use it from the container. There are sixty-four treatments in the one-gallon pack. You only need two ounces per treatment.
---
2. HAPPY CAMPERS Organic Best Rated RV Holding Tank Treatment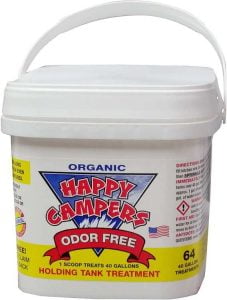 Product Specifications
Brand: Happy Campers
Amount: Equivalent to 40 Gallons of treatment
Type: Liquid
Scent: None
Concentration Level: High
Formaldehyde Status: Free
For our second recommendation, we have chosen the Organic RV Holding Tank Treatment from Happy Campers.
If you are someone who is into all-natural, environment-friendly products, this is a great pick for you. The happy camper toilet treatment is well known for its organic and safe ingredients. Since it does not cause any harm to the surroundings, it is also suitable for sewage-collecting septic tanks.
Feature Highlights
Has no additional scent
Recyclable and environment-friendly
Effective in extreme conditions and temperatures
Does not require additional product frequently
Liquid state makes application easy
While this RV toilet treatment does not have a distinct scent of its own, it actively works to eliminate any kind of odor produced by waste or dumping. It not only works against regular waste but also on crystal formation.
This formaldehyde-free formula works in all weather conditions. Whether the weather is extremely hot or cold, it performs with efficiency. It can function at over a hundred-degree Celsius temperature. Since it comes in a liquified form, you can easily avoid all the hassles of the application.
As for the density, this toilet treatment is highly concentrated. Hence, a little bit goes a long way with this and you only need to use a little amount. Other than on toilets, users have also achieved great results after using it on kitchen sinks.
---
3. Walex TOI-91799 Porta-Pak Holding Tank Deodorizer – Best RV Toilet Drop Ins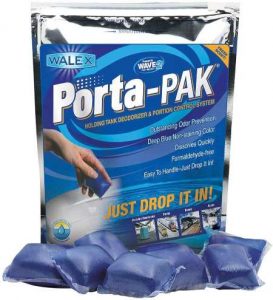 Product Specifications
Brand: Walex
Range: Porta-Pak
Size: Pack of ten
Type: Drop-In
Scent: Sunglow/Fresh
Formaldehyde Status: Free
We have included two Walex products in our recommendation list. Of them, the first one is the TOI-91799 Porta-Pak Deodorizer.
We are specifically discussing the Porta-Pak in the Fresh or Sunglow scent in this list. The other scent from this range is called Lavender Breeze. Other than the ten pack one we are mentioning, other variations contain fifty and two fifty drop-ins.
Feature Highlights
Does not stain the area where it is released
Allows users to have control over the amount of product released
Contains convenient and eco-friendly packaging
Has an excellent odor-prevention ability
Able to break down complex materials
Since it is a drop-in packaging, you have to drop the packages where necessary. These packets have zippers and are soluble in water. This means, they are not only convenient but also bio-degradable. Furthermore, it can also break down the paper.
Each packet dropped into the necessary area can maintain any foul odor for around an entire week. Since it is scented, it does not only prevent bad odor but also actively works to eliminate it. Although it is a drop-in formula, it does not stain the area.
Because of its impressive odor prevention capacity, the Walex Porta-Pak claims to be one of the best in the market in this aspect. Another noteworthy feature of this drop-in is that you will have full control over the product released. Spilling of products can be prevented due to this.
---
4. Aqua-Kem Morning Sky RV Holding Tank Treatment – Waste Digester Toilet Chemicals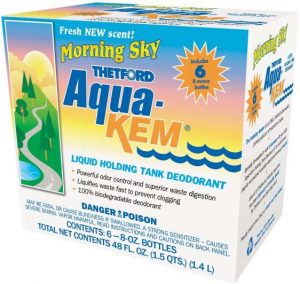 Product Specifications
Brand: Aqua-Kem
Size: 8 ounces (Pack of 6)
Type: Liquid
Scent: Morning Sky
Formaldehyde Status: Present
Moving on, we have the Aqua-Kem RV Holding Tank Treatment in the scent Morning Sky as our next recommendation. It is one of the best RV toilet chemicals for breaking down waste.
Let us begin with the performance of this product. It is a moderately concentrated formula that is designed to resist any form of clogging. It liquefies waste and degrades tissue as well.
Feature Highlights
Has a multi-dimensional formula that works to eliminate waste and clean areas
Comes in packaging that prevents spilling
Can be recycled
Convenient for using in boats as well
Bottles are designed to ensure a high level of security
Other than our recommended Morning sky scent, the toilet treatment also comes with an original scent. Besides, it also has packs of 32 ounces, 64 ounces, and 1 Gallon other than the 8-ounce one. Since it comes in many types of packages, you can choose from any of them.
The Aqua-Kem not only works on RVs but also on boats, removing odor from different kinds of tanks. Our suggested bottle version allows users to control the amount of product and prevent any spilling.
As for how functional it is, you will be surprised to know that it can be employed as a 3-in-1 formula. It works as a deodorant, waste digester, and detergent. Moreover, it comes in secure, environment-friendly containers.
---
5. Rid-X RV Toilet Treatment Toilet Chemicals for Breaking Down Waste and Tissue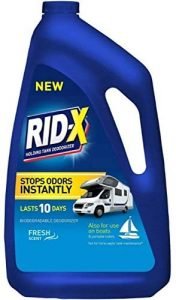 Product Specifications
Brand: Rid-X
Size: 48 ounces
Type: Liquid
Scent: Citrus
Formaldehyde Status: Present
Concentration: High
Yet another scented toilet treatment, the Rid-X RV Toilet Treatment is well known for its performance and convenience.
Although most toilet treatments are chemical, the Rid-X RV Toilet Treatment uses natural means to degrade wastes, paper, and other forms of dirt. It uses both bacteria and enzymes to do so.
Feature Highlights
Uses natural means like enzymes and bacteria for waste degradation
Helps to keep foul odor away
Easy to use and manage
Can be used for boats and other portable vehicles too
Able to dissolve paper-based waste products
Since this product is ideal for use in septic sewage-collecting tanks, it helps to liquify materials that clog the system. Furthermore, the cellulase enzyme that this product has can actively dissolve paper-based waste products.
The toilet treatment comes in a citrus scent that is fresh but not too overpowering. You do not have to worry about any foul smell lingering around your vehicle. The best feature of this product is its ease of usage. All you have to do is pour the liquid directly onto the tank and flush it afterwards.
With this toilet treatment, you will achieve the best results if you use it every week. This one, too, is great for boat uses. Users have labeled it as the best RV black tank treatment because of its impressive performance. Other than all the mentioned features, it is also extremely resistant to high temperatures.
---
6. Unique RV Digest-It Holding Tank Treatment – Black Tank Sensor Cleaner Waste & Tissue Digester

Product Specifications
Brand: Unique
Size: 32 ounces
Scent: None
Type: Liquid
Formaldehyde Status: Free
Another product that comes in various sizes is the RV Digest-It Holding Tank Treatment by Unique. Fortunately, it has made our list too!
A lot of these toilet treatments only mask the foul odor without actually getting rid of it. But the RV Digest-It Holding Tank Treatment uses natural microbes and enzymes to eliminate all forms of odor. It does not use any unsafe chemicals and does not have any additional scent. It is a fragrance-free formula.
Feature Highlights
Can clean both the tank and the sensor system
Contains natural agents; free from harmful chemicals
Can function in both black and gray tanks
Able to digest waste built-up for years
Does not have any additional fragrance
Its strong formula does not only liquify regular waste but also all types of toilet paper. We know a lot of treatments work in black tanks. But gray tanks? Yes, this one works in that too. Furthermore, it claims to have the capacity to digest years of built-up waste.
Other than cleaning the tank itself, this treatment is also great at cleaning the sensors. It is a fairly decent RV black tank sensor cleaner that can remove hard waste that causes false signals in the sensors.
This top-notch formula is safe for children and pets. Completely environment-safe, it does not have any traces of formaldehyde in it.
---
7. Walex TOI-11530 Bio-Pak Holding Tank Deodorizer – Best Toilet Treatment Drop-ins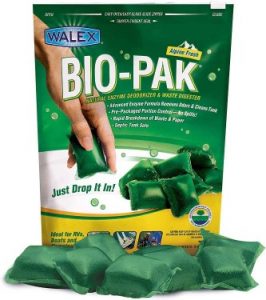 Product Specifications
Brand: Walex
Amount: 10 Bio-Paks
Scent: Alpine Fresh
Type: Drop-in
Formaldehyde Status: Free
Color: None
Our seventh recommendation, and the second pick from Walex, is the TOI-11530 Bio-Pak Holding Tank Deodorizer.
The Walex Bio-Pak 11530, often known as the best RV waste digester, also functions as great deodorant. Not only does it digest an ample amount of waste but also removes odor actively. Very few drop-ins are as effective as this one. With all the facilities of the portable pack, this one is also bio-degradable and eco-friendly.
Feature Highlights
Portions are measured beforehand
Has extremely lightweight portions
Free from both formaldehyde and biocide
Prevents all sorts of spilling
Safe for the environment
Drop-in formulas are convenient for measured amounts anyway. This one comes in predetermined portions. Therefore, you do not have to measure it by yourself and can save a lot of time and energy in turn. Every pack functions to simultaneously degrade the waste and deodorize it.
You will not need additional toilet papers to make the treatment work. Another great benefit of the drop-in design is that there is no possibility of spilling. Therefore, the tank will remain clean and clear. Not only is it free from formaldehyde but also biocide.
Since the color of the formula is clear, it will not stain the tank. It is safe for use in septic tanks too. Other than all this, this product is also extremely lightweight.
---
8. Valterra – V23128 Pure Power Blue Waste Digester for RV, Boat & Other Septic Systems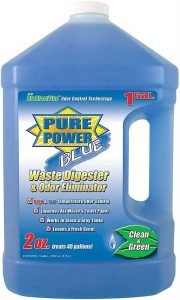 Product Specifications
Brand: Valterra
Size: 1 Gallon/128 ounces
Scent: Fresh
Type: Liquid
Formaldehyde Status: Free
If you are looking for the best RV holding tank treatment, the V23128 Pure Power Blue from Valterra can prove to be a great choice.
Valterra has a special odor control technology that is featured in this toilet treatment. It does not have toxic chemicals and consists of a natural formula instead. Both enzymes and bacteria function to remove the odor from the holding tanks. At the same time, they clean the tanks as well.
Feature Highlights
Uses natural elements to break down waste
Leaves a fresh scent
Excellent value for money
Works both as a waste digester and a tank cleaner
Has a special odor control technology
As it is free from any harmful chemicals, it is completely safe for the surroundings. The 1 Gallon amount is enough to be used on different portable vehicles and septic systems. Working both as a digester and a cleaner, this is a 2-in-1 product that has it all. Besides, it also has a fresh scent.
This product is a great investment as it only requires two ounces per 40 gallons of water. Other than the 1-gallon one, there are also many other sizes of the product. Not only does it work for black tanks but also gray tanks. Moreover, it also degrades toilet paper along with human waste.
---
9. Unique RV Digest-It Holding Tank Treatment – Drop in Pods Black Tank Treatment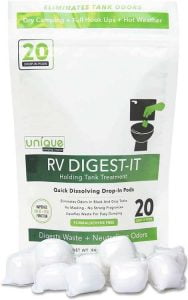 Product Specifications
Brand: Unique
Size: 20 pack
Scent: None
Type: Drop-in
Formaldehyde Status: Free
Surprise, surprise! We have yet another recommendation from Unique for you. This time, in a drop-in formula! We are talking about the only and only Drop-in Pods version of the RV Digest-It Holding Tank Treatment.
If you are a fan of the RV Digest-It Holding Tank Treatment but do not like the liquid formula, you can try this.
Just like the liquid version, the drop-in version too works to remove waste worth years. The sensory system of a tank provides measurements. By cleaning waste from that system, this treatment ensures the accuracy of these readings.
Feature Highlights
Advanced technology allows complete dissolution
Eco-friendly
Removes waste from the sensory system and maintains its accuracy
Abides by the laws of formation
Does not contain harsh chemicals
Often, the drop-in pods get stuck within the tanks. The advanced technology of this treatment ensures that the pods get dissolved completely – that too within the insides of the tanks. Apart from being formaldehyde-free, this formula is also devoid of bronopol.
As for different tank types, this one works in both black and gray tanks. In every way, it is safe and effective. The product abides by all the attributes and ideal treatment should have and does the job without the help of any chemicals.
If you are looking for something that can efficiently break down the waste as well as mask the odor, this is your bet.
---
10. Camco TST Ultra-Concentrated Orange Citrus Scent RV Toilet Treatment Drop-Ins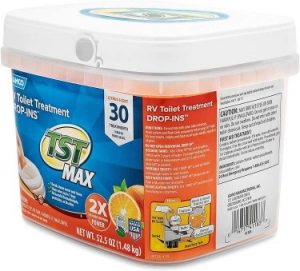 Product Specifications
Brand: Camco
Range: TST Max
Amount: 30 treatments
Scent: Fresh Citrus
Type: Drop-ins
Concentration: High
Formaldehyde Status: Free
We had mentioned at the beginning of this list that there was another product from Camco that we would incorporate. This is the one – the TST Ultra-Concentrated Orange Citrus Scent RV Toilet Treatment Drop-Ins.
As part of the TST Max range, these drop-ins are attributed to performing even better than their liquid counterpart. Each package contains 30 treatments, and each treatment is designed to treat 40 gallons worth of amount.
Since it is a drop-in formula, it is easy to use. All you have to do is drop them conveniently into the tanks.
Feature Highlights
Highly concentrated
Has a fresh scent that keeps bad odor away
Free from formaldehyde
Able to break down tissue as well
Free from pesticides and biocides too
Drop-ins are not usually highly concentrated. Liquids are far more concentrated in comparison. But even as a drop-in formula, this one boasts to be ultra-concentrated. Although there is a special chemical that helps in the degradation of waste, formaldehyde is absent from the formula.
Because of its safe recipe, the Camco TST drop-ins can be used in septic tank systems. Besides, it is safe for the environment as well. The drop-in packets come well-secured in a big container resembling a paint one.
In addition to all the features, the fresh citrus scent released by this toilet treatment keeps away all the foul smells.
Things to Consider Before Buying the RV Toilet Holding Tank Treatment
Now that you have gone through our review, take a look at some of the things you should consider before buying an RV toilet treatment.
Formula
Typically, there are two types of formulas of an RV toilet treatment – liquid and drop-ins/tablets. You should consider what type of formula is compatible with your tank and what you are comfortable with.
For some users, it is easier to use liquid versions. Others prefer the drop-ins. Both the formulas have their perks. Liquids are naturally a bit more concentrated than drop-ins. However, they also cause more spilling.
Before buying, figure out what type of formula is more suitable for your purposes.
Durability
One thing that you should never compromise on is the durability of the toilet treatment. It should be able to last for a long period.
Many toilet treatments require adding of solution often. If it is as frequent as every month, then it is ideal. But if it requires you to add up the product every week or day, it is not durable enough. The best treatment will work just fine even if you apply it once a month. So, buy considering this aspect.
Container Size
Almost all the toilet treatments on our list came in different sizes and packages. All those brands considered the convenience of users while designing their products.
What size of the container you will be needing is something you should determine ahead of buying. While it is great to have a large container with an ample amount of product, you might not need all of it. However, you also don't want to fall short of treatments. Having more is definitely better than having less.
Elements
Every toilet treatment has a few fixed elements in its formula. These elements can be categorized into two classes – natural elements and chemical elements.
Natural elements usually consist of microbes, enzymes, and bacteria. Millions of these active natural elements are present in the toilet treatments. Although natural elements are good for the environment, they typically work slower than chemical ones.
As for the chemical elements, try to avoid treatments containing harmful components like formaldehyde, pesticides, and biocides.
Supplements
Other than the main elements, some supplements are added to the formula of the toilet treatment. The functions of these supplements may vary from product to product.
The mentioned supplements are usually color, fragrance, detergent, etc. Many brands are coming with clear treatments to prevent staining. The fragrance is often used to mask the foul odor. Detergent, on the other hand, is used to speed up the cleaning.
Remember that supplements only add to the formula of a treatment. The main job is done by the base elements.
Impact on Environment
Nowadays, the impact on the environment is something every product should be liable for. Both in formula and packaging, manufacturers should factor in this consideration.
Toilet treatments with harmful chemicals, when disposed of, can prove to be extremely harmful to the septic system. Besides, overpowering fragrance can also cause sensitivity and air pollution. Finally, the packaging should be eco-friendly. As a community, we should try to minimize the use of plastic as much as we can.
Price
Of course, price is one of the most essential aspects of every product. No matter how good a product is, it should match your budget.
Packs with a lot of products often offer a better value for money. If you require a greater amount of product, it is better to take a bigger size like 1 Gallon. However, if you don't need much, you can go with the smaller packs.
Types of RV Holding Tank Treatment
There are two types of RV holding tank treatment- liquid and drop-in/tablets.
Liquid
The liquid form of an RV toilet treatment can easily be poured directly from the container. As it does not need mixing or preparing, it works faster than the drop-ins. Because of its texture, it is also able to move things faster.
Drop-in/Tablet
Drop-ins or tablets essentially function the same way as liquids do. However, the mixing period takes more time for dissolution. The biggest benefit of a drop-in is that it prevents all forms of spilling.
How to Use RV Toilet Chemicals for Breaking Down Waste
You know all about RV toilet cleaners now. But it is all futile if you do not know how to use it. Here is how you should use an RV toilet treatment.
Step 1:
At first, you should empty your tank as much as you can. If it is a black water tank, try to empty it completely.
Step 2:
Before adding any toilet treatment to the RV tank, take some water and fill it up. A few gallons will do. Make sure the water is clean.
Step 3:
Check if you have a decent amount of water in the black water tank. This is important because otherwise, you might suffer from clogs or faulty readings.
Step 4:
At this stage, all you have to do is apply the liquid or drop-in chemical to your tank. You can do it directly or with the help of applicators. After application, flush down the water in the tank.
Step 5:
Add product when necessary. How often you will need to add depends on your toilet treatment.
In this way, you can easily use your RV toilet treatment. Ideally, the instructions will be provided by the manufacturer.
FAQ's About RV Black Tank Treatment Waste Digester
1. What chemicals do I need for an RV toilet?
Ans: There are a bunch of chemicals you could use for your RV toilet. You can also use natural elements. No matter what you use, make sure they are eco-friendly. Also, try to avoid chemicals with formaldehyde.
2. How do I get rid of the sewer smell in my RV?
Ans: You can do a couple of things to get rid of the foul smell in your RV. First of all, make sure you use a strong treatment. Secondly, clean your tanks regularly. Also, make sure you empty out your tanks frequently.
3. Can I put bleach in an RV toilet?
Ans: While you can put bleach in your RV toilet, you should be careful if you do so. This is because bleach is chlorine-based and can cause deterioration of your tank.
4. Can you put vinegar in an RV toilet?
Ans: Unlike bleach, it is completely safe to put vinegar in an RV toilet. It can dispose of your waste efficiently as well. The only downside is the strong smell of vinegar.
5. Can you poop in your RV?
Ans: Yes, you can.
Final Words
With that, we have come to the end of this long review and guide. Apart from giving our opinion about the best RV toilet treatment, we have given you all the instructions related to the topic.
We hope that our recommendations and suggestions have proven to be fruitful. Make sure you refer to our article and purchase your desired treatment. After that, without wasting any more time, get to cleaning your dirty RV tank. Good luck!
Philip Robert is an avid camper and hiker who loves nothing more than spending his weekends camping and hiking in the mountains. He has been camping and hiking since he was a young boy and has never lost his love for the outdoors.
Philip is a firm believer that there is no better way to connect with nature and get some exercise than by spending time in the great outdoors. He is always on the lookout for new trails to explore, and loves sharing his experience with others.
"MyOutdoors.net" is a place where you will find a comprehensive guide you need to know about camping and hiking. Philip has the knowledge and experience to help you enjoy the great outdoors.