It is often difficult for new campers to pick the right camping companion to go with them, especially when it comes to RVs and Tents. As tent camping and RV camping are two very popular choices, but they offer different experiences.
In this article, I will discuss tent camping vs RV camping. Also, I will break down the pros and cons of each to help you make the best decision for your next outdoor adventure. So to know, read on until the end.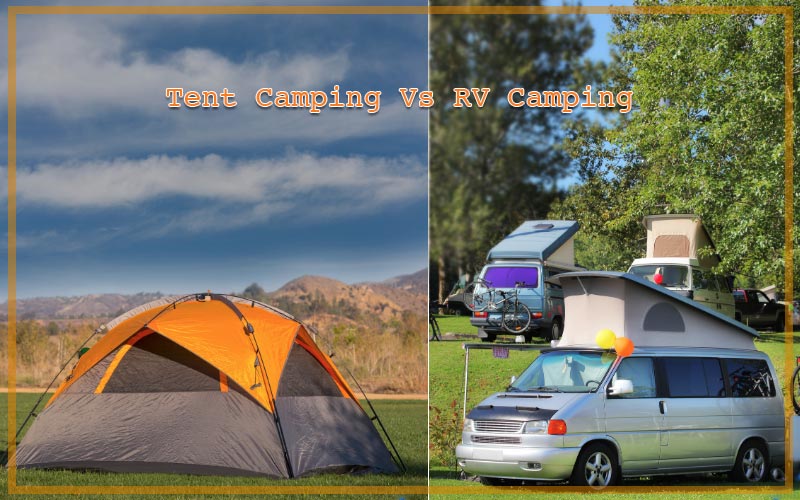 Tent Camping vs. RV Camping: Pros and Cons
Both tent camping and RV camping have distinct features and advantages, but nowadays you will see that the use of RV Camping is growing very rapidly. This happens for many reasons, and one of them is people's lifestyles. People can not cope with the environment of the park or forest so they use RVs. Where they get easy electricity, bathroom, cooking, TV, etc.
But many tent campers oppose it because RV campers cannot get the real test of camping for technological advantages. However, the rest discussion will decide the conclusion. Let's talk more about these two types of camping.
Advantages Of Tent Camping
Affordability
You will require a tent, cooking equipment, pillow, and sleeping bag and you can add other gear if you want. But these things are enough for your tent camping. Moreover, tent camping, either public or private campground, requires very low charges. And also you can get the gear for the tent under the condition of rent. So, tent camping will be more affordable for you.
Natural Feelings
It will be a great experience for you while tent camping. You can get a huge time for hiking, hunting, or other activities other than wasting time by staying online and watching TV in your RV. You can pass remarkable moments with your family in a natural spot. And you can see the stars or flashes of light in the night from your tent.
Flexibility
What curious heart wants? To go to the deepest area of the forest or campsite where other people rarely can reach. So, In these areas, you can go with your RV. You need to take minimum baggage and other needed gear and pitch your tent in these places. As you require simple things so you can put them in your backpack. For me, I don't want to miss it!
Ease Of Maintenance And Storage
Nowadays tents have many sizes and versions, you can easily carry them over the rooftop of your vehicle or some tents comes with a little bag. You can put your tent into the bag as well as you can store it in your garage or attic. Once you know how to pitch it then you can move to different places in a day.
Disadvantages Of Tent Camping
Lack Of Safety
One of the considerable issues is the threat of predatory animals in the campsite or forest. The smell of your food will draw their attention. So, you should be aware of your surroundings and keep an eye out for any animals that might be lurking around. It's also important to store your food properly so that animals can't get to it.
Hassle of Cleaning
As you will stay there for a couple of days, you will need to do many things so you have to clean these. But most of the campgrounds don't have dishwashing stations or sinks.
Lack Of Comfort
The nighttime, falling twigs, and rain can interrupt your sleep. Moreover, if you hear the roaring of a bear, you will feel more insecure in your tent than RV.
In addition, you will have to depend on your campsite entirely for restroom facility in case the climate is worse. Another issue is of course the toilet. You have to face it. For that, many people choose RV despite a lot of advantages of tent camping.
Advantages Of RV Camping
Weather Protection
RV has AC and a heating system so that you won't face any odd situations if the campsite goes through any unexpected weather. So, the weather will not be a great discomfort for you if you have RV.
Mobility
When you draw up a good plan, RV camping can bring great benefits to you. By RV, you can go to remote areas and you can set your camp there. You can depart from your family and stay in the deepest part of the forest for a night or more. People who love to study wild animals can make the most out of this mobility.
Adequate Storage
You don't have to worry about the preservation of your food. RV will provide you with huge options for your food. It has kitchen cabinets, optional coolers, a refrigerator, a furniture-storage compartment, and a closet to store foods and belongings.
Amenities And Living Space Included
RV has everything which you need while you are camping. It has a coffee table, kitchen, bathroom, bed and cabinets, electric system, air conditioning system and finally, it is a vehicle, which can carry your house from one spot to another spot.
Disadvantages Of RV Camping
Expensive
As it will provide huge amenities, so it will take a good cost. Firstly, you have to pay a good amount of money to attain this vehicle. Then, there will come other lists such as hook-up fees, repairs, RV service, campground fees, gas or diesel cost, etc.
Not Real Camping
Definitely, you will miss the taste of natural camping. While you are sleeping on your cozy bed and you have in your RV air conditioning system, how you can feel the taste of sleeping on a stone while camping?
Not Very Flexible
What is the main purpose of camping? To drive a big and large trailer and park it in low and risky places? No!
In maximum time, this happens. People engaged in how to manage their motorhomes and gear and miss the main thrill of camping. While tent campers can go remote hills on foot, where you can't go with your long camper RV.
Final Verdict
Throughout this article, I have discussed tent camping vs RV camping and their cons and pros. While both types of camping have their advantages and disadvantages, for me tent camping is the way to go.
However, by limiting the load of your RV, you can also get the thrill if you are unable to camp with a tent.
Philip Robert is an avid camper and hiker who loves nothing more than spending his weekends camping and hiking in the mountains. He has been camping and hiking since he was a young boy and has never lost his love for the outdoors.
Philip is a firm believer that there is no better way to connect with nature and get some exercise than by spending time in the great outdoors. He is always on the lookout for new trails to explore, and loves sharing his experience with others.
"MyOutdoors.net" is a place where you will find a comprehensive guide you need to know about camping and hiking. Philip has the knowledge and experience to help you enjoy the great outdoors.