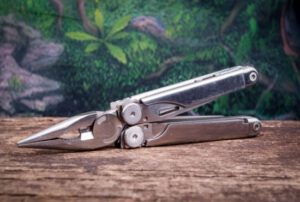 If you have ever gone camping, then you know how critical portable tools are. While camping, one needs almost all sorts of devices.
That is why any regular camper would wish to get a versatile toolset with all the necessary tools. But there is a huge problem, and it is the hassle of traveling with the said toolset.
This is where Leatherman comes in! They have an immense catalog of multi-tools that are composed of different tools and portable. Leatherman has many other varieties of multi-tools to choose from. And for that very reason, we have listed the ten best Leatherman multi tools that you can find in the current market.
Let's begin.
What is a Leatherman Multi-Tool?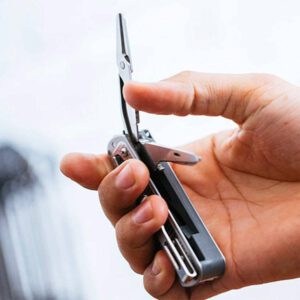 The American brand Leatherman is a company that is mainly based in Portland, Oregon. They are primarily known for the multi-tools and knives which they manufacture. The company's main motto is to market the best, capable, and portable hand tools with multiple functions.
Since their establishment, Leatherman has manufactured about seventy-eight different series of such multi-tools and knives. Among these seventy-eight types, thirty-nine of them are still being marketed. It is without a doubt that their catalog is vast.
Leatherman currently manufactures thirty-nine varieties of multi-tools. Each of the product models features at least a blade and a can or bottle opener. With camping as the focus, most of their tools are foldable and light due to lightweight metals.
A few of the tools also have hooks on them for you to hoister them on your bag or belt.
The tools that they provide are versatile to the core sense of the word. They have wearable, gardening, pocketknife, keychain, heavy-duty, pocket-tool, military-duty, full-sized, and EMS duty tools.
These innovative products are not only versatile but also some of the best tools available. The multi-tools that Leatherman manufactures are light and durable at the same time.
Is Leatherman the Best Multi-Tool?
The preference of the multi-tool is subjective to the user and the usage. But there is one thing that all multi-tool users agree upon. And that is, Leatherman is indeed the best multi-tool manufacturer out there.
The list of models of multi-tool that they possess is indeed aimed at all sorts of users. They have almost an unlimited variety to choose from. One might think that they are considered the best only due to this.
However, the fact is that the quality of their tools is far superior to the other alternatives, no matter how you judge the criteria!
10 Best Leatherman Multi Tool Reviews
Leatherman is known for its multi-tools, no doubt. But which is the best one? This is why we have brought you the Leatherman multi-tool reviews and found the best ones.
If you are looking for a quick choice, then we suggest Leatherman – Signal Camping Multitool since it's literally the best option out there. Also, It's currently the topmost rated product that Leatherman manufactures.
1. Leatherman Signal Camping Multitool – Best Rated Leatherman Tool for Camping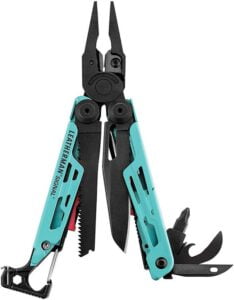 Specifications
Closed and open length – 4.5 in and 6.75 in
Overall width and thickness – 1.5 in and 0.63 in
Blade length – 2.73 in
Weight – 7.5 ounces
With nineteen different tools in it, the Signal Camping Multitool is the best rated Leatherman multi tool. It is packed with all the useful tools that you might need while camping or out on an adventure.
Feature Highlights
All the tools lock in place when opened fully
Can be easily used with only one hand
Nineteen essential tools packed into one
Removable pocket clip for easy carrying feature
The tool has a fire-starting Ferro rod, combo blade, and even an emergency whistle. There is even a diamond sharpener. With bit driver and anchor, your tent will be the sturdiest it can be. Due to the easy-open accessibility, they can be used even when the multi-tool is folded.
Also, the device can easily be used with one hand since it has a tiny form factor. Not only is it lightweight, but it is also designed with portability in mind. Due to this, the tool can be carried in a belt pouch without any difficulties. The entire build is 420HC stainless steel and has a DLC coating too.
So, why wait? Gear up and go for the adventure that is calling you.
---
2. Leatherman Wingman Multitool – Best Leatherman for EDC or Campsite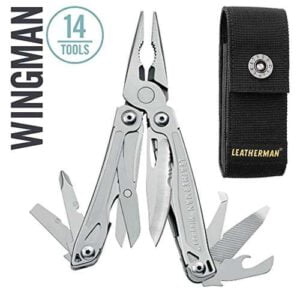 Specifications
Closed and open length – 3.8 in and 6.0 in
Overall width and thickness – 1.27 in and 0.56 in
Blade length – 2.6 in
Weight – 7.0 ounces
Multi-tools are not only specified for camping or adventure usage. There are some which have tools that are needed on a regular basis The best Leatherman for EDC or everyday carry is the Wingman Multitool.
It is equipped with 14 different tools that are sure to aid you in your daily life. This Leatherman multi-tool features two different pliers that will help you in the daily usage sector. Not only that, but there are also three different driver bits.
Feature Highlights
Blade locks in place when fully opened
Pocket clip used in the tool is replaceable
Can be operated by only one hand
Due to the pocket clip, the tool is easily accessible
The nifty gadget has three different screwdriver heads that will assist in your daily life. There is also a stainless-steel one-and-a-half-inch ruler to help you out when you are in a pinch.
Also, the tool has a small form factor and is lightweight since it uses 420HC stainless steel for the body and the tools. This gives the build a certain level of sturdiness and corrosion resistance.
The tools are also attached to the handles, so they can also be used without unfolding, making the device perfect for EDC and camping, and adventures.
---
3. Leatherman Charge Plus Multitool – Best Leatherman for Survival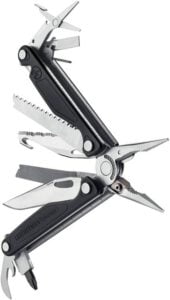 Specifications
Closed and open length – 4.0 in and 6.25 in
Overall width and thickness – 1.2 in and 0.76 in
Blade length – 2.9 in
Weight – 8.3 ounces
If you are an adventurer, you must have felt that not all multi-tools are suitable for survival purposes. That is why Leatherman has the Charge Plus Multitool. It is considered to be the best Leatherman for survival.
The handy gadget is crafted for everyday adventures and includes nineteen different tools in one. All of them are lockable due to the all-locking feature. This means you can use it in the safest possible manner. The 420 HC stainless steel construction ensures that the tool will last you long.
Feature Highlights
Equipped with a Lanyard ring
Lanyard ring has a quick-release feature
Fitted with a replaceable pocket clip
Can be operated with one hand
And even if you manage to break it, there is a twenty-five-year warranty from the manufacturers!
Among the features, there is a knife blade made of solid and corrosion-resistant 154CM steel. It also boasts four different hexes, two square drives, a Phillips drive, a Torx drive, and an Eyeglass screwdriver. Each of these screw heads is made of 6061-T6 hard-anodized aluminum.
If that was not enough, the device also features a nineteen centimeters or eight-inch 154CM stainless-steel ruler. All these tools are also accessible by one hand.
---
4. Leatherman Wave Plus with Cap Crimper Multitool – Best Value Leatherman Multi Tool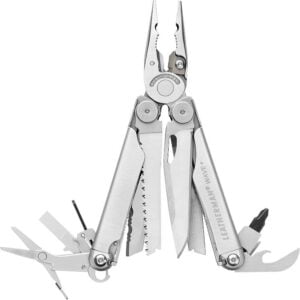 Specifications
Closed and open length – 4.0 in and 6.25 in
Overall width and thickness – 1.2 in and 0.7 in
Blade length – 2.9 in
Weight – 8.5 ounces
If you are looking to have the best value Leatherman multi-tool, we suggest you look at Wave Plus Multitool. It is hands down the most popular model.
Out of the eighteen tools that it has, six can easily be accessed while the gadget is folded. This gives the tool users the freedom of using it with only one hand.
Feature Highlights
About eighteen different tools
Includes an eyeglass screwdriver
The build material is 420HC stainless steel with black oxide finishing
Also equipped with an 8.0 in or 19 cm ruler
Moreover, the tools also have the all-locking feature. So, you can use them without any fear of slipping.
There is a wide array of screwdrivers among the eighteen tools. One of them is an Eyeglass Screwdriver, which is a rarity among multi-tools. The entire set is built with 420HC stainless steel. To prove that it is the best-valued multi-tool, they also have a black oxide finishing. This further strengthens the rigidity of the gadget.
No doubt it has almost all the features the best multi-tool has. But the most exciting fact is that it is way cheaper than the best, making it the best valued Leatherman multi-tool.
---
5. Leatherman Rebar Multitool with Wire Cutters & Saw – Best Leatherman for Camping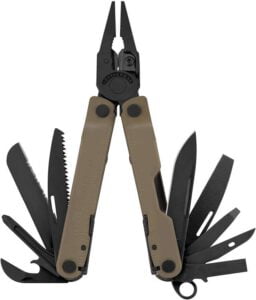 Specifications
Closed and open length – 4.0 in and 6.25 in
Overall width and thickness – 1.18 in and 0.65 in
Blade length – 2.9 in
Weight – 6.7 ounces
Any Leatherman fan is sure to recognize the box-like iconic shape found in Tim Leatherman's original tool. The Rebar Multitool utilizes that icon to make itself the best Leatherman tool for camping.
It features seventeen different tools, which are a must for any campers out there. The list includes a can opener, bottle opener, serrated knife, three different driver bits, and even an electric crimper.
Feature Highlights
Crunch features both all locking tools and the plier's head
Can be used and accessed via the usage of two hands
Has Lanyard rings for a lanyard
Equipped with an 8.0-inch ruler
The whole multi-tool is built using the best quality materials with 420HC and 154CM stainless in the body. Moreover, to give the driver bits a better finishing, black oxide has been used.
Among all the seventeen tools, the most noteworthy tool is the wire cutters. The pliers are strong, and the wire or hard-wire cutter is easily replaceable. This feature is the first for any other four-inch Leatherman tools out there. It can get the toughest of jobs done effortlessly, all the while looking as sleek and stylish it can.
---
6. Leatherman Surge Heavy Duty Multitool – The Largest Multitools from Leatherman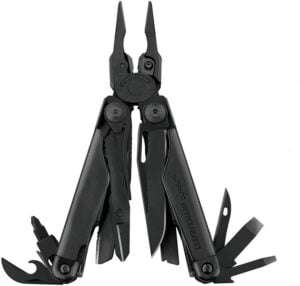 Specifications
Closed and open length – 4.5 in and 5.3 in
Overall width and thickness – 3.6 in and 1.97 in
Blade length – 3.1 in
Weight – 12.5 ounces
One can use a multi-tool for heavy-duty work. This is proven by the Leatherman Surge Heavy Duty Multitool. This gadget has a bigger footprint than most other products until now because of being equipped with twenty-one different tools for heavy-duty usage.
It also has replaceable wire or hard-wire cutters along with a lanyard ring. This makes the multi-tool suitable for use near water or scaffoldings.
Feature Highlights
One-hand operable features
For proper usage, there is all locking feature
Thirteen of the available twenty-one tools are accessible while folded
Two different types of Phillips screwdrivers
All the twenty-one tools have locking features to hold them in place during usage. The multi-tool is considered an allrounder due to its replaceable cutters and ruler. It is so well built that the eight-inch or nineteen centimeters ruler is as sturdy as the most premium-grade ruler.
The Leatherman Surge heavy duty multi-tool is an absolute powerhouse when it comes to heavy-duty tools. It has the largest plier, longest blade, and easy-to-use locks to assist you in your heavy work. The whole body is built using 420HC stainless steel with a black oxide finishing. It is made for serious work!
---
7. Leatherman Free P4 Multitool with Magnetic Locking – Best for Multipurpose Use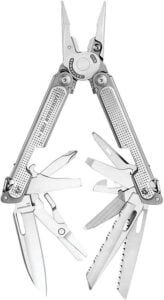 Specifications
Closed and open length – 4.5 in and 6. 45 in
Overall width and thickness – 1.3 in and 0.68 in
Blade length – 2.76 in
Weight – 8.6 ounces
The Free P4 is a design that was obtained after thirty-five years of innovation and refining. It has the most open hand accessible tool feature among all the Leatherman multi-tools.
That is because all the tools other than the pliers are on the outer part of the handles, meaning, out of the twenty-one tools that the multi-tool features, seventeen of them can be accessed while the tool is closed. The Leatherman Free P4 is a better and superior version of the Free P2.
Feature Highlights
Can easily be operated with one hand
The multi-tool has a pocket clip for easy portability
The pocket clip is removable
Includes a saw among the twenty-one tools
Here, the gadget is fitted with twenty-one tools that are built with stainless steel. There are magnetic locks for locking the tools and also opening and closing the multi-tool. Weighing only 8.6 ounces, it still has one of the highest tool counts among the Leatherman multi-tools.
The entire device is built using 420HC stainless steel. Not even the 1.41 inch or two and a half centimeters were void of this stainless-steel treatment. It also has a small form factor which enables it to fit in your pocket easily.
---
8. Leatherman Skeletool CX with Bottle Opener – Best Lightweight Multitool for EDC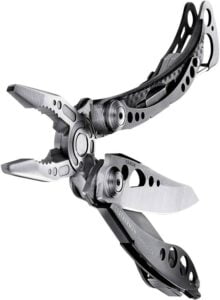 Specifications
Closed and open length – 4.0 in and 6.0 in
Overall width and thickness – 1.24 in and 0.52 in
Blade length – 2.6 in
Weight – 5.0 ounces
Having only seven tools in its arsenal, the Leatherman Skeletool CX is considered inferior to the other Leatherman products. But in reality, it is a multi-tool that takes you back to the basics.
At first glance, the gadget doesn't even resemble a multi-tool. It is the most lightweight variant that can be found in the market. The multi-tool consists of the most essential seven tools that one might need. All these tools, other than one, are accessible without even unfolding
Feature Highlights
A removable pocket and belt clip
The outlook of the tool is one of the best out there
The multi-tool can be operated with one hand
154cm stainless steel with DLC coating
The tools are stored within the handle for easy access. This gives it a sleek look making it the coolest multi-tool to own. It features only the necessary tools that you might need. With its 154CM stainless blade and pliers, you will be set for any small camping trip.
Moreover, there is a significant bit driver among the seven tools to help you set up your tent. All these tools have the locking feature to ensure the utmost safety. The Leatherman Sketetool CX defies the phrase – More Is Better.
---
9. Leatherman Micra Keychain Multitool with Spring-Action Scissors – Best Ultralight Multi Tool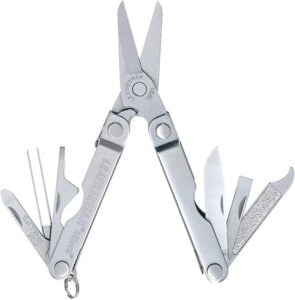 Specifications
Closed and open length – 2.5 in and 4.2 in
Overall width and thickness – 0.75 in and 0.37 in
Blade length – 1.6 in
Weight – 1.8 ounces
Skeletool proved that more doesn't mean better. Now take a look at Leatherman Micra Keychain Multitool. It is sure to change your perspective about small things, mostly because it is the most popular product among the Leatherman multi-tools.
Despite being small, the tools that it has are essentials that one might need in his or her daily life. There are about ten tools that are attached to the handle. To access them, one has to unfold the stainless-steel mechanism.
Feature Highlights
Keyring attachment that makes it super portable
Weighs less than many keychain accessories
Due to the keychain feature, the tool is always on hand
Has a few personal care tools
The gadget is equipped with a 420HC knife and spring-action scissors. Moreover, it has nail files and nail cleaners. That makes it an excellent device for personal care too. Not only does it have a few grooming tools, but it also has a 4.7 inch or twelve-centimeter ruler.
Here, the ruler might seem small, but it is the best one you can find in a pinch. This makes the Leatherman Micra a perfect gift for anglers and hobbyists. You can also give to someone who loves taking care of themselves.
---
10. Leatherman Free T4 Multitool and EDC Pocket Knife with Magnetic Locking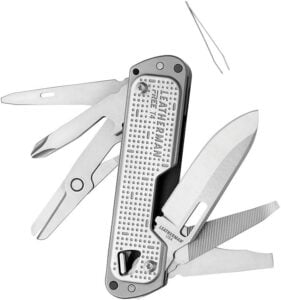 Specifications
Closed length – 3.6 in
Overall width and thickness – 0.96 in and 0.69 in
Blade length – 2.2 in
Weight – 4.3 ounces
To further cement the fact that small things can be as good as the big ones, take a look at Leatherman Free T4 Multitool. This nifty gadget is not only famous for its form factor, but it is also the best budget Leatherman multi tool.
There are twelve different tools that have everyday needs, and each of them is easily accessible.
Feature Highlights
Easily operable by one hand
All the tools are accessible from the outside
Locking feature when fully opened
Equipped with a removable pocket clip
As the design of T4 is similar to that of a pocketknife, you can easily use the tools you want. This makes the device operable with one hand.
The T4 is a superior version of its predecessor, T2, since it is equipped with all the tools that T2 featured and more. For example, the T4 has a wooden or metallic file for wire cutting as an extra addition. The pocketknife even has a 420HC stainless steel built, which locks into place using magnets.
Some enthusiasts consider Free T4 to be a universal tool to date. It is portable, useful, and lightweight. What else do you need?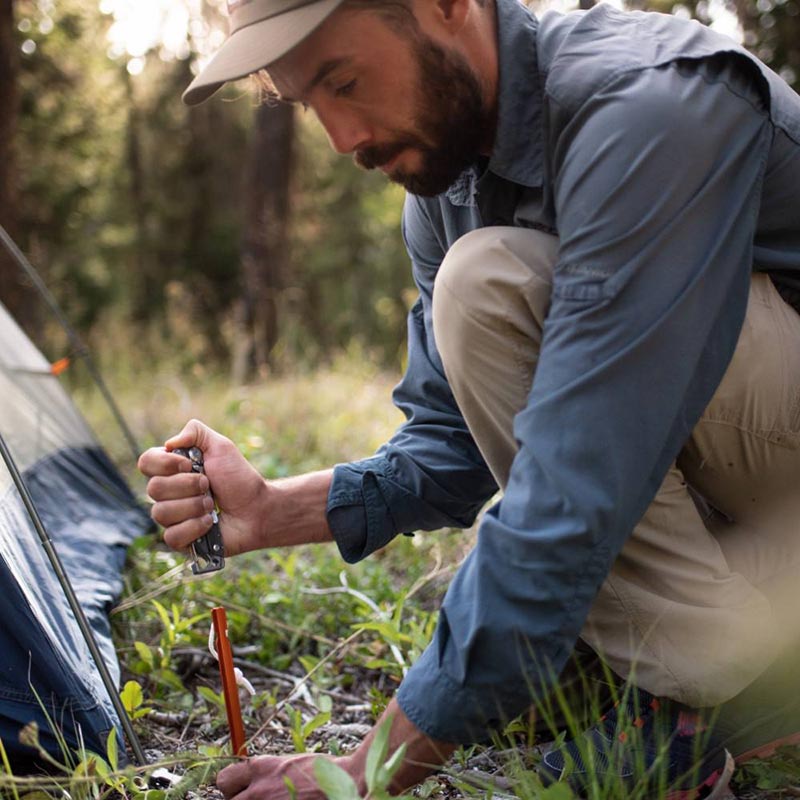 Types of Leatherman Multi-Tool
One of Leatherman's best traits as a multi-tool manufacturer is the sheer number of tools they possess. They have wearable, pocketable, keychain, heavy-duty, military-duty, and even EMS duty multi-tools. Since their establishment in 1983, they have manufactured seventy-eight different types of such gadgets.
Here is a brief discussion about the types of Leatherman Multitools one can find in the market.
Everyday Multi-tool
These variants are the best Leatherman multi-tools that one needs every day. They have all the necessary tools that you might look for in your daily life. The multi-tool is also sturdy and lightweight.
Travel Multitool
Now the most crucial travel multi-tools have a small form factor and are lightweight. They are generally composed of tools that one might need for adventuring.
DIY Multitool
The tools that one might require, like knives, screwdrivers, saws, etcetera, are featured in this type of device. These multi-tools are the lightest among all the variants that Leatherman offers.
Outdoor Multi-tool
If you want the best camping hacks, this is the multi-tool for you. It contains the most versatile list of gadgets. The form factor is a bit bigger than regular, but it has all the tools needed while camping.
Professional Multitool
Pick this if you want to get the best heavy-duty Leatherman multi-tool. The form factor is a bit larger, but that is due to the superior build quality
Serve Multi-tool
Leatherman takes pride in the people who serve the country. That is why they have a whole series of multi-tools that are dedicated to the military. The tools are the bare essentials that one might need in a pinch.
FAQ's About Leatherman Multi-Tools
1. Can I carry my Leatherman Multitool on a commercial aircraft?
Ans: Sorry to say, but due to the sturdy built, the tools use stainless steel. This makes them illegal to be carried on a commercial aircraft.
2. Why should I buy Leatherman tools?
Ans: Leatherman makes sure that the product that we sell are of the highest quality they can be. This is why we believe you should buy Leatherman tools if you want the best in the market.
3. Can I install a different blade in my Leatherman tool?
Ans: Most of the Leatherman tools have their own uniqueness. This is why the tools are unable to be altered or substituted.
4. How does the warranty for my tools work?
Ans: The Leatherman warranty is very simple. They will fix anything you break on the tool.
5. Can I get Leatherman tools outside of the U.S.?
Ans: Yes, you can. They are sold in about 90 countries around the world. Moreover, you can order them over at Amazon.
Final Words
No matter if you are a seasonal camper or a regular one, you will need tools. That is why we have made the best leatherman multi tool review & guide for you to choose from. First, decide what you need, then have a look. We hope you find the one that suits your needs!
Philip Robert is an avid camper and hiker who loves nothing more than spending his weekends camping and hiking in the mountains. He has been camping and hiking since he was a young boy and has never lost his love for the outdoors.
Philip is a firm believer that there is no better way to connect with nature and get some exercise than by spending time in the great outdoors. He is always on the lookout for new trails to explore, and loves sharing his experience with others.
"MyOutdoors.net" is a place where you will find a comprehensive guide you need to know about camping and hiking. Philip has the knowledge and experience to help you enjoy the great outdoors.