A lot of campers choose the winter season for camping. And, going in risky climates without preparation would be a big mistake. Experts have good knowledge to camp in any season.
But for a noob, it is a difficult task to camp in winter. Hence, the need-to-know what temperature is too cold for camping? The answer is different based on available gears, their quality and your chosen location.
In cold weather, 81% of campers select tent camp, 16% of people go for RV camp, and others pick no-shelter type. In another survey, 20% of campers try car camping.
Most people pick camping in a tent, RV, or car. So, focusing on these 3 sectors I'll explain how cold is too cold for camping. Ready?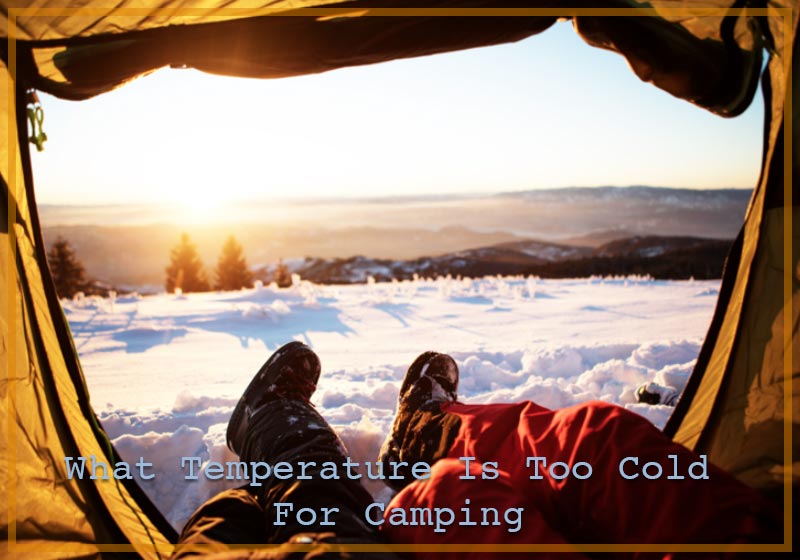 What Temperature Is Too Cold For Camping On Car?
If I spill without explanation, it would be around 15°F to 20°F (– 9.4°C to – 6.7°C) which might give a cold sensation inside the car. And, don't try to car camping in 30 degree weather meaning – 1.1°C which is freezing cold, not suitable for sleeping or attending anything for too long outside.
The comfortable temperature for car camping at night is 50°F to 65°F.
But you can verily control the temperature outside by using a few essential gears to get desirable heat even in cold weather.
Recommended Gears:
Sleeping Bag.
Heater.
Sleeping Insulated Pads (R-Value).
Stove.
Sleeping Bags.
The sleeping bag during car camping makes a vast impact to control the temperature. If you still think about how cold is too cold for car camping with a sleeping bag, it would be less than 20-degree thanks to the cushion setup.
However, you got to choose a capable one like Coleman big & tall sleeping bag to feel the warmth at night. In the daytime, wearing a linear cotton sweater, gloves, and beanie would be enough to stand the winter.
Want a sleeping bag for car camping but don't know how? Take a look at the following tips on this:
Pick one that got a comfort rating (around 15°F or – 9°C).
Think of a sleeping bag that is ideal for winter.
It should be durable, functional, and well-padded.
Small & Portable Heater.
A tiny heater is another gear that can't be missed to car camp in the cold winter. It not only helps greatly to keep the environment inside the car heated but also ensures comfort. Yet, you might need to open the window (a little bit) to avoid disasters.
It is advisable to run the heater for 10 minutes per hour for safe application with no explosion.
Sleeping Insulated Pad.
This item can't be skipped if you want a warm night's sleep. But an ordinary insulated sleeping pad won't do the work unless it has a specific R-value. While it prevents cold ground by keeping warm, you don't have to worry about losing body heat.
And, it needs to be thick and well-lining like the Gear Doctors self-inflating sleeping pad which is a great choice to stop heat loss.
How to get the ideal sleeping pad? Here are 3 tips on this:
Think of thickness which needs to be heavier.
Consider the higher R-value, rated from (2.5 to 4 or more).
Do not pick an air mattress that seems pump-style.
Camping Stove.
Campers can enjoy the scenario better if there's a camping stove at 20°F or more temperature. This is also a common item which is required to camp warmly. You can also use firewood or other items to make a good campfire if don't have a stove.
What Temperature Is Too Cold for Tent Camping?
When the temperature gets a bit cold like 30°F to 40°F (– 1.1°C to 4.4°C), this is the limitation for a camper to stay for tent camping. Below this rate, it is not advisable to stay in the tent even with equipment.
In fact, tent camping in 20 degree weather (close to – 6.67°C) might give an extreme uncomfortable and rough feel which is not pleasant at all. But why? Tents are made using nylon and polyester which can't trap heat on the outside.
So, what temperature is dangerous to sleep outside in wild but inside the tent? From an expert view, when the temperature starts to get low towards the 30°F, it's considered overly cold.
In that case, using the double-wall tent, hot water bottle, sleeping pad, and other warming gears is a must in unavoidable circumstances.
Avoid using a single-wall tent since it would be bad for this.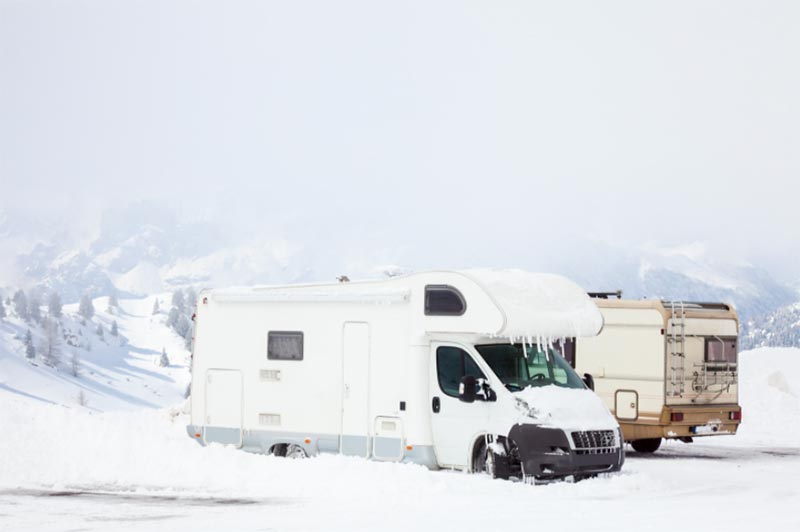 Learn How Cold Is Too Cold For RV Camping & Tips To Stay Warm
For RV camping cold weather, the temperature to call 'too much' is between – 19°F to – 25°F (– 28°C to – 31°C). Camping in the wintery climate is possible but with handy gears.
It doesn't matter if you are choosing a park, or open space just try to confirm preparation. In case you fear coldness, follow the given tips to avoid winter harm inside the RV:
Insert the antifreeze in the RV tank to stop the drain from freezing.
Never Park your RV under trees or heavy snowy areas.
Be sure to charge your RV before camping in cold areas (winter = more spending of battery power).
Try to collect snow from the roof and corner-side of the RV as it can make it colder.
Pick a less snowy spot to avoid getting stuck.
Wrapping Up
Camping in a harsh wintery climate is not absolutely joyful but it can as long as you have prepared for the cold. Now, you know what temperature is too cold for camping to confirm whether to go for that certain trip or not. A pro tip would be to start your journey with a person who has experience of camping in midwinter.
And, never camp with a baby in a cold atmosphere as it is quite risky. Hopefully, this piece of the guide has clear misconceptions with handy info which you were looking for. Enjoy Safe Camping!
Philip Robert is an avid camper and hiker who loves nothing more than spending his weekends camping and hiking in the mountains. He has been camping and hiking since he was a young boy and has never lost his love for the outdoors.
Philip is a firm believer that there is no better way to connect with nature and get some exercise than by spending time in the great outdoors. He is always on the lookout for new trails to explore, and loves sharing his experience with others.
"MyOutdoors.net" is a place where you will find a comprehensive guide you need to know about camping and hiking. Philip has the knowledge and experience to help you enjoy the great outdoors.